| | |
| --- | --- |
| Title: | British Armor in Sicily and Italy – CONCORD Armor at War Series 7068 |
| ISBN: | 962-361-138-2 |
| Media and Contents: | Soft Cover A4 portrait style Photo collection with 71 pages including 4 of Historical text, 16 Colour plates and 170 B&W photos |
| Price: | |
| Review Type: | First Read |
| Advantages: | Many previously unseen photos of British Armor in Italy and Sicily. A good concise explanantion of the relevant British units and formations. Excellent colour plates |
| Disadvantages: | Only 71 pages |
| Recommendation: | Highly Recommended |
| Publisher | |
FirstRead
Disclaimer: In the interests of fairness, openness and objectivity the reviewer declares up front that he is a personal friend of the Author and had a very small part in the compilation of this book. Despite this I hope you find this a factual and objective review. The use of the word Armor with its American spelling is used when referring to the book title (spelling chosen by publisher). British spelling when referring to British Armour will be used throughout the rest of the review
---
The subject of British Armour deployment in WW2 has not been covered in the same detail as the other major combatants of World War two and it is welcome to see this changing over the last few years with excellent and affordable references such as the Concord Armor at War Range to which this title belongs. This title continues the theme Dennis has chosen (British Armour in World War Two) and is his second Concord title and follows on from his previous title British Sherman Tanks No 7062 and the debut and equally excellent "Codename Swallow" – Sherman's at El Alamein
The Author has compiled a great collection of photos covering all the major types of armour deployed by the Brits in the Sicily and Italian campaigns and has done the near impossible and managed to identify almost all the units these belong to. Considering what little information that has previously been published on this genre, that is no mean feat. The pictures are mainly sourced from the excellent IWM collection with some from personal collections. Unlike the previous title many of the pictures are displayed in larger images which are a great advantage to the detail obsessed modeller.
Click the thumbnails below to view larger images:
---
Like most Concord titles this book follows the standard format leading off with a concise but accurate description of the major British armour formations deployed in the Mediterranean theatre of operations. This alone is invaluable as little has been published on this subject to date. This covers the Armoured Divisions (1st, 6th and 7th) plus the Armoured Brigades, Armoured units of the Royal Artillery and Engineers plus the Divisional Recce and Cavalry units. Dennis covers the units individually in one or two paragraphs with a brief detail of equipment campaigns and unit markings. Please note that it covers only British formations and does not cover Commonwealth Formations.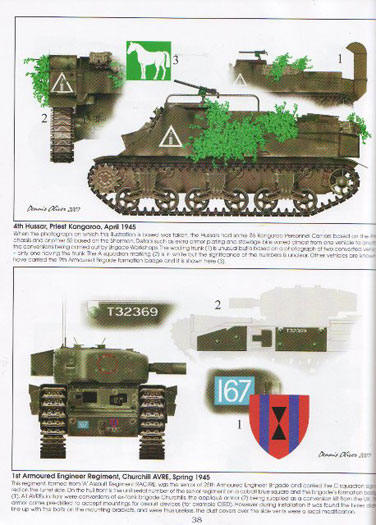 The centre of the book is 8 pages of Dennis's colour plates with two vehicle types to a page. The plates are backed up by text explaining the markings or salient points. The following plates are covered:
Sherman III dv Hull with M3 Bogies – "Abdiel" A Sqn 3rd County of London Yeomanry

AOP M3 Halftrack – 98th (Surrey & Sussex yeomanry, Queen Mary's ) Fd Regt RA (TA)

Sherman III 5th Royal tank Regt late 43

M3 75mm GMC 1st Kings Dragoon Guards May 44

Churchill Mk IV, 51st Royal tank Regt Aug 44

M10 Tank Destroyer, 72nd Anti Tank Regt, RA Aug 44

Churchill NA 75 , North Irish Horse, Sept 44

M10 17pdr TD, 93rd Anti tank Regt RA, Oct 44

Sherman IIa, Queens Bays (2nd Dragoon Guards) Nov 44

Churchill V, North Irish Horse, late 44

M7 Priest Kangaroo, 4th Hussars April 45

Churchill AVRE, 1st Armoured Engineer Regt, Spring 45

Sherman II (large hatch) Fascine carrier, spring 45

M7 Priest , 152nd (Ayrshire Yeomanry) Fd Regt RA (TA) May 45

Churchill IV, 12th Royal tank Regt, April 45; and

Universal Carriers
Types covered in the photographs include armoured cars, scout cars, Light tanks (M3, M3A3, M3a3 recce etc), Shermans (Ib IIa, III and V, Funnies) , Churchills (III,IV,V,NA 75, VI and VII plus Funnies & AVRE); Bren & Universal Carriers, Tank Destroyers and SPGs (M7 & Bishop) and even LVTs. Dennis has even managed to find 2 pictures of a British crewed Marder III in British colours and markings! Many photographs are previously unpublished and I believe the author has achieved a good spread of types covered including many of the local pattern "Funnies" developed in theatre.
---
Conclusion
I would recommend this title to anyone with an interest in the British Armour or the Mediteranean campaign. It will be a great source of inspiration to modellers particularly with the excellent new Shermans on the market and the M7 due from Academy. If you've ever wondered what to do with the left over Large Hatch Sherman Hull see plate 13.
This book, like most, is not without fault and I noticed at least one caption reversal on page 10 (lower two pictures). Despite this, it is a welcome title for the long suffering fan of British Armour and as such highly recommended.
Highly Recommended.
Thanks to the Author for the review sample
---
Errata
The Authors have supplied the following Errata information following their examination of the published book:
Page 5: 27th Lancers entry – "Lake Commacchio" should read "Lake Comacchio".

Page 6: 1st Regiment, Reconnaissance Corps entry – "were" instead of "where"

Page 9: IWM NA4649 – "early direct vision blocks" should read early date of use of welded hoods.

Page 10: IWM NA4972 & IWM NA4262 – captions transposed.

Page 24: IWM NA10150 – Diamond T tank transporter is correctly identified, but later incorrectly referred to as a "Scammel" in the caption.

Page 27: IWM NA11034 – "M3 Halftrack" in the background should read "M3 Scout Car".

Page 33: Illustration of Abdiel – Drawn as Sherman I (note hull rear overhang), although I believe is correctly captioned as a Sherman III.

Page 39: Illustration of Fascine Carrier – Incorrectly shows "Anti-Freeze Installed". Sherman IIs (being air cooled) did not use anti-freeze.

Rear Cover: Illustration of M10 – Drawing is "squashed" horizontally.

Text and Images by Alastair Bowie
Page Created 03 November, 2007
Page Last Updated 02 November, 2007