Home > Reviews > Britain > Codename Swallow - British Sherman Tanks at Alamein by Dennis Oliver. Mushroom Model Publications, Green Series.
Codename Swallow
British Sherman Tanks at Alamein
by Dennis Oliver
Reviewed by Glen Porter

Summary
Publisher and Title
Codename Swallow
British Sherman Tanks at Alamein
by Dennis Oliver
Mushroom Model Publications, Green Series.
ISBN:
83-89450-33-X
Media and Contents:
A4 sized card cover with 36 pages of text, B&W photos, colour art-work and plans.
Price:
£7.00, available online from Mushroom Model Publications' website
Review Type:
First Read
Advantages:
Reader friendly text; relevant photos; excellent artwork.
Disadvantages:
Recommendation:
Highly Recommended
FirstRead

Mushroom Model Publications is known for its excellent aviation books. I believe this is the first of a new series aimed at the armour modeller.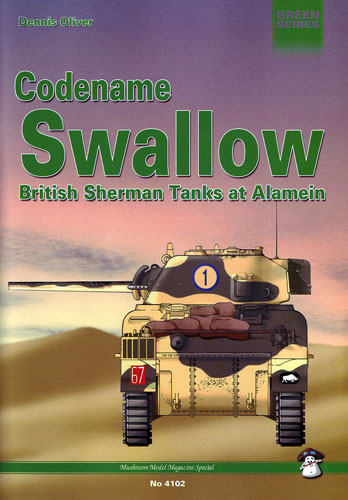 The subject of the debut book in the Green Series, British Shermans at Alamein, covers a very specific group of cast hulled and radial engined M4A1, and the welded hulled diesel engined M4A2, tanks which were supplied to the British Army during the second half of 1942 and which became the first Shermans to see combat. These were the very early production vehicles with direct vision slots, M3-style bogies (with the support roller above bogie) and plain rubber block or ďdouble IĒ tracks.
After a brief Authorís Note, the Introduction details the circumstances surrounding the issue of these tanks and their modification by the British. Part 2 follows with an explanation of the markings. This is followed by four pages of coloured artwork and four pages of captions for the art. My one little niggle about this artwork is that no plan views are shown.

Part 3, Camouflage, covers the authorsí opinions on the Official Orders, the colours, the schemes and a few anomalies that have existed for some years. Some of these are shown in the art-work. Part 4, The Armoured Brigades, covers the four Brigades individually, their camouflage and markings and each unit with-in the Brigade, their make-up and any oddities. This is then followed by another eight pages of very good art-work and captions.

Lastly, there is five pages of plans which I think are in 1/35 scale, although this is not stated, with four views shown (only left hand sides) but with none of the British modifications mentioned in the earlier text except for one side view having the sand skirts.

This is, without a doubt, a great start to what should be a very interesting series. The text is easy to read and understand and the artwork is inspiring, so much so that I am looking forward to getting Dragonís new M4A1 in Braille Scale to see if I can adapt it to build one of these vehicles.

Highly Recommended.

---