Home > Reviews > Britain > Pen and Sword Publishing CHURCHILL TANKS British Army North West Europe 1944-45 by Dennis Oliver
CHURCHILL TANKS British Army North West Europe 1944-45
Pen and Sword Publishing
by Dennis Oliver

Reviewed by Al Bowie
Summary
Title:

Pen and Sword Publishing
CHURCHILL TANKS British Army North West Europe 1944-45
by Dennis Oliver

ISBN:

9-781526-710888

Media and Contents:

Soft Cover A4 portrait style Pictorial guide well supported by B&W photos, Colour plates and tabular information. 10 pages of colour plates, 11 pages of 35th Models and a Modellers resource section.

Price:

GBP£12 plus shipping available online from Pen and Sword's website

Review Type:

First Read

Advantages:

Excellent collection of Churchill images and information on their employment backed by A colour plate and model gallery and a modellers resource section.

Disadvantages:

Some illustrations such as the Tank Armoured Bde would be more useful in colour.

Recommendation:

This book will appeal to fans of British Armour, modellers, wargamers and historians alike. Modellers should find many an interesting scene to depict within its pages and information on how to get the resources to model one.
FirstRead

Disclaimer: In the interests of fairness, openness and objectivity the reviewer declares up front that he is a personal friend of the Author. Despite this I hope you find this a factual and objective review.
This is another excellent title in Dennis Oliver's collaboration with Pen and Sword Books Tank Craft range. This is a series of books aimed at the modeller covering the better-known Tanks of World war 2, in this case, the Churchill Heavy Infantry Tank and its employment in North West Europe from Jun 44 until VE day.
This title follows the format of its successors and is a great concise history of the Churchill's employment in the North-West Europe campaign 44-45. It covers both the specialised Armoured Engineer variants as well as the excellent Infantry support tank. Like other titles by the Author he really fits a lot in a small space and he has researched this one well.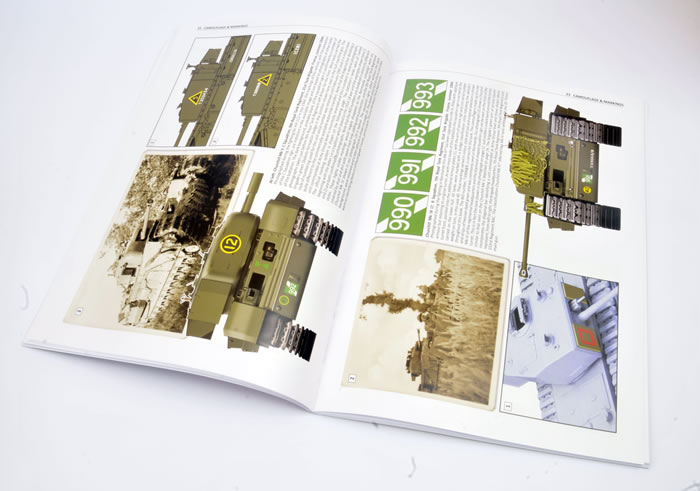 The book is broken into sections as follows:
Introduction
The Army Tank Brigades
Camouflage and Markings
Model Showcase
Modelling Products
1st Assault Bde Royal Engineers
Technical details and specifications
Appendix
Product contact list
This title is packed full of useful information such as tank strengths, Markings guides and a chart of vehicle names in 4th Battalion Grenadier Guards to name a few. The colour plates are what we have come to expect from the Author and cover a variety of Gun Tanks and AVRE variants. Each has explanatory notes and detail insets for Markings etc.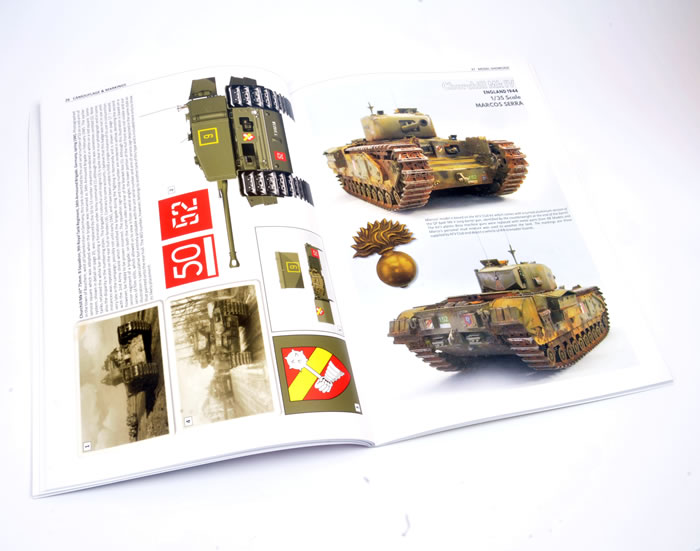 The Model Gallery has a range of stunningly built 35th scale models in full colour which the modeller should find inspiring. To aid them in the quest to replicate one of these a great modellers resource section covers the Major kits available and the aftermarket accessories for these.
This book will appeal to fans of British Armour, modellers, wargamers and historians alike. Modellers should find many an interesting scene to depict within its pages and information on how to get the resources to model one. I have been waiting for a title devoted to the Churchill from Dennis for a long time and this one did not disappoint. Very much worth the long wait
Review Sample supplied by Pen and Sword
---
---