Home > Reviews > Britain >
Bronco Kit No. CB35189 - British Loyd Carrier with 6 Pounder Anti-Tank Gun
British Loyd Carrier with 6 Pounder Anti-Tank Gun
Reviewed by Al Bowie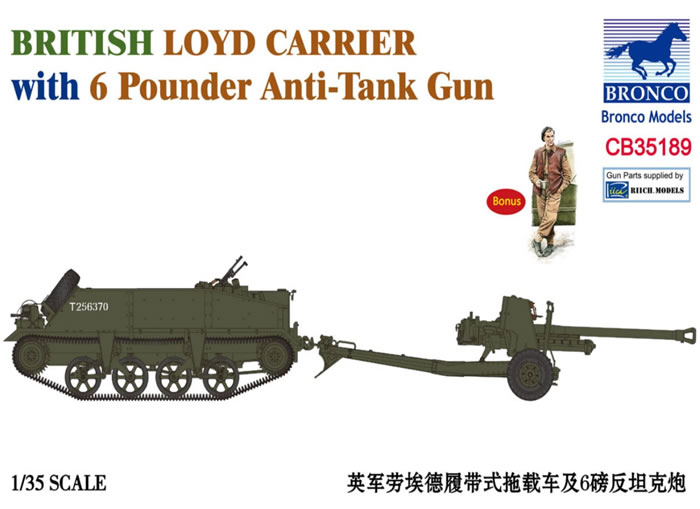 Summary
| | |
| --- | --- |
| Title: | Bronco Kit No. CB35189 - British Loyd Carrier with 6 Pounder Anti-Tank Gun |
| Scale: | 1/35 |
| Media and Contents: | Approx 20 plastic sprues typical bronco green plastic, metal bogie springs 1 large PE Sheet, Decal and 2 lengths of string make up the carrier whilst a further 4 plastic sprues, 2 black plastic wheels, 2 lengths of string and a PE fret and 2 Decal sheets add the 6 Pounder gun |
| Price: | |
| Review Type: | First Look |
| Advantages: | A clever good value rerelease of two previous kits from different manufacturers with the bonus of an excellent figure from Bronco's excellent British AFV crew set |
| Disadvantages: | Complex construction needing PE skills and keen eyesight due to the many micro parts. |
| Recommendation: | Best suited to experienced modellers |

Background
During WWII, the British Army was almost entirely mechanised or motorised, particularly its artillery regiments. A number of various tracked carrier AFV were employed in roles such as Infantry Carrier, Mortar Carrier, Scout and MMG carriers. Infantry anti-tank support also had the excellent Loyd carrier as its workhorse and this was generally employed to tow the excellent British 6 Pounder anti-tank gun but the basic carrier was also used in other roles such as a slave carrier for engine starting in armoured regiments and signals support variants plus a support vehicle carrying the 4.2" heavy mortar.
The 6 Pdr anti-tank gun was originally designed in 1938 but manufacture did not really start until 1941 due to the need to rapidly rearm after the disaster in France and the immediate threat of invasion. It first appeared in the Mk.I form in the Western Desert in 1942 and proved an immediate success. It was standardised as the Mk II and equipped specialist anti-tank regiments of the Royal Artillery. It was adopted with minor modifications by the US as the M1 57mm Anti-Tank gun.
When the 17 Pdr anti-tank gun was introduced, the 6 Pdrs were issued to Infantry Battalions as organic anti-tank protection. With the invasion of Europe looming, the long-barrelled Mk.IV was developed, which had an impressive anti-tank capability with the newly developed Sabot rounds capable of penetrating 143mm of armour!
---
FirstLook
We have been poorly served with kits of the 6 Pounder and previously have only had the toy like Tamiya Mk.IV and the reasonable Max Peerless, Tomy, Airfix, Italeri & Zvezda Mk.II gun. We have waited nearly 40 years for a newly tooled 6 pounder and offerings from Bronco (AB version), AFV Club and Riich in various versions all appeared at about the same time offering a wealth of choice for the long-starved modeller. this new kit shows just how far the hobby has come.
The kit of the Loyd carrier itself is an impressive super detailed one moulded in olive coloured styrene on twenty sprues with extensive photo-etch and a large decal sheet containing no fewer than seven different options including British, Belgian, Polish and Dutch examples.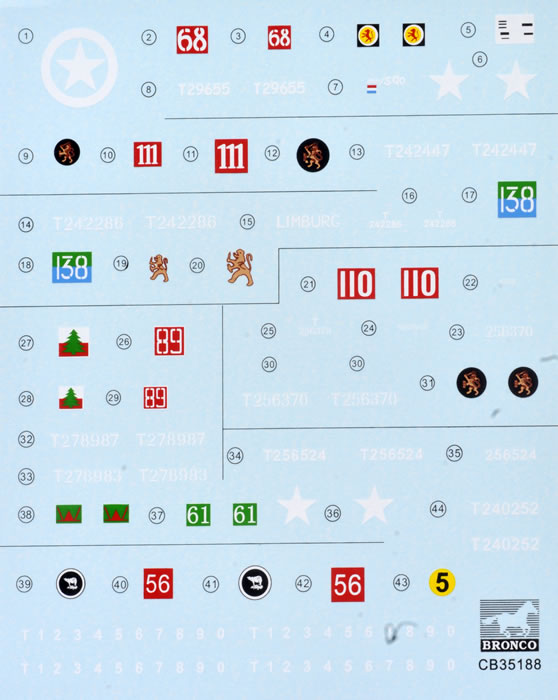 Detail is extensive and accurate to both scale and reference, which is achieved through excellent moulding and extensive use of photo-etched parts for brackets etc.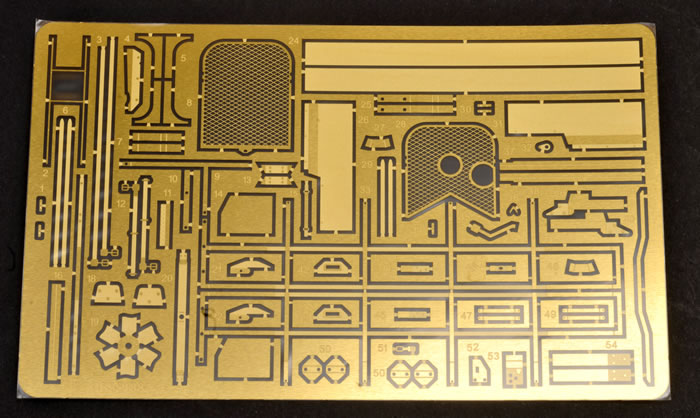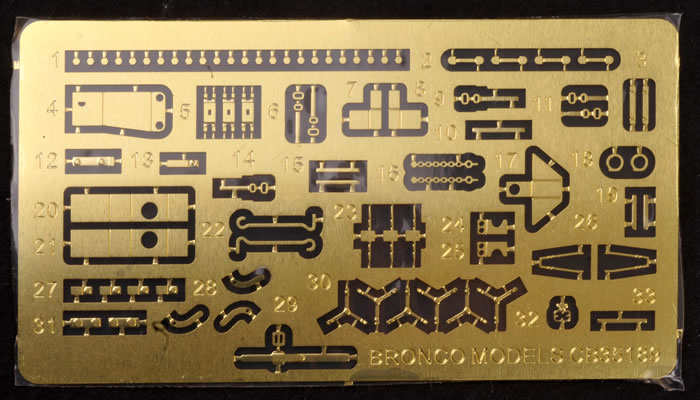 The carrier is equipped as an AT gun tractor and comes with full stowage for such a vehicle and the options of no canvas tilt, a tilt frame or a canvas covered tilt. The canvas tilt is a remarkable piece of moulding and really looks to scale on the kit.
No crew is provided other than a "bonus" figure of a squaddie in battledress with a leather jerkin and beret standing with legs crossed drinking a cup of tea presumably.
The tiny carrier type tracks are included as link and length and are quite diminutive. A fully detailed engine is included and can be partially seen behind the mesh screen provided as photo-etch. This is one of the most accurate to detail kits I have ever seen and it will tax your eyesight and patience due to the number and size of the parts but will result in a superbly accurate and detailed kit.
Bronco chose to add the Riich Models 6 Pdr Mk IV gun in towed configuration, which is an excellent kit in its own right and superbly detailed using photo-etch and fine plastic parts although the optional metal gun tube of the original and the crew are not given in this boxing. Spare Ammunition and stowage containers are which have the required stencilling presented as decals.
The kit is again a masterpiece of detail and offers a few options. The first is an opened or closed sight box. The second is the provision of the spaced armour shield. Others are the provision of the early ready ammo stowage of rounds on clips inside the shield or the late boxed version in the same location. Trails can be modelled closed for towing or opened for action. The gun breech is displayable opened or closed and the gun can be depicted in recoil for those wanting an action scene.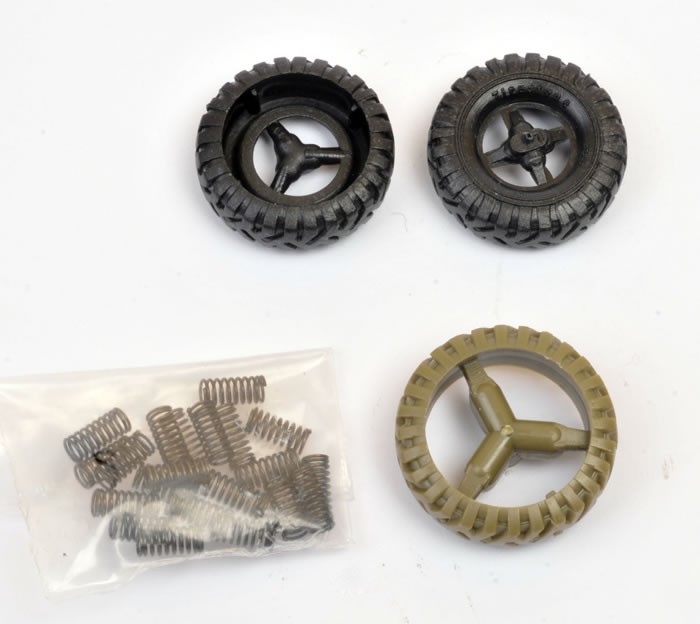 The original kit had a four-man crew although the actual crew was greater. Sadly, these are not included any more but loose rounds including APDS and APC with ammo containers and packing tubes are offered. Decals are included for the ammo storage and match references of the period for the various types of ammunition. The gun is highly detailed and again contains a number of small fiddle parts that require great care and attention in assembly. From experience I recommend super glue for the sight moments. The photo-etch is again small but adds a lot of detail to this diminutive but deceptively powerful weapon.
---
Conclusion
Overall this kit is a good value kit offering an oft seen combination as the majority of Loyd carriers were used in the gun tractor role although with some scratch building skills a cable layer or slave/starting carrier could be built. It will result in a true masterpiece of detail but it is fiddly and time consuming and recommended to experienced modellers.
Thanks to Bronco for the sample http://www.bronco-model.com/
Text and Images by Al Bowie
Page Created 23 December, 2018
Page Last Updated 23 December, 2018