Home > Reviews > Britain >
Bronco 1:35 scale British Cruiser Tank A10 Mk.I / IA / IA CS. Kit No. CB35150
British Cruiser Tank A10 Mk.I / IA / IA CS
Bronco, 1/35 scale
Reviewed by Brett Green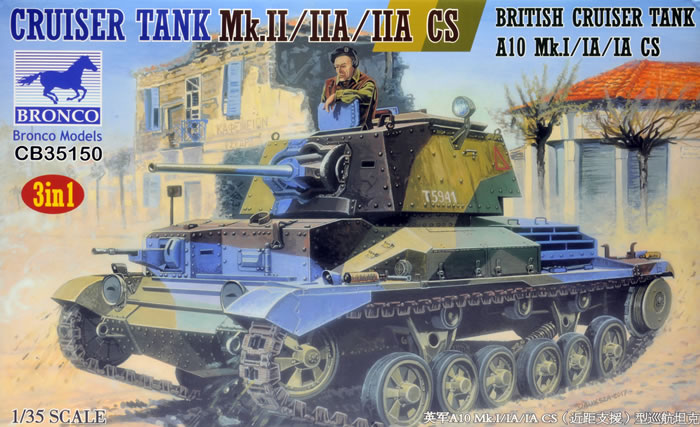 Stock Number and Description

Bronco 1:35 scale British Cruiser Tank A10 Mk.I / IA / IA CS. Kit No. CB35150

Scale:

1/35

Media and Contents:

283 parts in dark yellow plastic, ten polythene caps and markings for three vehicles.

Price:

TBA

Review Type:

First Look

Advantages:

Good level of detail; convincing surface textures; easy-to-assemble link and lenth tracks.

Disadvantages:
Recommendation:

Highly Recommended.

FirstLook
It might seem hard to believe considering the increasing avalanche of new releases over the last decade, but there are still some subjects that are not covered by mainstream injection-moulded kits.
Although I have a half a shelf full of resin Accurate Armour kits that have been superseded by nice new injection-moulded releases – Cromwell, Valentines, Centaur and more – much of my wish list for some early WWII and oddball military subjects remains unanswered.

Several of these subjects were in the Cromwell Models range, but I never had any luck getting hold of them.
I was delighted back in 2013 when Inside the Armour released a 1:35 scale full kit of the A10 Cruiser Tank, but that was a very limited run resin offering that is no longer available.
But as the old saying goes, you wait ages for a bus and then two turn up at the same time. Within weeks of each other, we have had announcements from the brand-new company Gecko Models and also from Bronco that they will be releasing injection moulded 1:35 scale A10 Cruiser kits.
Based on the pre-release announcements, Gecko Models will be offering three separate kits – a British 2 Pdr gun tank, a British 3.7" Close Support version and a German Beutepanzer. The Gecko kits will have a full interior and workable individual link tracks.
Bronco is the first to market and a sample of the kit has just hit the MMI desk.
Bronco's A10 Cruiser may be built as Mk.I or Mk.IA 2 Pdr versions, a Mk.IA 3.7" CS or a captured Beutepanzer from the one box.
The Bronco kit contains a modest 222 parts in dark yellow injection moulded plastic, five parts in clear, 18 parts on a single photo-etched fret and markings for six varied options.
Parts breakdown is refreshingly simple and exterior detail looks great, peppered as it is with domed rivets and bolt heads.
The lower hull is a tub, speeding assembly, and the turret shell is moulded with sides, roof and rear panel. Turret hatches may be posed open or closed. The driver's and radio operator's hatches could be modified to pose open without too much trouble too. Optional gun shields and machine guns are provided for the Mk.I and Mk.IA.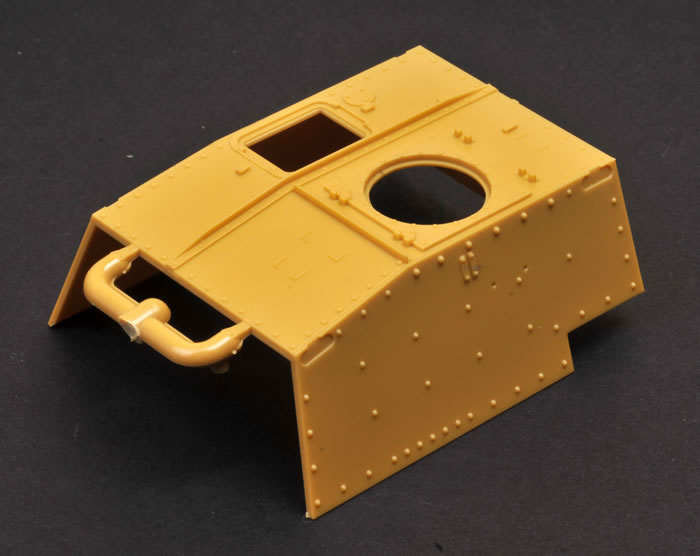 The running gear is nicely detailed but broken down simply. There are four suspension units comprising just nine parts each, including plastic moulded springs. The suspension units are fixed in the neutral (flat) position.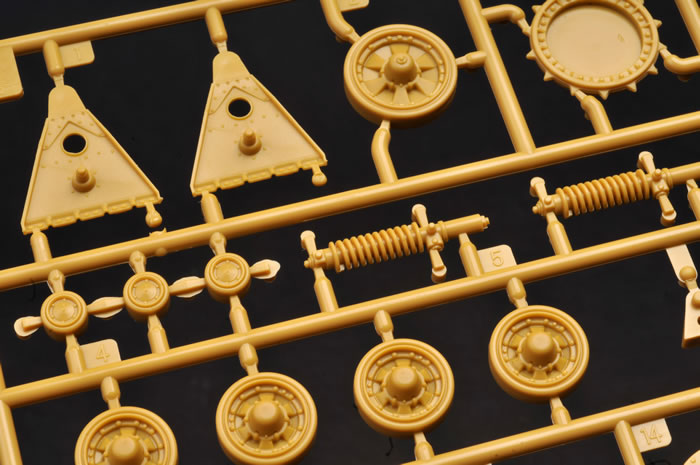 Tracks are link and length, with a straight top and bottom run joined by individual links that wrap around the drive sprockets and idler wheels. There are only 17 track parts per side. The track parts feature crisp and excellent track pad, side and inside face detail.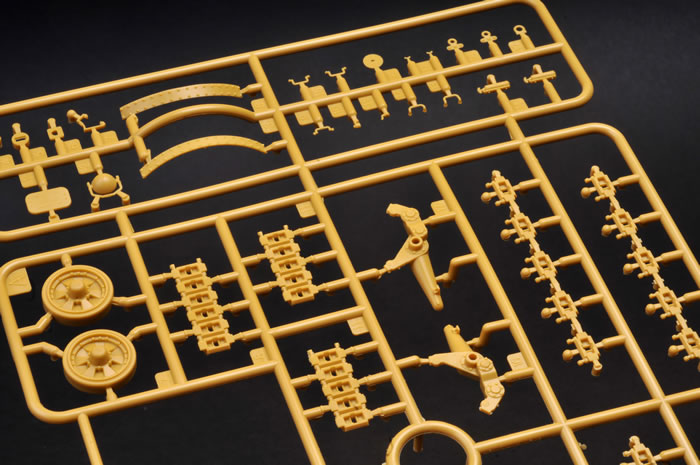 Handles, lifting rings and other small details are separate parts.
Bronco also includes a perforated photo-etched heat shield for the muffler.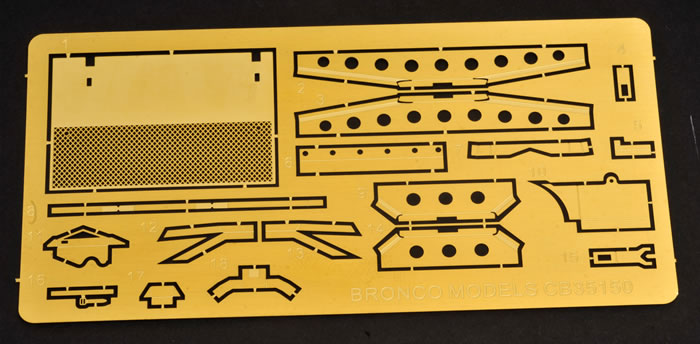 Clear parts are offered for the spotlight and scopes.
A whopping seven marking options are offered, ranging from Khaki Green and Dark Green; Light Stone and Slate; Portland Stone, Brown and Slate; Olive Drab and Blue Black; Portland Stone, Rust and Silver Grey; and even Panzer Grey!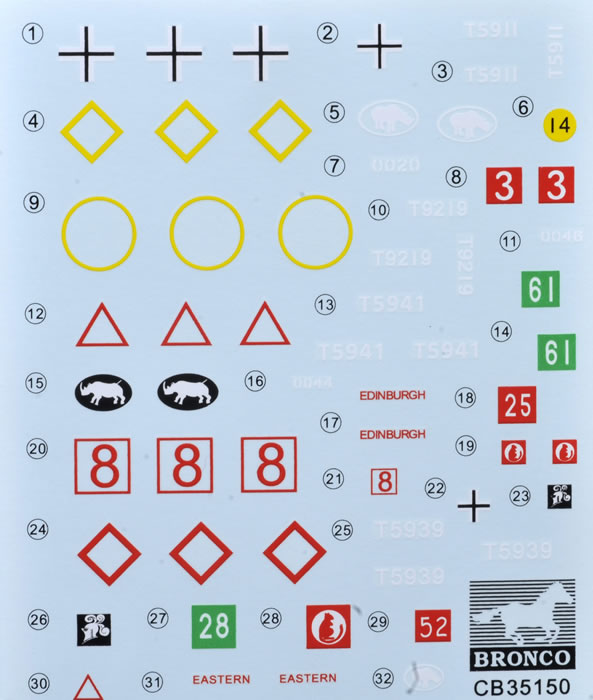 Although the colours on the box art perpetuate the now-debunked myth of the blue Caunter camouflage colour, the callouts in the instruction appear to be correct right down to quoting SCC paint numbers. The instructions also offer paint colour suggestions for British camouflage colours equivalents in the Mr Color lacquer range.
British military colours expert Mike Starmer has also added some comments about the colours and markings suggested by the kit instructions:
"Basically the only scheme properly advised is the captured tank. All of the others are inaccurate.

The BEF example does not show the actual method that the disruptive banding was applied, and certainly not in Black. Also, Khaki Green 3 is not green but actually a brown shade like a deep Olive Drab.

The side view in three stripes of Caunter is fine but without the other four 4 views of the pattern it becomes almost useless for the modeller.

The scheme of multi-coloured angular patches is pure fantasy whilst that for 3 and 5 RTRs in two colours is not quite accurate and lacks one of the disruptive stripes, again useless without the four views or photographs.
Furthermore, Brown / Light Purple Brown 49 were not used in the Caunter patterning."
---
Conclusion
I have been really looking forward to this kit and it does not disappoint.
Bronco's 1:35 scale A10 Cruiser Tank may be built as one of four different versions straight from the box, and it offers a wide range of interesting and varied camouflage.
Surface textures look great and exterior detail is very good, but with a total of 222 dark yellow plastic parts, it should be a relatively easy build too.
It's great to have this very buildable model of an important early British WWII tank.
Highly Recommended
Thanks to Bronco for the sample http://www.cn-bronco.com/en/index.php
Text and Images by Brett Green
Page Created 2 July, 2017
Page Last Updated 10 July, 2017