Home > Reviews > Britain > Armour At War Series - British Sherman Tanks by Dennis Oliver. Concord Publications
British Sherman Tanks
by Dennis Oliver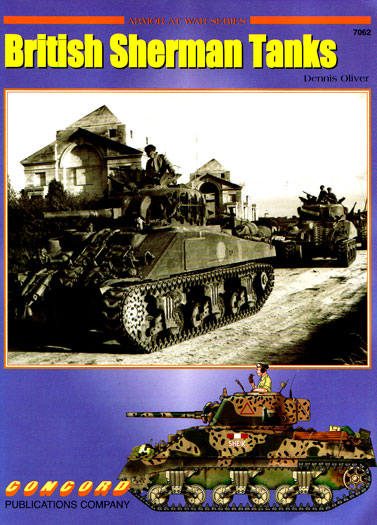 Reviewed by Glen Porter

Summary
Publisher and Title
Armour At War Series
British Sherman Tanks
By Dennis Oliver
Concord Publications
ISBN:
962-361-131-5
Media and Contents:
72 glossy pages plus a card cover in A4 format, 3 pages of text, 173 very clear black and white photos with very full captions and 16 colour plates by the Author.
Price:
Review Type:
First Read
Advantages:
Sherman Marks used by the British is explained in the text, photo captions are very detailed and excellent colour art-work includes points of interest with explanations in the captions.
Disadvantages:
I'm told there are some errors but none that I could find.
Recommendation:
Highly recommended to anyone who is into Shermans or the British Army in WW II
FirstRead

The Sherman tank, in all its guises, is arguably the most important Allied AFV of the Second World War. Not because of its performance, but its reliability and availability.

Although Shermans have been around in model form for a very long time in both major Armour scales, 1/35th and 1/72nd, there have been a spate of recent new releases in both scales plus the emerging 1/48 scale. Some of the older Sherman kits were quite good but no where near up to the standard now being set, so this new book by Dennis Oliver is very timely, even if it is only about British Shermans. It covers these vehicles from their introduction in North Africa to war's end in Berlin.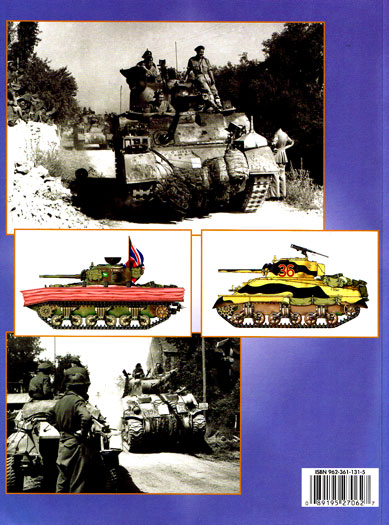 Dennis begins with three pages of text explaining the various Marks the British used, there US equivalents, theatres of operation, numbers issued and to which units. He then goes on to explain Sherman colour schemes through out the war and unit markings where relevant. The piece on each vehicle type has a bold heading for easy reference.
We then come to the first of the photo sections. Most good reference books have some bad photos, if only to emphasize some point or other, out of focus, bad exposure or printing, when a batter one could not be found. The Author has obviously gone to a lot of trouble to pick only the best and clearest from the hundreds that must have been available from the Imperial War Museum from which 172 of the 173 photos came. He's then gone to even more trouble, viewing the pictures closely then giving, where possible, dates, Sherman type, colours, theatres and in some cases even crew member's names.

The centre eight pages are all colour plates, by the Author, two to a page. Each plate has a side profile of a particular tank surrounded by other small pieces of art-work illustrating front or rear markings or variations with in a unit or other peculiarities mentioned in the captions. Like the photos, the colour plate captions have as much detail and information as possible. It took me two hours a day for almost a week to read all the captions in the book. True, I am a slow reader but there are a lot of them also.

The rest of the book is another thirty one pages of clear photos and detailed captions like the first half and just as interesting.

As I mentioned in the summary, I am told that there are some errors in this book but I couldn't find them. As I'm NOT a Shermaholic, that might not be surprising, in fact my only interest in Shermans is those used by the British so this book is almost aimed at me.
Thank you Dennis Oliver and Concord Publications.

Highly Recommended.
---