British Army Colours & Disruptive Camouflage in the United Kingdom, France & NW Europe, 1936-45
by Mike Starmer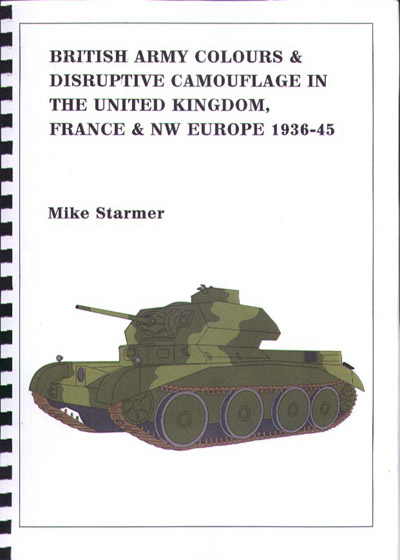 published by the author, no ISBN, 32 pages
Mike Starmer's fourth volume continues the story of British camouflage in exemplary fashion. Although, as he says, more information may come to light one day this is the best possible reference for modellers of British equipment at home and in Europe – not just tanks but artillery and softskins too – for the whole period. He gives us word-for-word transcripts of all the relevant instructions for interior and exterior painting, complete with their diagrams showing how to paint an effective camouflage and also how not to do it. These are "general" examples, not specific instructions for particular tank types, so reference to photographs will still be needed to model an individual Sherman or what-have-you, but they lay down the principles to be followed and modellers can follow the same principles quite easily. For 1944-45 there were three basic disruptive patterns and all three are shown; he explains that the "Mickey Mouse" pattern was actually a blend of two of them. All the paint colours for the area and period are explained, with not only paint chips but also enamel mixes to create them. These are mostly from Humbrol, though some Revell paints are used as well, but since the chips are given it will be a straightforward process of trial and error for modellers using other enamels or acrylics.
Armed with this book we can apply the right paint colours to any British military vehicle model, all we have to work out is which side of the several introduction dates it falls upon to decide whether it's the early-war green, the mid-war brown or the late-war British OD that underlies the pattern and whether it was repainted with the new colour or left in the previous one.
Excellent, and very, very highly recommended!
John Prigent
You can order direct from Mike at 18 Hillside Road, Piddington, Northants, NN7 2DB, UK for £10.00 plus £1.00 postage in the UK or £2.00 abroad.