Bison Decals Buffalo, WW2 British amphibians, Part 1 (BD-35013)
by Frank De Sisto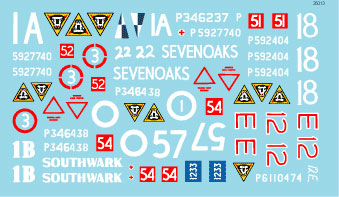 Water-slide decals in 1/35th-scale. Price: $9.00 USD, plus shipping.
This sheet will mark six complete LVT-4 amphibious tractors, commonly called "buffalo" by the British. It is designed for use on the Italeri plastic kit in 1/35th-scale, for vehicles used in North-west Europe in 1944-45. All are from the famed 79th Armoured Division.
Buffalo "A" features a three-tone camouflage scheme and carries a large white "1A" on the rear ramp. "B" also features a three-tone scheme and the name "Sevenoaks" on the hull side. "C" depicts an Olive Drab amphibian with a white circle squadron insignia and the name "Southwark" on the hull side. "D", also in the OD scheme wears a "57" on the forward corners of the superstructure. "E", again in a three-tone scheme, wears a white "18" on the forward corners of the superstructure and the hull side. "F" wears a three-tone scheme and carries a red/white "12 E" on the rear ramp and hull sides. All vehicles, except for "C", carry a 20mm Polsten gun.
The printing is done by Microscale in the USA, which is an assurance to the consumer that such things as color saturation, registration and image quality are first rate. The instructions consist of clear multi-view drawings and references to the colors that should be used. References checked indicate that the markings are accurate, although some published sources listed, did not provide the references shown on the instruction sheet.
As most folks will probably build their LVT-4 as a USMC vehicle in the Pacific, this sheet will certainly provide for something quite different, especially for those who model vehicles used by the British Army.
Highly recommended.
Bison products are available at retail and mail order shops and directly from the manufacturer at: www.angelfire.com/pro/bison. Visit their web site for images of reviewed items.