Home > Reviews > Britain > Echelon Fine Details ALT352002, M4A2 Medium Tank Sherman III, Markings of the Royal Wiltshire Yeomanry Tanks in Syria (1943) (ALT352002)
M4A2 Medium Tank Sherman III, Markings of the Royal Wiltshire Yeomanry Tanks in Syria (1943)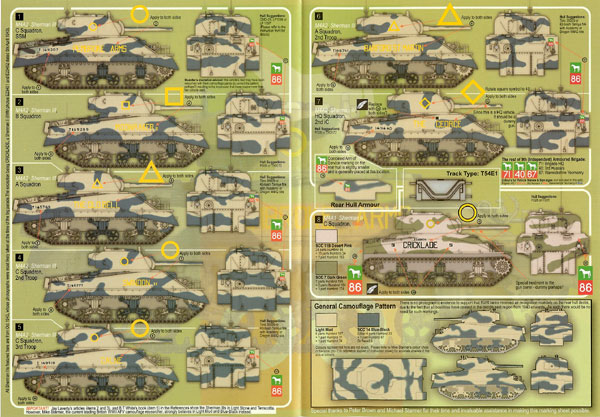 Reviewed by Frank De Sisto
Summary
Stock Number and Description
Echelon Fine Details ALT352002, M4A2 Medium Tank Sherman III, Markings of the Royal Wiltshire Yeomanry Tanks in Syria (1943)
Scale:
1/35
Media and Contents:
Water slide decals
Price:
USD$14.00 includes shipping
Review Type:
First Look
Advantages:
Beautifully printed; large selection of interesting markings; excellent instructions
Disadvantages:
Recommendation:
Highly Recommended
FirstLook

When it comes to modeling Sherman tanks, anything that makes it easier to depict a colorfully-marked M4 is always welcome. Indeed, the M4A2 (known to the British as the Sherman III) probably carried the most colorful markings of any of the breed. Users of the earlier M4A2s included Poland, France, the US Marine Corps, and in the case of the subjects of this decal sheet, the United Kingdom.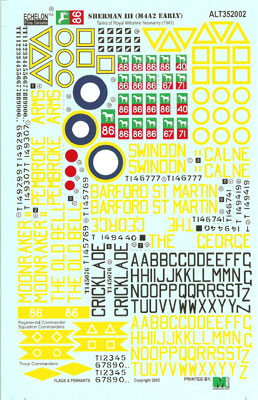 The eight subject tanks are all based on those seen in use by the Royal Wiltshire Yeomanry during training in Syria. All, except one, of the specific markings sets provided are for M4A2s; the odd-man out is a single M4A1 (Sherman II). It is painted in Desert Pink with Dark Green patches, while all of the A2s are painted in Light Mud with Blue-Black disruptive patterns. Each subject is depicted in two views, while the drawings and a chart will serve to provide information on specific vehicle features such as hull, suspension, track and road-wheel type (among other details).
Specific markings are provided for:
"Pembroke Arms"

"Moonraker"

"The Old Bill"

"Swindon"

"Calne"

"Barford St Martin"

"The George"

"Cricklade" (M4A1)
There are also, as usual from this manufacturer, plenty of extra items that can be used to create models of other tanks from this unit. A detailed chart is provided, which will be very helpful to modelers who wish to venture further a field. Aside from the tank's names, other items such as divisional insignia, squadron signs, AoS flashes, census numbers, antenna pennants and aerial recognition roundels are provided.

The decals are printed by Microscale in the USA and are typical of the high quality one expects from them. All details are crisply rendered, color saturation is excellent and registration is "spot-on". These decals are very thin, so care must be exercised in their use. As a user of water-slide decals exclusively, I heartily recommend that the modeler use the Microscale system, which instructs him to gloss-coat the surface and use Micro-Sol and Micro-Set solutions for best results. Seal these with a dull coat and they will look great for years. The instructions are in full color and are, in my opinion, among the best of their kind in the industry. Each Sherman is pictured in two views in a size large enough to be easily used. Where the designer's are un-sure of a specific detail, they say so, or they provide an alternative. This is quite commendable. References are given as are color notes and notes on detail differences between the sheet's subjects.
For those who work on other scales, these markings are available in 1/72nd, 1/48th and 1/16th-scales, so don't feel "left out".

As usual from this manufacturer, we have yet another highly useful, well-researched and beautifully-produced product.

Highly Recommended
---
Echelon Fine Details are available from retail and mail-order shops, or direct through their website at: http://pachome1.pacific.net.sg/kriegsketten/ , e-mail: kreigsketten@pacific.net.sg

Text and Images by Frank V. De Sisto
Page Created 28 January, 2006
Page Last Updated 27 January, 2006