AJ Press Tank Power 12: Japonske Bron Pancerna/ Japanese Armor Vol. 4.
by Andrzej Tomczyk with illustrations by S. Zajaczkowski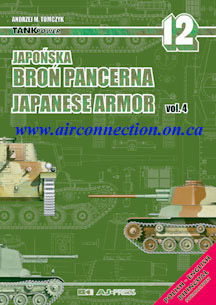 ISBN 83-7237-167-9. Price: $24.99 USD, $29.99 CDN.
With so little available in the English language on this fascinating subject, I have been a fan of this multi-volume series from its inception. This latest installment continues the story of the design, development and employment of Japan's AFVs, in particular the later experimental medium and heavy tanks.
The book is divided into roughly four sections. The first deals with the final tank designs, including the Type 3 Chi-nu, Type 4 Chi-to and Type 5 Chi-ri medium tanks. These are described using a brief text, specs for the Type 3 and 4, B&W photos and several general arrangement and cut-away line drawings. The photos include a series of factory production line images as well as post-war images of various tank types in US hands.
The next segment of text deals with the operational employments of Japanese tanks in the final campaigns of the Pacific theater of Operations: The Philippines, Iwo Jima and Okinawa. This is complimented by photos showing many types of Japanese tanks in combat situations including the Type 89B and Type 97 medium tanks, Type 95 light tanks and various Tankettes and SP guns. There are also maps detailing these campaigns, making them easily understood.
The other main segments are the 16 pages of multi-view CAD scale drawings as well as the 11 pages of full-color profile drawings. These cover the Type 3 Chi-nu, Type 4 Chi-to and Type 5 Chi-ri medium tanks (and variations), and Chi-ha with 120mm gun in its turret. Some of these drawings quite likely consist of conjectural items since I do not think some of these tanks survived to be carefully measured. But, it is good to have something on these rare beasts regardless. The color profiles of 13 different tanks are well-done and show variations on camouflage schemes as well as markings. Several vehicles are illustrated with four views.
The final segment is a two-page modeler's section detailing available products related to the vehicles covered in the earlier parts of the series. This contains a list of products as well as color photographs of either box art or the actual items.
Overall, the reproduction quality of the 97 B&W photos is good-to-excellent, especially the factory assembly-line images. The many technical and general arrangement drawings will be of use to modelers who are detail fanatics. The text is informative and is in both English and Polish. However the translation from the original Polish leaves much to be desired as it is obvious that it was not proof-read by a person whose first language is English. This results in some very odd grammar as well as word usage. However, although distracting, it can be overcome without too much difficulty. A major disappointment is an almost total lack of coverage of the 75mm Ho-ni II self-propelled gun (only two photos), which since I assume this is the last book in the series, is a serious oversight. Another point is that earlier books were complimented by photos of preserved Japanese tanks, which were very useful for modelers. This title lacks those as well.
If Japanese use of AFVs in the Second World War is your area of interest, then this book, as well as its companions, should be in your reference library.
Recommended.
Frank De Sisto
AJ Press books are available in North America from AirConnection at: www.airconnection.on.ca. Elsewhere see: www.aj-press.com.