Home > Reviews > Axis > Magyar Steel - Hungarian Armour in WW 2
by Csaba Becze. Mushroom Model Publications, Green Series.
Magyar Steel
Hungarian Armour in WW 2
by Csaba Becze
Reviewed by Glen Porter
Summary
Publisher and Title
Mushroom Model Magazine Special
No 4101 Green Series No 2
Magyar Steel
Hungarian Armour in WW 2.
By Csaba Becze.
ISBN:
83-89450-29-6
Media and Contents:
84 pages of text, B&W photos, maps, 35th scale plans, colour "walk round" photos and colour vehicle profiles.
Price:
£7.00, available online from Mushroom Model Publications' website
Review Type:
First Read
Advantages:
Interesting and very readable text, many B&W photos never seen before, clear colour "walk rounds" from Eastern European Museums.
Disadvantages:
A printing error in the text has been corrected with a loose sheet.
Recommendation:
Highly Recommended for those interested in some of the lesser known Armour Battles of WW 2.
FirstRead

This is the second in Mushroom Model Publication's Green Series (Armour), the first being Codename Swallow by Dennis Oliver.
The latest Mushroom books are up there with the best. Interesting subjects, readable texts, clear (often first time published) photos and accurate plans is the hallmark of this publisher and this one is no exception. Until recently, Mushroom has concentrated on aircraft monographs but now they're into armour also. Yippee!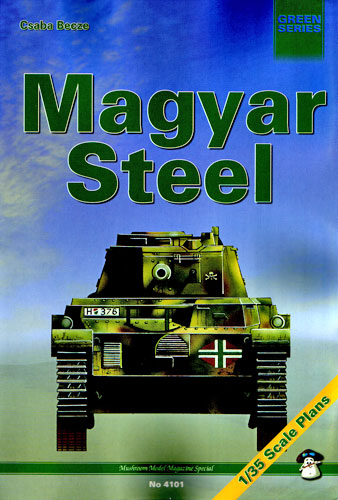 Magyar Steel covers Hungarian AFVs on the Eastern Front in support of the German Army in the Second World War. The first eleven chapters, most of the text, tells of the 1st Field Armoured Division from their formation to fighting in Noviy Oskol and the defence of Korotscha at the end. Dozens of B&W photos and many personal accounts makes this very good reading along with several maps to put the battles into perspective.

We are then offered a short (11 page) operational history of other Hungarian Armour units in WW 2 followed by 5 pages on the Hungarian Armour industry and vehicles in the same period. These two chapters also have many interesting B&W photos as illustrations.

Next comes 9 pages of 1/35 scale plans of Indigenous Armour drawn by Wojtek Rynkowski just in case you wanted to scratch build one, I doubt you will find many kits in any scale though. Following on from the plans is 15 pages of colour shots from various Museums in Eastern Europe of preserved vehicles as used by the Hungarians. However, although the number is small, the quality of the photography and colour reproduction is very high.

Finally, there are 13 pages of very colourful and detailed profiles including most of the Hungarian built vehicles and some of the German supplied tanks in various colour schemes and all with Hungarian markings.

The only criticism I can make here is a printing error. The third chapter, on page 10, "The First Attack at Korotoyak" has the text from "The Second Attack at Korotoyak". Obviously, Mushroom realized the mistake and had the correct text printed on a sheet which they've placed loose in the book. I would assume this would be corrected at the printing of the second issue.

The above minor issue not withstanding, this is a worthy addition to the Mushroom Model Publications line and I would recommend it to any modeller interested in the subject.

Highly Recommended.
Thanks to Mushroom Model Publications for the review sample.
---