Eduard M-40/75 Semovente exterior (35793)
by Frank De Sisto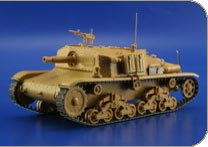 Photo-etched brass in1/35th-scale for Italeri kit. Price: $14.95 USD.
The M-40/75 is one of Italeri's oldest (and finest) kits; for its day it was quite refined. It needs very little in the way of exterior detailing and is a perfect platform for the Eduard approach to producing uncomplicated photo-etched sets. Since the Italeri kit has a bit of an interior included and Eduard bills this as an "exterior" set, it would appear that there are plans for another set. But for now, on to this one.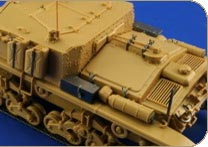 It is a very simple single-fret set, whose main component is a pair of storage bins, which are mounted above the tracks to the rear of the casemate. These have separate hinge, hasp and lock details. There are the usual tool brackets and clamps, mounts for the vehicle jack and what I think may be a storage point for the radio antenna. The AA machine-gun receives a new ring sight and mounting bracket, while the exhausts get some fine details for their pipes and their orifices. Finally, there are racks and details for the kit's jerry cans.
This one should prove ideal for a novice photo-etch user, and may be usable on the Tamiya kit.
Recommended.
Eduard products are available at retail and mail order shops, or direct from the manufacturer at: www.eduard.cz.