Armour PhotoGallery 8, Italian Armoured Cars Autoblinda AB 41 & AB 43, PzSpWg AB 41 201(i) & AB 43 203(i)
by Daniele Guglielmi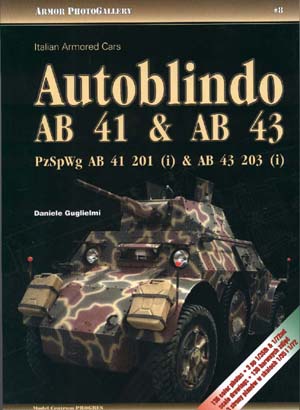 Published by Model Centrum Progres, ISBN 83-920254-0-7, 64 pages.
There isn't much in the English language about Italian AFVs and what there is concentrates on tanks, so this is a very welcome addition to the literature. The text is bilingual English/Polish and gives a brief overview of Italian armoured car development from the beginning up to 1943. Here there's a small selection of wartime photographs and also guidance on camouflage colours and service markings.
Then comes the main photo section, all in full colour and with both English and Polish captions. First is the AB41, showing two preserved examples in detail and pointing out the postwar modifications and any restorer's shortcuts. There are interior shots, too, and these 24 pages are going to be an essential reference for anyone building one of the several available kits. Next are 14 pages of AB43 photographs, again of two preserved examples and including interior as well as exterior details. The AB43 had a new, lower turret that would be fairly simple to scratchbuild, and the AB41 hull was almost unchanged so converting an AB41 kit would be simple.
After the colour photo section there are 4-view plans of both cars in 1/72 and 1/35 scale, followed by 8 more wartime photographs on 4 pages. Then there are three pages of diagrams apparently reproduced from the original vehlcle manuals, and finally a 7-page reproduction of the School of Tank Technology's report on a captured AB40 (the title given to the first few AB41s) complete with diagrams of the armour angles and thicknesses and a cutaway drawing of the interior layout.
This is excellent, just what modellers need, Very highly recommended!
John Prigent