German Self-Propelled Heavy Anti Tank Gun
Nashorn
Tamiya, 1/48 scale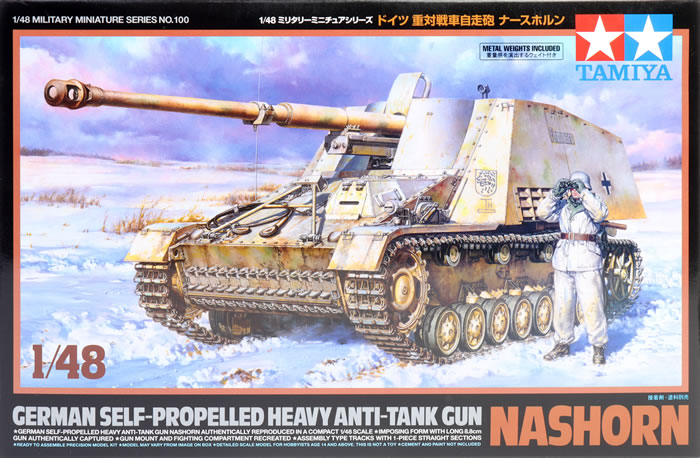 Catalogue Number and Description:

Tamiya Kit No. 32600 - German Self-Propelled Heavy Anti Tank Gun Nashorn

Contents and Media:

219 parts in tan coloured plastic; two metal ingots; two polythene caps; markings for two vehicles.

Scale:

1/48

Price:

2,200 yen

Review Type:

FirstLook

Advantages:

Accurate in shape

:

excellent link and length tracks

;

crisp detail

;

easy to build

; Commander figure included.

Disadvantages:

Some ejector pin circles on interior surfaces.

Recommendation:

Tamiya's mid-scale Nashorn is a well detailed kit and will be easy to build. This is another welcome addition to Tamiya's 1:48 scale military vehicle family.
Background
Nashorn, German for rhinoceros and initially known as Hornisse ("hornet"), was a German Panzerjäger of World War II.
It was developed as an interim solution in 1942 by equipping a light turretless chassis based on the Panzer III and Panzer IV tanks with the 88mm Pak 43 anti-tank gun.

Though only lightly armoured and displaying a high profile, it could penetrate the front armour of any Allied tank at long range, and its relatively low cost and superior mobility to heavier vehicles ensured it remained in production until the war's end.
*Historical summary courtesy of Wikipedia https://en.wikipedia.org/wiki/Nashorn
---
FirstLook
Tamiya revitalised the mid-sized 1:48 scale military market in 2004 with their brand new Tiger I Early Production kit. More Axis, Allied and Modern releases rapidly followed, until they reached the 1:48 scale milestone 100th kit with this Nashorn.
Tamiya's new 1:48 scale Nashorn comprises 219 parts in tan coloured plastic, two flat steel ingots, two polythene caps and markings for two vehicles.
Tamiya hasn't taken any short cuts with their new 1:48 scale Nashorn. Despite sharing some similarities to the Panzer III and Panzer IV, all the plastic sprues appear to be brand new, accurately reflecting the lengthened hull and consequent unique spacing of the suspension components.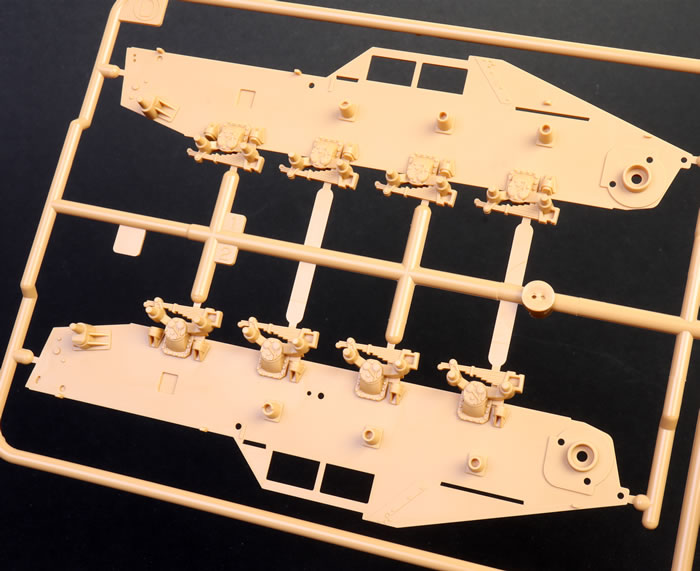 Tamiya has included two flat steel ingots to glue to the floor of the hull for "scale weight". Personally I like this feature, but the use of the weights are entirely optional.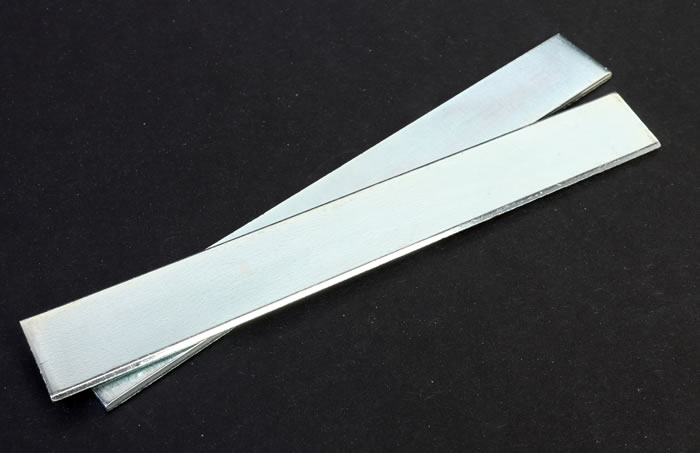 The lower hull sides are separate parts with bogie trucks moulded in place. The mounts for the return rollers are separate parts.
The superstructure is made up from separate panels. There are a few ejector pin marks on the inside surfaces but these will mostly be covered by interior fittings.
Interior detail is quite respectable with no-slip texture on the floor, interior hull racks and a highly detailed gun breech.
The long 88mm gun is supplied in plastic with one half of the muzzle brake being a separate part.The gun breech, recuperators and other gun paraphernalia are accurately depicted using a modest number of parts.
The gun will rotate thanks to a clever keyed system and the barrel may elevate and depress when complete.
Road wheels are simple two-piece plastic parts, while the drive sprockets may rotate thanks to polythene caps trapped between the final drive housings and the side of the hull. This will help in micro-managing the installation of the tracks.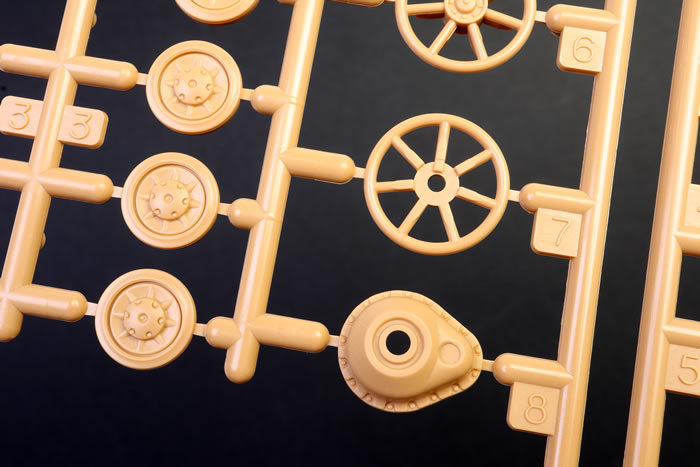 Tracks are link and length, with one long run for the upper and lower sections, two shorter runs on the lower section spanning the first and last road wheels and the drive sprocket (front) and idler wheel (rear), and finally 15 individual links per side for wrapping around the drive sprocket and the idler wheel.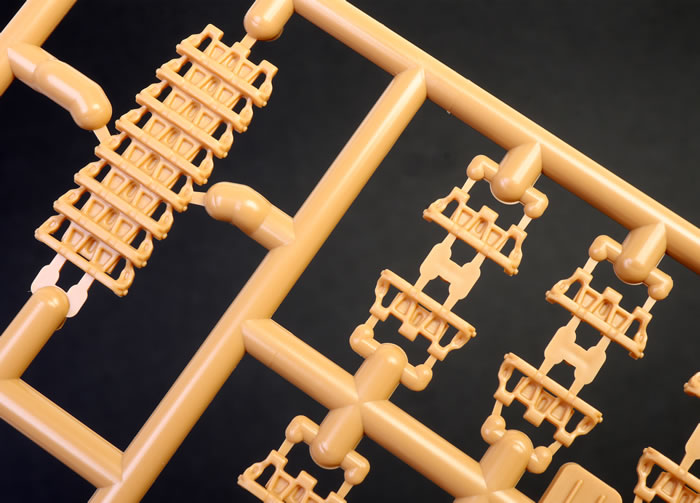 The long upper run also benefits from a locating hole that fits a pin on top of the third return roller on each side.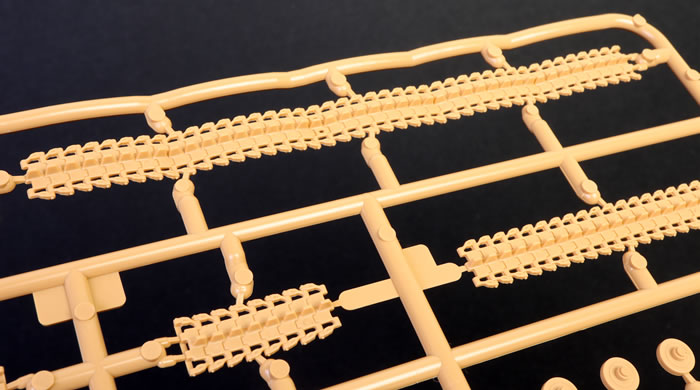 I have built quite a few of these Tamiya 1:48 scale link-and-length tracks, and they have always proven to be easy to install. The sag along the upper run is also very convincing.
Tamiya provides spare road wheels and track links and on-vehicle equipment.
A single Commander figure is included.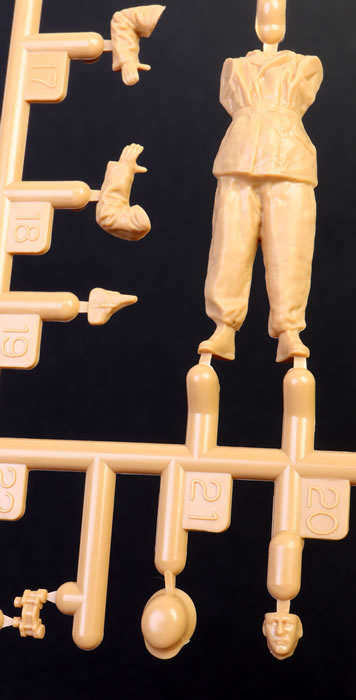 He is wearing winter weather parka and padded trousers. Sculpting and pose are quite natural.
---
Markings
The small decal sheet provides markings for two vehicles on the Eastern Front in 1944.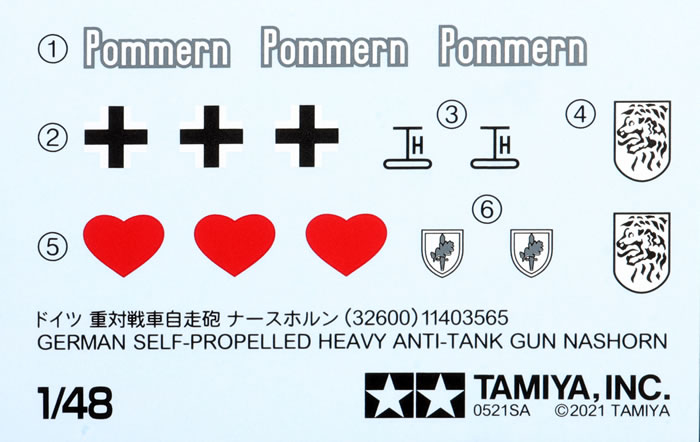 Both vehicles are finished in mid-war three-colour camouflage of Dark Yellow, Red Brown and Dark Green, with one of these having a heavy whitewash overpaint.
Decals are in register and well printed.
---
Conclusion
Tamiya's mid-scale Nashorn is a well detailed kit and will be easy to build. This is another welcome addition to Tamiya's 1:48 scale military vehicle family.
I wonder what my next building project will be? (That's a rhetorical question!)
Purchased by the reviewer

Text and Images by Brett Green
Page Created 18 December 2021
Page Last Updated 20 December, 2021