T-34/85 Russian Medium Tank
Tamiya, 1:48 scale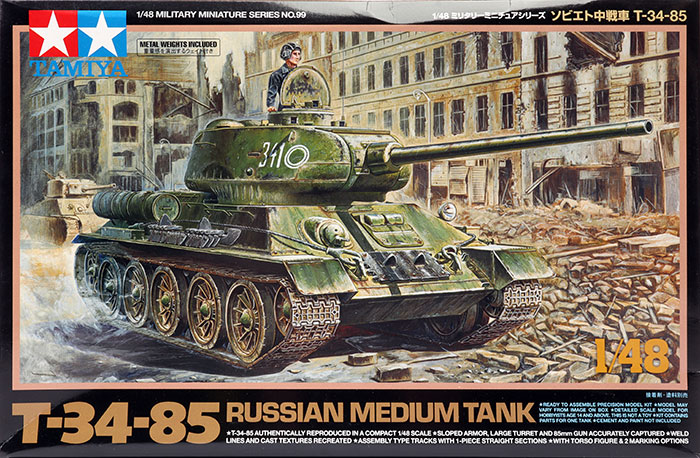 Catalogue Number and Description:

Tamiya Kit No. 32599 - T-34/85 Russian Medium Tank

Contents and Media:

186 parts in dark green plastic; four metal ingots; two small polythene caps; one length of string; markings for two vehicles.

Scale:

1:48

Price:

TBA

Review Type:

FirstLook

Advantages:
All new mouldings; convincing surface textures; easy to assemble

link and length tracks

;

crisp detail

;

fast

buil

d; Commander figure included.

Disadvantages:
Some ejector pin marks (although they will mostly be hidden on the finished model); solid plastic engine deck mesh; green plastic headlight lens.
Recommendation:

Tamiya's brand new 1:48 scale T-34/85 is a simple kit that will be easy to build. Surface textures are really well done too. This is another welcome addition to Tamiya's 1:48 scale military vehicle family.
Background
The T-34 was the mainstay of Soviet armoured forces throughout the Great Patriotic War.
Its general specifications remained nearly unchanged until early 1944 when it received a firepower upgrade with the introduction of the greatly improved T-34/85 variant. Its production processes were continuously refined and rationalised to meet the needs of the Eastern Front, making the T-34 quicker and cheaper to produce over time.
The Soviets ultimately built more than 80,000 T-34s of all variants, allowing steadily greater numbers to be fielded despite the loss of tens of thousands in combat against the German Wehrmacht.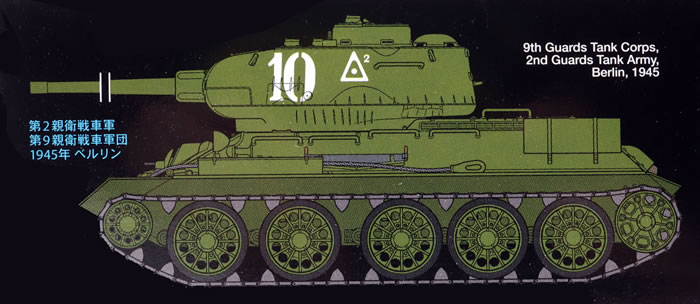 Replacing many light and medium tanks in Red Army service, it was the most-produced tank of the war, as well as the second most-produced tank of all time after its successor, the T-54/T-55 series.
With 44,900 lost during the war, it also suffered the most tank losses ever.
Its development led directly to the T-44, then the T-54 and T-55 series of tanks, which in turn evolved into the later T-62, that form the armoured core of many modern armies.
T-34 variants were widely exported after World War Two, and as recently as 2018 more than 130 were still in service.*
---
FirstLook
Tamiya released a 1:48 scale T-34/76 in 2005. Surprisingly, as far as I can tell, this new T-34/85 shares nothing at all in common with that 2005-release kit.
Tamiya's new 1:48 scale T-34/85 represents the Model 1945. Key features of this variant are:
squared off front mudguards

large cupola with single-piece hatch

step join and fillet at the lower forward turret hull

a "flattened" lateral profile on the lower mid turret sides of vehicles produced at Nizhniy, Tagil and Chelyabinsk

a bulge on the lower left side of the turret to accommodate the traverse mechanism and

a small lip/bulge on the turret side next to the Commander's cupola.
This new kit faithfully reproduces all of these features. The Model 1945 and even late production Model 1944 tanks were sometimes fitted with smoke dischargers on the rear hull plate but Tamiya has not depicted these.
Tamiya's 1:48 scale T-34/85 comprises 186 parts in dark green coloured plastic, four metal ingots, two small polythene caps, a length of string plus markings for two vehicles.
Surface textures are every bit as good as we have seen on Tamiya's other recent releases. The cast effect on the turret is especially impressive.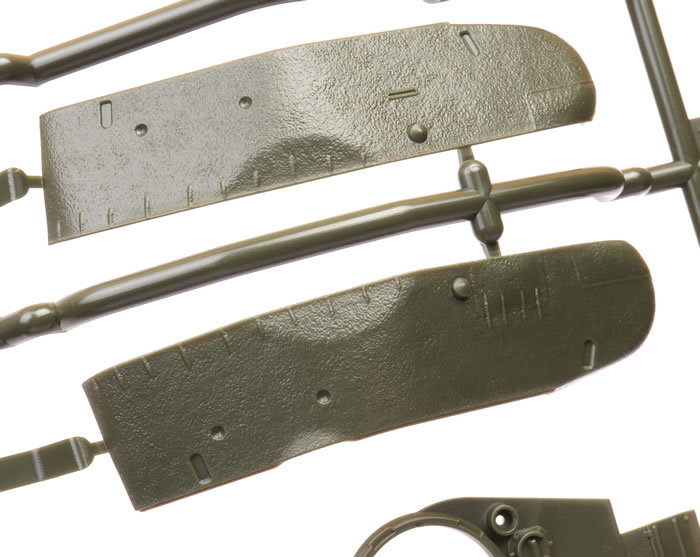 Hatches, hinges, rails, hand holds, weld beads and other features are all crisply done, with many moulded in place.
The lower hull is made up from separate panels for the bottom and sides.
Four cylindrical metal ingots are included for fitting in the lower hull. This is intended to deliver "scale weight", but they are entirely optional. I quite like these so I'll use them on mine.
Road wheels are the full spider style with 12 full-radius reinforcing ribs, 12 large lightening holes near the edge of the rim and up to 12 small lightening holes close to the hub. Tyres are solid with no perforations. Reference photos show that one, two or three of the innermost row of lightening holes were sometimes closed over. Tamiya has depicted this feature with two inboard holes closed on each wheel.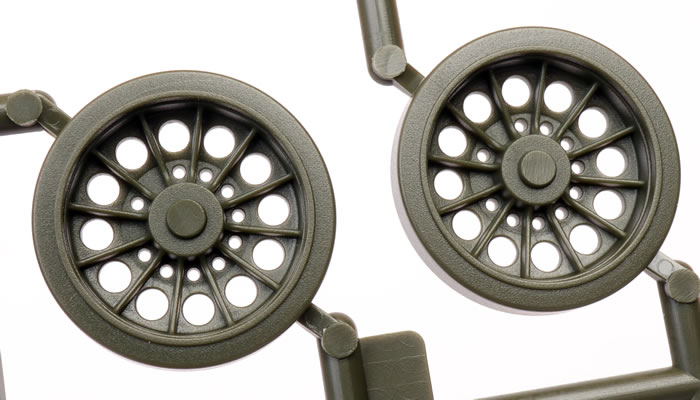 This style of wheel, along with the similar "half-spider" with six lightening holes instead of the 12 hear the hub, was installed on very late-war and post-war vehicles.
Swing arms are moulded to the lower hull sides. The road wheels are simply glued to the swing arm axles.
The drive sprockets are moulded with a recess that locks into a tab at the top of the final drive housing to ensure perfect alignment with the running gear.
The tracks are injection moulded plastic lengths and links. Detail looks excellent and with the long top and bottom runs, assembly is straightforward.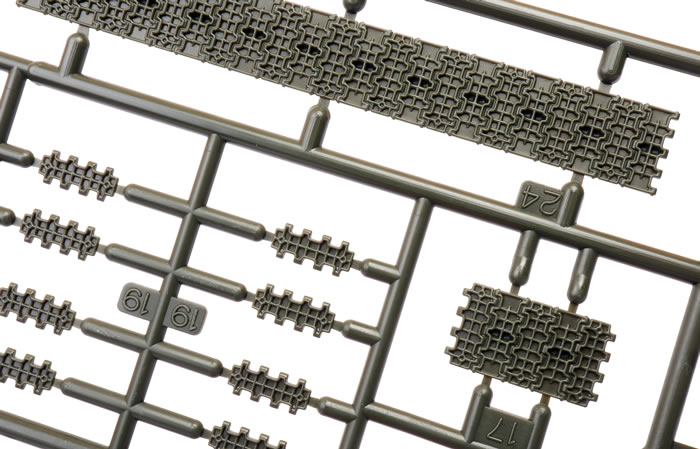 There are some ejector pin marks on the inside surfaces of the tracks (there are some on the lower hull sides too) but they will be almost completely hidden once the full running gear is in place.
The upper hull is moulded as a single part with track guards and squared off mudguards moulded in place. The engine deck grilles are moulded solid as part of the hatch but they should look fine with careful painting and dry-brushing. The fact that the hatch is moulded as a separate part also leaves a replacement option open to the aftermarket.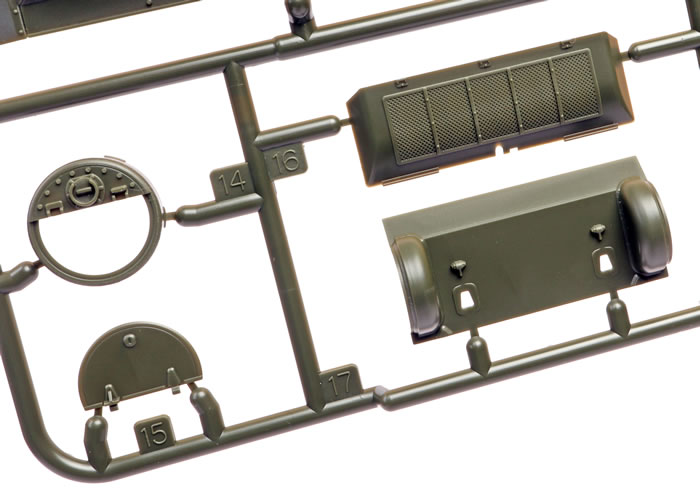 Grousers, spare track links, tow cables and three fuel drums are supplied.
The turret is broken down into separate parts for the sides, top, bottom, rear and front mantlet.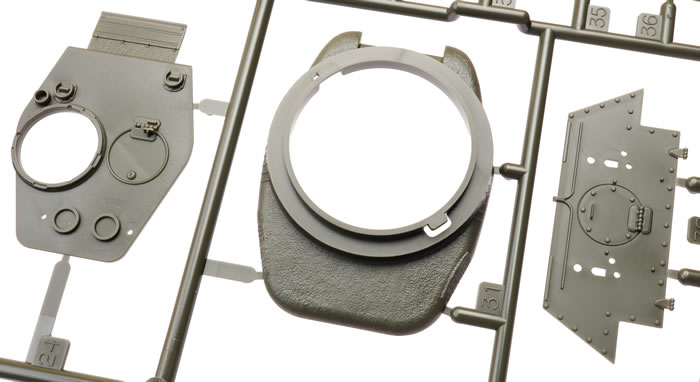 The gun barrel is a single piece with a separate muzzle. The barrel may elevate and depress thanks to two polythene caps.
The Commander's hatch is a separate part and may be posed open to fit the included (and very nicely sculpted) Commander figure. The Commander has separate arms and head and will be glued to a mount inside the turret.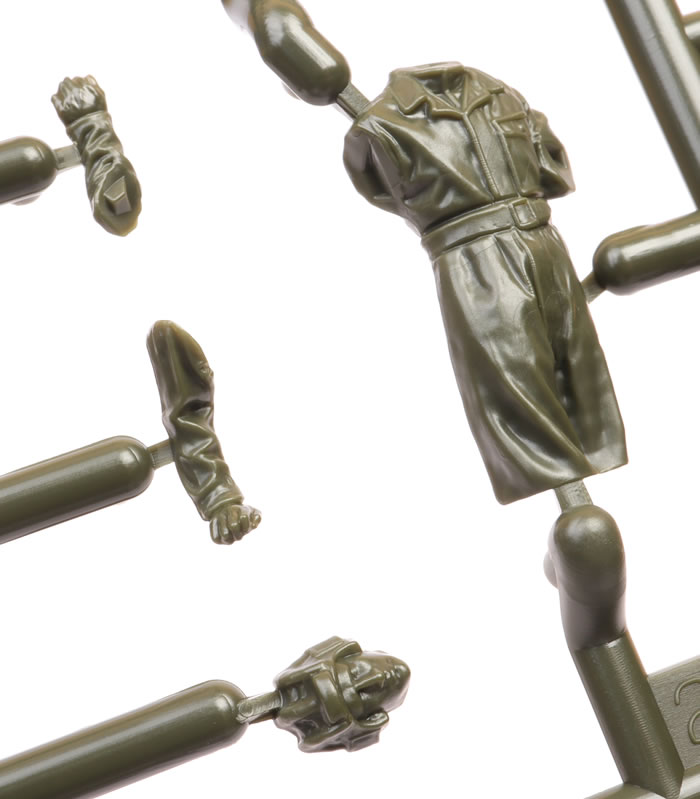 The loader's hatch is moulded shut.
Clear parts are not included. The headlight lens is a separate solid green plastic prt, so you can easily replace this witha clear aftermarket lens.
A length of string is supplied for the tow cables.
Markings are supplied for two vehicles, both seeing action in Berlin, 1945.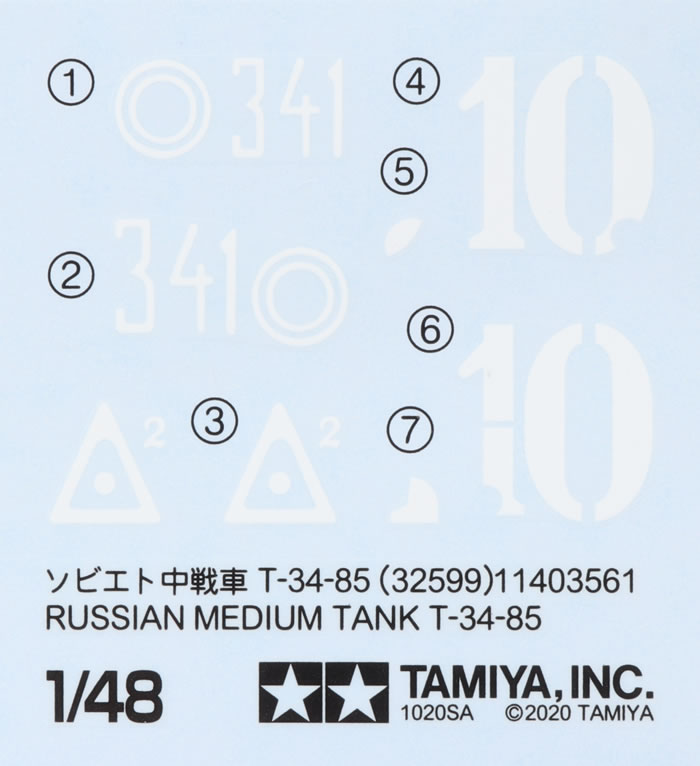 They are nicely in register and should snuggle down pefectly under a coat of setting solution.
---
Conclusion
Tamiya's brand new 1:48 scale T-34/85 is a simple kit that will be easy to build. Surface textures are really well done too. This is another welcome addition to Tamiya's 1:48 scale military vehicle family.
* Historical summary adapted from Wikipedia
Thanks to Tamiya Japan for the sample
Tamiya kits are distributed in the UK by The Hobby Company Limited
Text and Images by Brett Green
Page Created 10 April, 2021
Page Last Updated 11 April, 2021