U.S. Main Battle Tank M1A2 Abrams
Tamiya 1/48 scale
Reviewed by Brett Green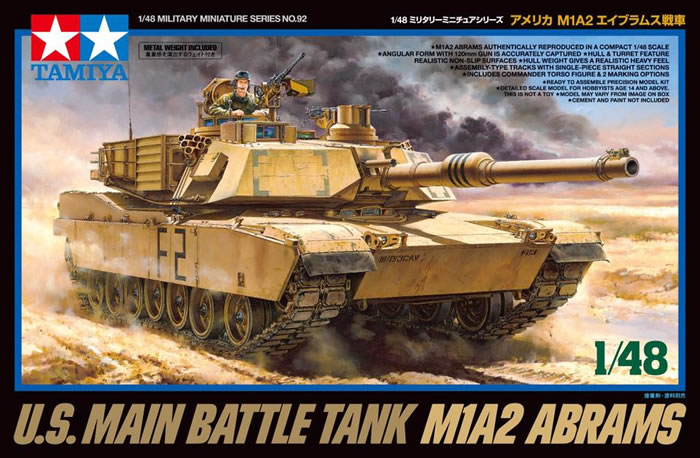 Summary
Stock Number and Description

Tamiya Kit No. 32592 - U.S. Main Battle Tank M1A2 Abrams

Scale:
1/48
Media and Contents:

172 plastic parts in light grey coloured plastic (test shot plastic - production kit will probably be dark yellow plastic); one steel ingot; four polythene caps; markings for two vehicles.

Price:
TBA
Review Type:
First Look
Advantages:

Straightforward build; important subject previously neglected in this scale; superb surface textures; good level of detail; includes one crew figure.

Disadvantages:
Recommendation:
Highly Recommended

Introduction
The M1 Abrams is an American third-generation main battle tank. It is named after General Creighton Abrams, former Army chief of staff and commander of United States military forces in the Vietnam War from 1968 to 1972. Highly mobile, designed for modern armored ground warfare, the M1 is well armed and heavily armored.
Notable features include the use of a powerful multifuel turbine engine, the adoption of sophisticated composite armor, and separate ammunition storage in a blow-out compartment for crew safety.
Weighing nearly 68 short tons (almost 62 metric tons), it is one of the heaviest main battle tanks in service.
The M1 Abrams entered U.S. service in 1980, ultimately replacing the M60 tank. The M1 remains the principal main battle tank of the United States Army and Marine Corps, and the armies of Egypt, Kuwait, Saudi Arabia, Australia and Iraq.
Three main versions of the M1 Abrams have been deployed, the M1, M1A1, and M1A2, incorporating improved armament, protection, and electronics. These improvements and other upgrades to in-service tanks have allowed this long-serving vehicle to remain in front-line service.
The M1A2 is a further improvement of the M1A1 with a Commander's independent thermal viewer, weapon station, position navigation equipment, and a full set of controls and displays linked by a digital data bus. These upgrades also provide the M1A2 with an improved fire control system.
The M1A2 System Enhancement Package (SEP) adds digital maps, FBCB2 capabilities, and an improved cooling system to compensate for heat generated by the additional computer systems. The M1A2 SEP also serves as the basis for the M104 Wolverine heavy assault bridge.
The M1A2 SEPv2 (version 2) added Common Remotely Operated Weapon Station (CROWS or CROWS II) support, color displays, better interfaces, a new operating system, better front and side armor, and an upgraded transmission for better durability.
Further upgrades include depleted uranium armor for all variants, a system overhaul that returns all A1s to like-new condition (M1A1 AIM), a digital enhancement package for the A1 (M1A1D), and a commonality program to standardize parts between the U.S. Army and the Marine Corps (M1A1HC).
The development for the improved M1A3 variant has been known since 2009.
---
F i r s t L o o k
Considering its prominence and dominance of recent battlefields, it is perhaps surprising that we have not seen a mainstream injection moulded Abrams tank in 1/48 scale until now. In fact, as far as I am aware, the only modern Main Battle Tank available in 1/48 scale is Tamiya's Japanese Type 10, released last year.
Tamiya has now addressed this deficit with its recent announcement of a brand new 1/48 scale M1A2 Abrams. I was lucky enough to receive a pre-production test shot of this forthcoming kit. Please keep in mind that there may be some minor changes by the time the production kit is released.
Tamiya's 1/48 scale M1A2 Abrams test shot comprises 172 parts in light grey coloured plastic (one of the changes is likely to be the colour of the plastic, which I would expect to be dark yellow in the production kit), one steel ingot, four small polythene caps, plus markings for two vehicles.
The characteristic lines of the Abrams are accurately portrayed, and the surface textures are just as good as we have seen on Tamiya's recent Japanese Type 10 tank. The hull and turret are moulded with subtle anti-skid patches.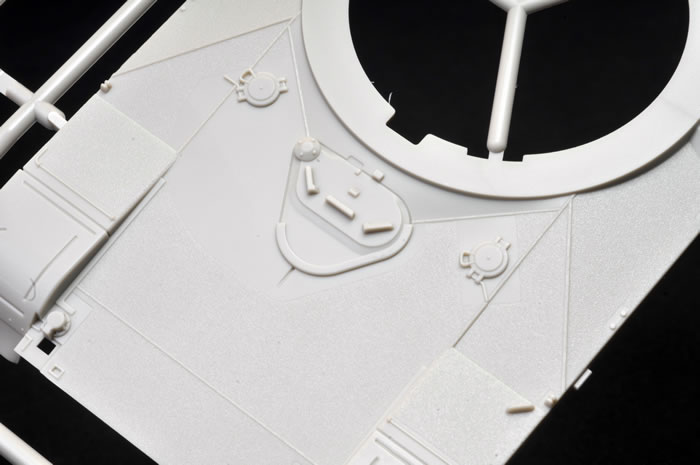 Hatches, hinges and other features, all crisply done.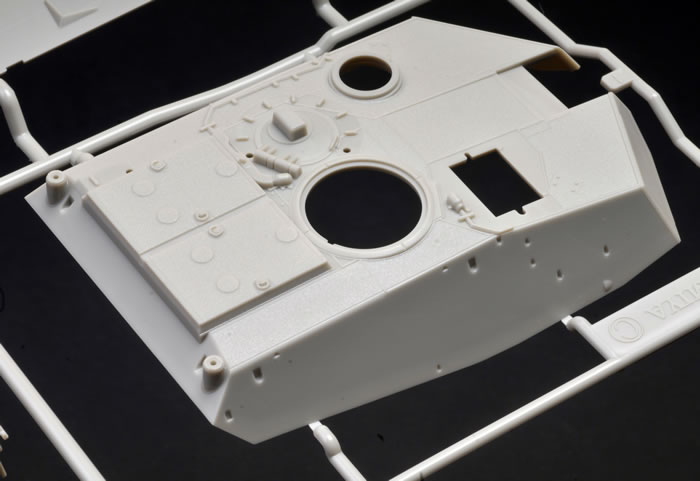 The lower hull, upper hull and turret are all made up from separate panels for the top, bottom and sides as applicable.
The side skirts are supplied as one full length for each side.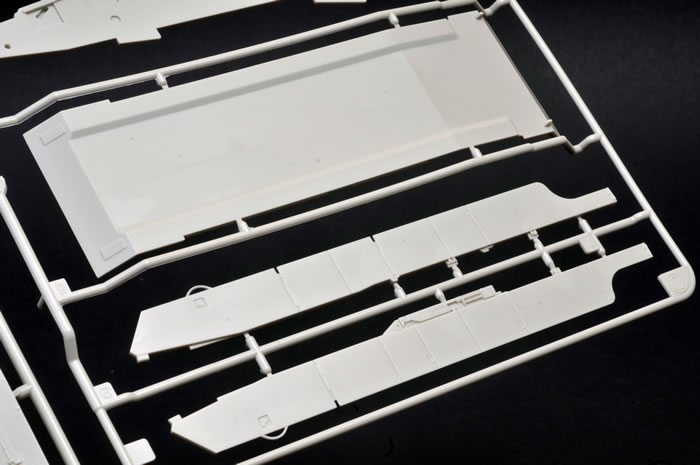 One flat rectangular ingot are included for fitting in the lower hull. This is intended to deliver "scale weight", but it is entirely optional. I'll fit mine.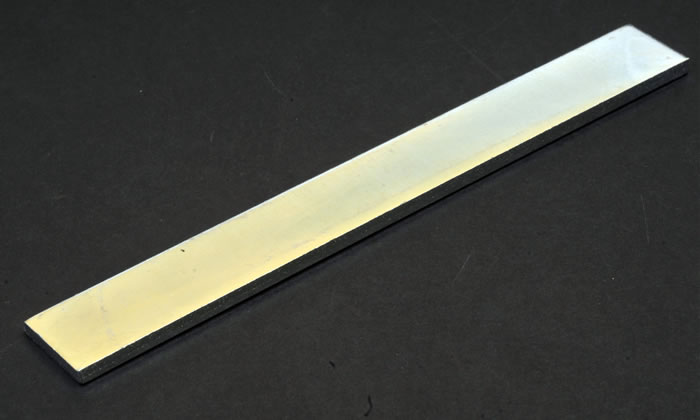 All the unique attributes of the Type 10 are present, including the armoured external Commander's and gunner's sight.
The swing arms are moulded to the lower hull sides. The road wheels are simply glued to the swing arm axles, while the drive sprockets remain workable thanks to polythene caps. This is really helpful when fitting the link and length tracks.
The tracks are injection moulded plastic lengths and links. Detail looks excellent and with the straight top and bottom runs, assembly should be straightforward.
The gun barrel is also fitted via poly caps, allowing it to be moveable after assembly. The main gun barrel is a single piece with a separate muzzle and a two-part fume collector, split into left and right halves.
The Commander's hatch is a separate parts and may be posed open to fit the included (and very nicely sculpted) Commander figure.

Clear parts are not included, but in what I think is a first for a Tamiya 1/48 scale kit, the rangefiner, Thermal Viewer and vision block lenses are all represented with decals. This is a nice easy solution that should look good in this scale.
Markings are supplied for two vehicles.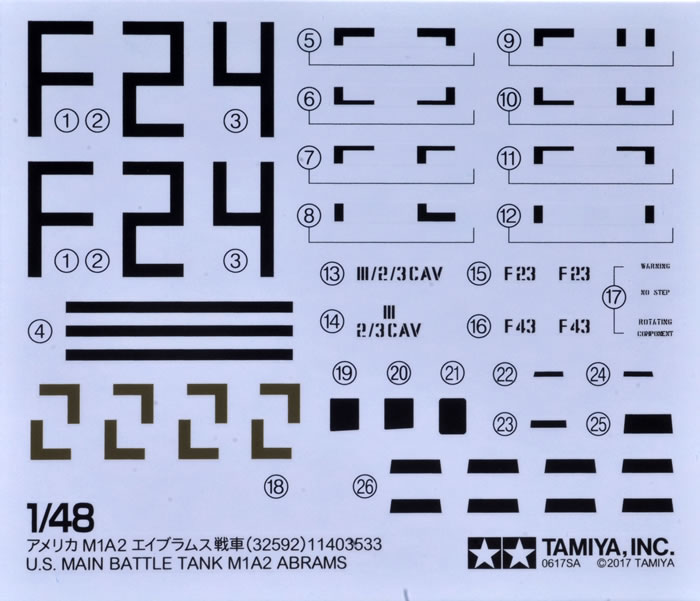 They are nicely in register and should snuggle down nicely under a coat of setting solution.
---
C o n c l u s i o n
Tamiya has delivered another state-of-the-art kit with its 1:48 scale M1A2 Abrams. The subject is very welcome indeed and I expect that we will be seeing plenty of after market upgrades, antennae, stowage and more.
Now how about a 1:48 scale T-55 or a Challenger tank? Pretty please?
Highly Recommended.
Thanks to Tamiya for the sample.
Tamiya products are distributed in the UK by The Hobby Company Limited
Text and Images by Brett Green
Page Created 14 July, 2017
Page Last Updated 14 July, 2017