Sherman V / M4A4 Conversion Set
Fighting 48th, 1/48 scale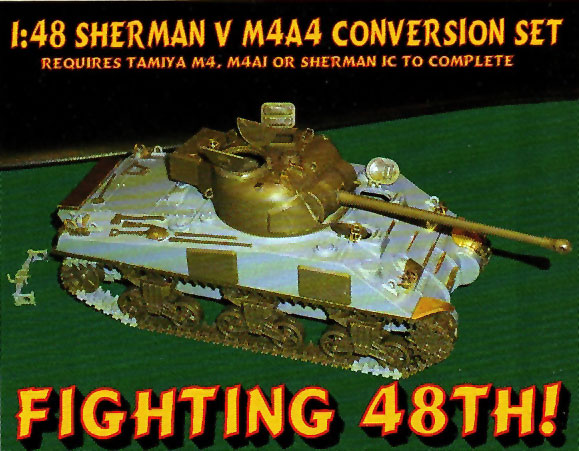 Reviewed by Jay Laverty
FirstLook - A promising beginning

I am probably a much larger fan of British Shermans as opposed to American ones, and therefore the Sherman V or "Firefly" is one of my all time favourite tanks, if not my favourite outright. Having recently been treated to perfection on the form of a Firefly in 35th from Tasca (which just may be the nicest model kit ever made in my opinion) we now have a conversion set produced in 48th to make this ubiquitous example of American production and British ingenuity.
Fighting 48th were a completely new name to me when I heard of this conversion and rightfully so as this is their first release.
Served up in a sturdy white box that looks more than capable of withstanding the rigours of air-mail passage to any of the globes destinations, with a full colour label adorning its top, this release instantly speaks of a professional approach.
Inside the box, securely packed are the upper and lower hulls, accompanied by a sheet of photo-etched parts that are more extensive than some 35th scale releases, and a grip seal bag with the extensions for the tracks, some ammunition and the rest of the parts that will be necessary to turn any one of the currently available Tamiya 48th scale Shermans into an M4A4.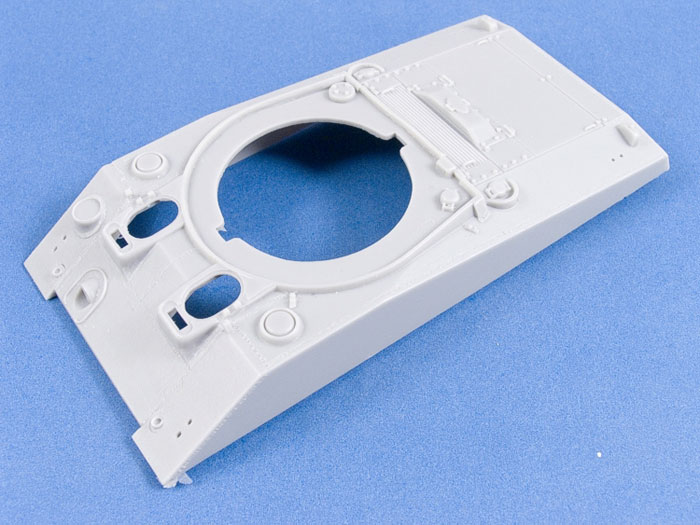 Click the thumbnails below to view larger images:
---

Latest technology
Having been designed using the latest CAD technology the dimensional accuracy of the parts is very sound, and the detail is fantastic. The only comment I can make at this point is that to my eye some of the rivets seem a bit large, but this is a personal observation and should not be taken as the gospel truth. It could be that once they are painted they may seem perfect. Only time will tell on that one.
The resin is of the highest quality, as is the casting, and under close scrutiny I only came across one air bubble on the stowage bin which is pretty darned good in my opinion.
---

All Singing, All Dancing
The photo-etched parts make up a lot of details, which in 48th scale in particular, need to be much finer than injection moulded plastic can produce. The etched fret provides periscope guards for all of the tanks hatches, Rifle and Blade sights, Spare track link brackets, engine grill, grouser box grill covers, and my personal favourite, track skids for the bogies. In fact with every detail down to the mud guards, and their mounting strips, this set eliminates the need for any other aftermarket etched set, and I would rate it as a £9.00 value at the minimum. The only detail that was left off was the British type fire extinguisher which need to be sourced from the donor kit, but fortunately I have some Hauler ones which will go quite nicely on this kit.
---

Clear Direction
The instructions are an all colour affair, and are very clear and easy to understand and follow. There is plenty of text which simply describes what needs to be done to assemble the kit, along with a few computer graphics to illustrate more complex assemblies in further detail. As some of the parts are very complex assemblies, particularly in a scale like 48th, the depth of the instructions is very welcome. In fact a lot of the description also describes the real life usage of the parts, which makes this to be a somewhat educational model.
---

Looking to the future as well…
There are some very interesting releases for the future from Fighting 48th, and all will be concentrating on the under serviced (to this point at least) British armour modeller. I am sure that I am not the only modeller out there who will be eagerly awaiting a Sherman Crab Mk.V!
---


Conclusion
This conversion kit is not for the faint of heart when it comes to the wallet as at £25.00 plus post and packing, it isn't the cheapest box of resin and etched you will buy this year. However, it is a complete detail and conversion set, with etched parts that cover the entire kit, along with the donor kit, and if you are into super-detailing models, then this is right up your alley.

This very complete conversion set may be purchased with Credit cards or Pay Pal directly from Fighting 48th via their website:

www.fighting48th.com
E-mail: info@fighting48th.com

UK Cheques and Postal Orders can also be sent to the following mailing address:

Fighting 48th
9 Gadshill Drive
Stoke Gifford
Bristol
BS34 8UU
United Kingdom

Thanks to Fighting 48th for the review sample
Text and Images by Jay Laverty
Page Created 29 January, 2007
Page Last Updated 29 January, 2007