Voyager Model Accessories are available online from Mission Models
FirstLook
Rest Models have produced two very well done 1/48 scale Soviet figures in resin.
The first is a Soviet officer in what first appears to be a 1940 Russian Greatcoat but on closer inspection reveals it to be a 1933 pattern coat. The figure has a very well done cloth helmet (or shlem) with large cloth star well represented. The fabric folds are very well done on both figures as is the facial detail.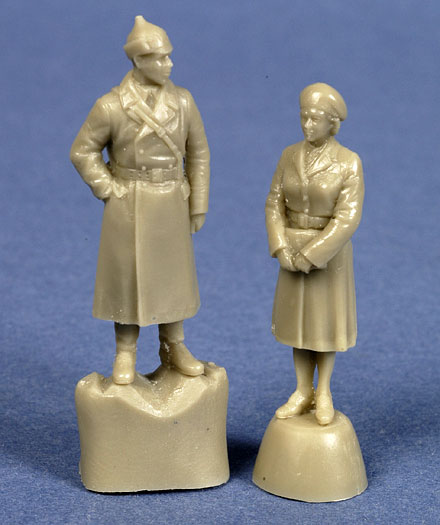 The figures may be a tad small and scales out to around 5 foot 7 for the officer while the women is around 5 foot.
What I like about this Civilian Woman figure is that the feminine features like the face and build are rendered in a polite way. They don't have the exaggerated "Lara Croft" style appendages so often seen in this style of figure.
These two figures are very well done and should have a variety of uses
Highly Recommended
Thanks to Rest Models (via Frank Berger) for the sample
---
The figures will be available online from Rest Models' website http://www.restmodels.com/
---