Achilles Tank Destroyer Conversion
MR Models, 1/48 scale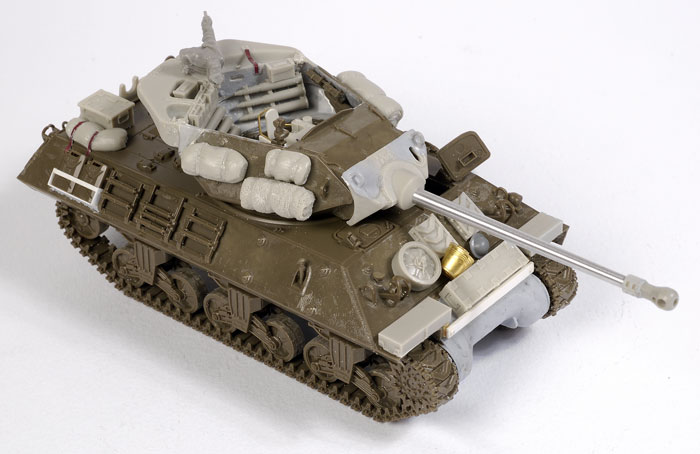 Catalogue Number and Description:

MR Modellbau item no. 4814 - Achilles Conversion

Contents and Media:
27 parts in grey resin; 1 turned metal gun barrel
Scale:
1/48
Price:
Price to be advised - available online from MR Modellbau website
€14.97 available online from Quarter Kit's website
Review Type:

FirstLook

Advantages:
Dramatic transformation of Tamiya's M10; the only option for a 1/48 scale Achilles currently available; good quality casting; two alternative muzzle brake styles; wide variety of stowage and on-vehicle equipment; includes turned metal replacement gun barrel.
Disadvantages:
Does not completely address interior stowage; a few casting imperfections; instructions are lacking in detail
Recommendation:
Highly Recommended
FirstLook
The Achilles was a British conversion of the American M10 Tank Destroyer designed to accommodate the powerful 17pdr anti-tank gun. This gun required a deeper turret, modified interior stowage and revised mantlet and gun mount.
MR Model now gives 1/48 scale modellers the opportunity to build this potent tank destroyer.
MR's 1/48 scale Achilles conversion comprises 27 pieces in in grey coloured resin plus a replacement turned metal gun barrel.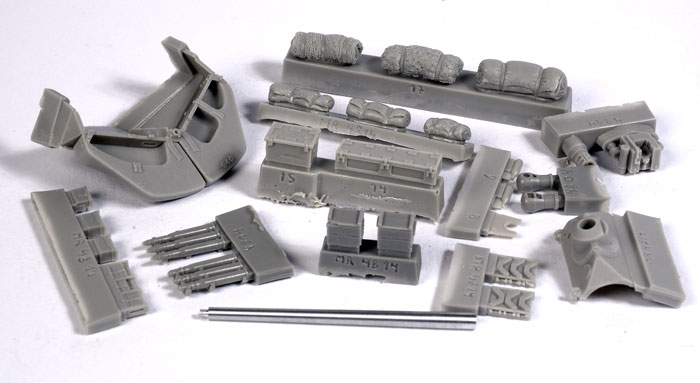 The conversion parts are the new mantlet, gun barrel, 17 Pdr breech, counterweight collar, two styles of muzzle brake and the big new turret counterweight / rear upper turret wall.
Additional stowage items are also supplied, including six 17 Pdr shells in two ready racks, ammo boxes, crates, First-Aid bix and various bags and stowed camouflage nets.
Casting quality is very good, with only a few tiny pin holes in my sample. There was another problem that emerged when I was cleaning out the inside of the lifting eyes on the mantlet though. When I inserted the file in the gap, the entire corner of the mantlet broke off. This was not a huge problem, as I simply rebuilt the corner of the mantlet with plastic card. Check the rear of your mantlet to see if there are any air bubbles that might effect the integrity of this area on your conversion too. If there are, they can be backfilled with either super glue or epoxy putty to reinforce this area.
There is a list of parts and two photos of the assembled model with the resin parts labeled and shown in place. This leaves several questions unanswered about assembly and parts placement. In particular, you should be aware that the top part of the rear turret wall needs to be cut out. It is easiest to do this before the turret halves are joined. The photo below shows my attempt. The fit of the resin part was quite good, but some fairing-in with Milliput was necessary to smooth a few steps.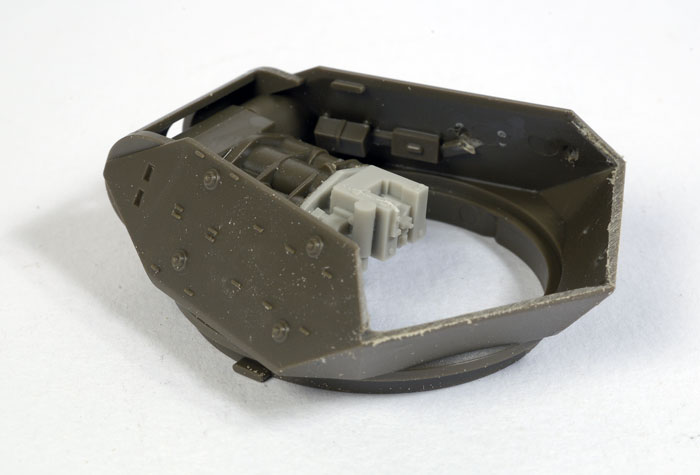 References are a bit ambiguous about turret equipment and ammunition stowage and the instructions do not help much. I eventually decided to install ready racks on both rear turret walls and on the port sidewall. I recommend Toadman's Achilles walkaround as an easily accessible reference for this area.
The photos on Toadman's walkaround show a very prominent guard fitted around the breech. I fabricated this part from brass wire and scrap plastic.
The holes in the muzzle brakes need to be drilled out. This is a fast and easy job using a pin vise. With care, the rear section of Tamiya's 76mm gun barrel may be cut off and used as a mount for the resin mantlet. This will permit the barrel to elevate and depress.
The balance of construction is very straightforward.
MR Models' 1/48 scale Achilles conversion really looks the part when finished, although modelling skills will be essential when adapting the new turret counterweight to Tamiya's turret. Access to good reference photos will compensate for the lack of guidance in the instructions too.
Congratulations to MR for continuing to produce interesting and high quality conversions for armour models in this emerging scale.
Highly Recommended.
Thanks to Frank Berger and MR Modellbau for the samples
Text and Images by Brett Green
Page Created 22 April, 2007
Page Last Updated 22 April, 2007