Home > Reviews > 1/48 Scale > Befehlswagen Conversions
Tiger, Panther, Jagdpanther (Hauler HLX48070, 48071, 48072)
Befehlswagen Conversions
Tiger, Panther, Jagdpanther
Reviewed by Rob Baumgartner

Summary
Stock Number and Description
Hauler 1/48 scale Befehlswagen conversions.
HLX48070 Befehlswagen Tiger, HLX48071 Befehlswagen Panther, HLX48072 Befehlswagen Jagdpanther
Scale:
1/48
Media and Contents:
Each set contains one photo-etched fret and resin
Price:
Review Type:
First Look
Advantages:
Excellent use of p-e, flawless casting of resin, clean etching
Disadvantages:
Recommendation:
Recommended


Hauler's 1/48 scale Accessories are available online from Mission Models

FirstLook
The popularity of 1/48 scale armour is a boon to the "cottage" industry.

Hauler has taken advantage of this with the release of three items, all relating to the Befehlswagen. Each package contains both resin parts and a single photo etched fret.

HLX48070 is the release for the Tiger. The p-e is common to all of the above sets and consists of the "star" antenna, as well as the finer details for the mounts.
Although this medium can appear two dimensional, representation of the former is correct here due to the flat nature of the six member array.

Six resin items are supplied and these were very well cast with fine detail and no air bubbles.

Three insulated rubber bases are present, the one for the Fu 8 being encircled by its protective pot. This circular surround was oblong on my example, the mounds presumably being squashed at the time of manufacture.

On top of these bases sit the antenna mount and cleverly Hauler supply a p-e disc to show the bottom of this. Modellers now create their own Fu 5, 7 and 8 radio set antennas with the length of each being clearly shown in the instructions.

Not forgotten are the parts needed to mount the extensions that gave the Fu 8 radio extra range. These are very small and it is a credit to Hauler for including them. Pedantic modellers will want to make sure they fabricate the antenna connection point and exhaust outlet for the GG400 electrical generator.

The final resin part is the tube for stowing the Sternantenne. This was located on the rear of the hull.

HLX48071 concerns itself with the Panther. The familiar photo etched fret greets the modeller with naturally, a different set of resin accessories.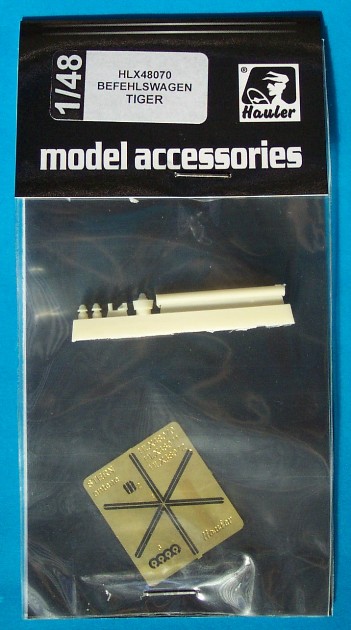 Click the thumbnails below to view larger images:
---
A couple of points to note here. You can do the SdKfz 267, with the Fu 5 and 8 radio sets, or the SdKfz 268 carrying the Fu5 and 7 communication apparatus. Note that the co-axial machine gun (and associated gear) was removed from these vehicles and the resulting aperture plugged.

There were many variations of these tanks so it pays to inspect your subject carefully.

Hauler supply two antenna mounts, one with the armoured pot and the other without.
A bracket for mounting the mast extensions to the hull is also included, its finesse being a sight to behold.

Naturally the stowage container is included and the instructions give one arrangement as to the location of these items.

HLX48072 is for the Jagdpanther. Aside from the common photo etched fret, a single resin item is provided in the packet. This is the protected mount for its "star" antenna.

Consistent with the other resin items, it is flawlessly cast although care must be exercised to remove it safely from its carrier block.
---

Conclusion
Photo etching is an excellent way to produce the extra antenna seen on these vehicles.
The flat elements of the original lend themselves well to this medium and also allow easy positioning.

The detail in the resin items is very high and the casting was found to be blemish free.

These sets are an ideal way to turn your standard vehicle into one of the less common items seen on the battlefield…your very own Befehlswagen.

Recommended
Text and Images by Rob Baumgartner
Page Created 07 June, 2006
Page Last Updated 24 July, 2006