Home > Reviews > 1/48 Scale > Gaso.Line 1/48 scale Panzerschreck Crew (GAS50368); Kubelwagen Cold Start Set (GAS48059); Fuel Barrels & Ammo Cases (DIO48008)
Panzerschrek Crew
Kubelwagen Cold Start
Fuel Barrels & Ammo Cases
Gaso.Line, 1/48 scale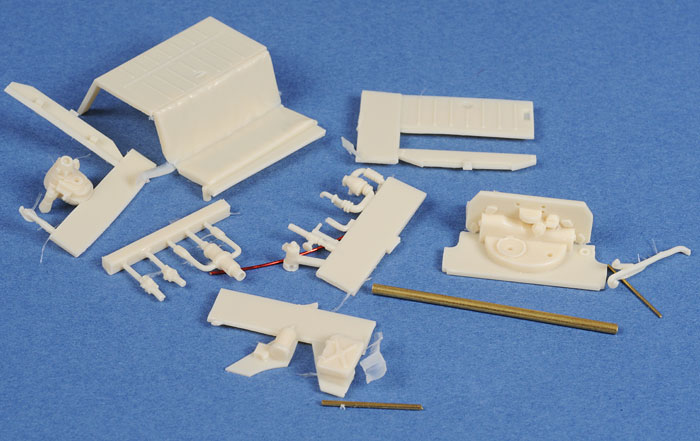 Catalogue Number and Description:

GAS50368 : 'Panzsrschreck" Figure set

GAS48059 : " Kubelwagon Tank Cold start set

DIO48008 " Fuel Barrel and Ammunition cases

Contents and Media:
See description and images
Scale:
1/48
Price:
available online from Quarter Kit's website
Review Type:

FirstLook

Advantages:
High quality casting; great detail; versatile usage; fast cleanup and assembly
Disadvantages:
Recommendation:
Highly Recommended
Reviewed by Luke Pitt
Summary
The producers of Gaso.Line range of resin accessories has fast become a highly regarded maker of 1/48 scale resin aftermarket products. In fact, Gaso.Line were producing highly detailed full kits in this scale well before the current "wave" of Tamiya releases.
With the advent of the Internet their products can be easily sourced directly from their web-site.
I have also noticed that that their casting has now vastly improved in recent times.
I have grouped 3 of their latest releases for this review.
---
GAS50368 : Gaso.Line Panzerschreck Figure set
This set includes three figures firing or holding the German copy of the " Bazooka" or the RPzB 43 "Panzerschreck". Also included is one figure holding what looks like a "Panzerfaust 60M. Two figures are kneeling and one is walking.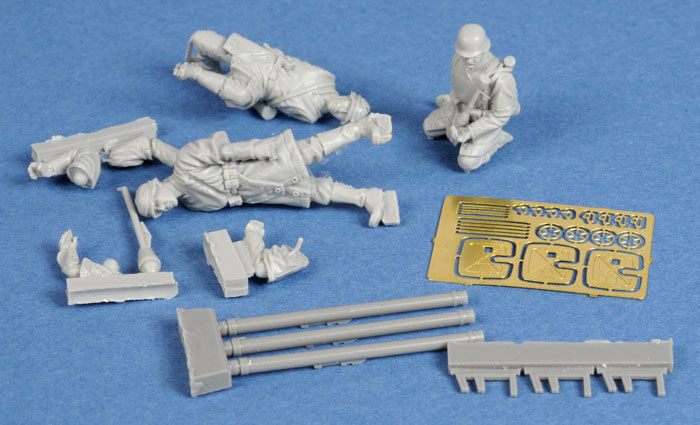 All the figures are cleanly cast with no air bubbles present. The figures represent a mid to late war Anti- Tank team and are outfitted in the German camouflaged Poncho or "Zeltbahn". Included in the set are the excellent Hauler "Hlx48145" "Panzerschreck" set, which includes 3 full weapons together with a small photo etch sheet to detail the units up.
Looking at the cover illustration on the box top one would be forgiven to think these are rather average figures, but on closer inspection the figures themselves are very well done and are of the correct height and bulk.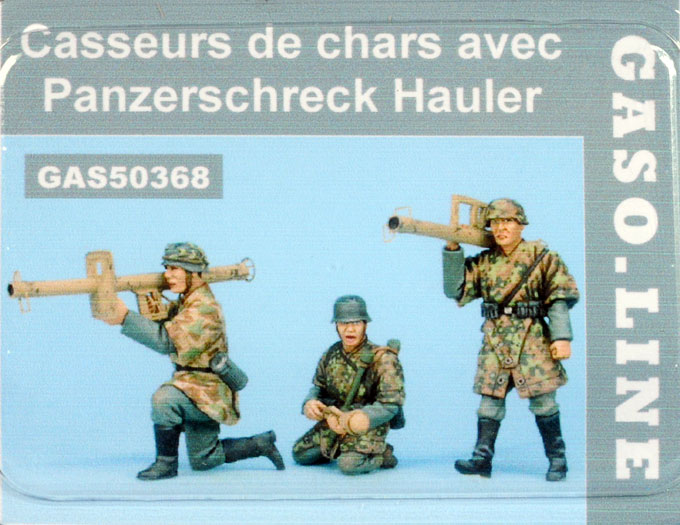 My only criticism is the animation of the figures is a little stiff and the German helmets seen a little too small. Other than that, this set is a very welcome addition to the Gaso.Line range and should be considered by anyone looking for some late war German figures in this scale.
---
GAS48059 : Gaso.Line " Kubelwagon Tank Cold Weather start set
This set contains the "Cold Weather engine set" so often seen in photographs on the Eastern Front. Typically when used with the Kubelwagan, the unit was used to "crank start" a tank engine in cold weather. This sets consists of 16 cast parts and 3 brass tubes. The casting is note worthy here, as there are a number of very small parts and they are cast with cleanly with no air bubbles present.
As an added bonus with this set Gaso.Line have included a full Kubelwagen engine and this too is very well done. The set includes a 2 page Colour instruction sheet that features the correct placement of the parts involved and a number of photos of the real device. This is a worthwhile addition for anyone interested in the interesting potential for this unit to be used in a diorama.
---
DIO48008 Gaso. Line Fuel Barrel and Ammunition cases
The last set to be reviewed in this batch is a group of 3 castings of Fuel Barrels and boxes draped with tarpaulins. The casting is very well done, with all the edges being clearly defined. This set has a multiple of uses from truck stowage, to a back drop for basically any diorama in 48th scale be it military or aircraft related.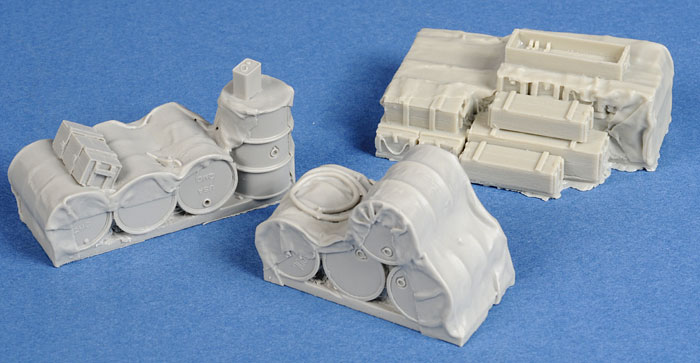 This is one of those sets you just love to have when filling a void.
All Recommended.
Thanks to Gaso.Line for the review sample
Home

Discussion Groups

Gallery

Articles

Reviews
Copyright

Vendors Room

Links

Contact us
Copyright www.missing-lynx.com 2007
Text by Luke Pitt
Images by Brett Green
Page Created 5 April, 2008
Page Last Updated 5 April, 2008