Preview
Here are some Preview photos of a new 1/48th scale Conversion kits from Mike Belcher's BATTALION BITS. It is a small and simple conversion to turn TAMIYA's new Crusader Mk.I/II kit in to the earliest version Crusader in use. The conversion comrpsies new turret front and mantlet, and 10 wheel discs.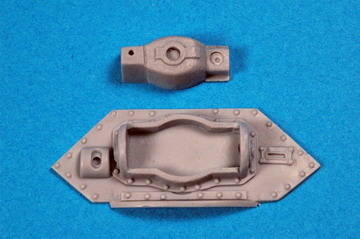 Aside from this you will get instructions on how to model the early pattern sandshields.
This will be Battalion Bits set BT9.
Price not yet determined, but the set will be up on the BATTALION BITS website soon http://www.belcherbits.com/index.html

Thanks to Frank Berger and to Belcher Bits for the Preview images and information
Text and Images by Belcher Bits
Page Created 28 March, 2007
Page Last Updated 27 March, 2007