SU-85

by Brett Green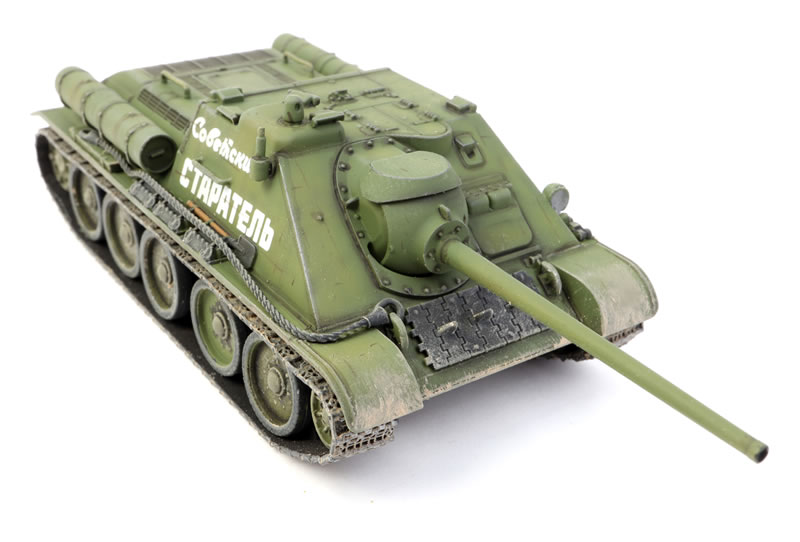 Description
Taking a leap away from my comfort zone, I have just finished Zvezda's 1/72 scale SU-85 Soviet Tank Destroyer, Kit No. 5062.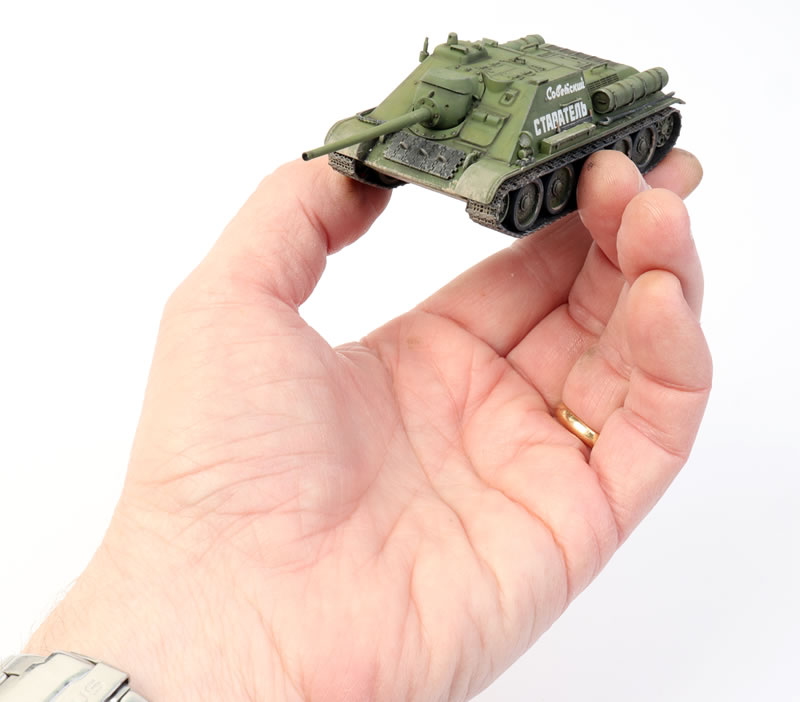 This is a very well detailed kit considering not only its small scale, but also its self-proclaimed Snap Fit status.
In reality though, you will still need glue if you want to add some of the smaller fittings such as the handrails.
Also, some of the parts are so small and fiddly that I would not recommend this kit to an absolute beginner.
I don't want to seem critical of the kit though. Detail and fit are both really good, and the relatively small parts count - 74 in grey plastic not including the tracks - makes it a fast build too. Construction was complete in a day and painting took a little longer than that again.
Nice model and thoroughly recommended.
The reason I bought this kit was the recent arrival of a couple of review samples from Gas Hans. These are resin tracks cleverly cast as one piece per side as a full loop length. They are fabulously detailed and I wanted to see if they were as impressive to work with as they looked on the bench.
The sample I used was Gas Hans' 1/72 scale T-34 Wafer Type Tracks (waffle pattern). Item No. T72001.
In a word, the answer is yes. The tracks as impressive on the model as they are on the bench. Cleanup is quick and the tracks simply slip over the inner road wheels, drive sprocket and idler wheel before the outer wheels are glued in place. This also makes painting easier.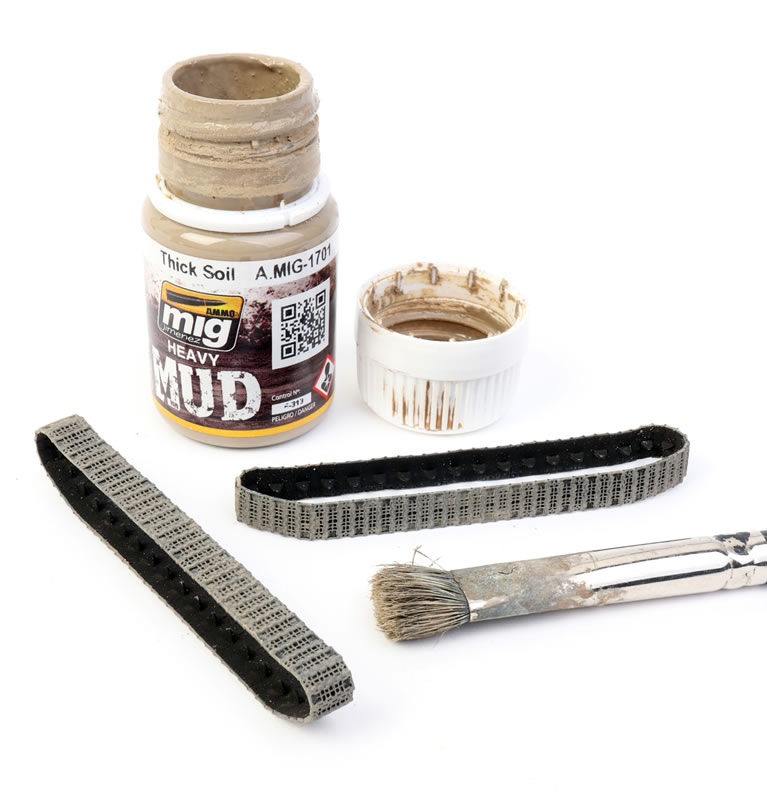 Apart from using the Gas Hans tracks, the only change that I made to the kit was to hollow out the 85mm gun barrel, the headlight and the reward-facing horn. The headlight lens was replicated by painting the inside of the housing silver and filling it with two-part epoxy glue. I used glue throughout too.
The only thing I would do differently next time is to replace the hand rails with fine wire. The plastic parts are a bit chunky if you look at them closely.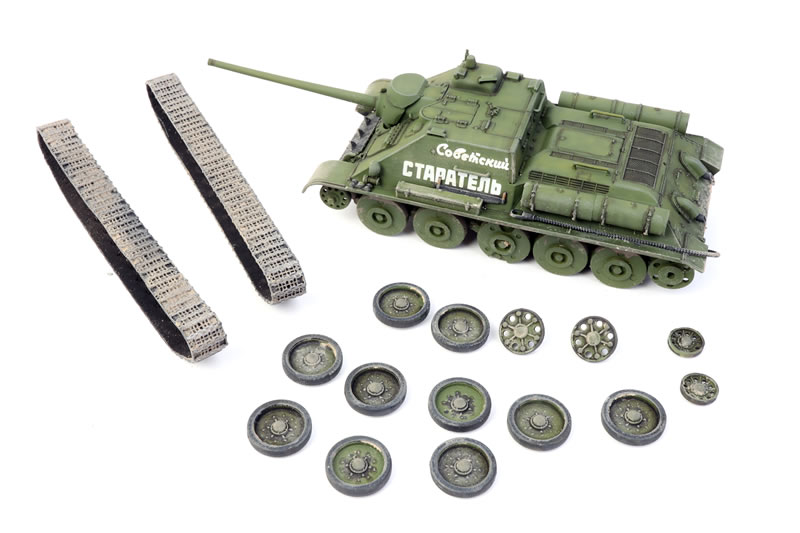 I also tried out a number of Deluxe Materials products that arrived recently - their Plastic Magic liquid glue and Roket Max thick super glue. The latter was especially helpful by giving me a bit of extra working time to adjust for a perfect fit of the resin tracks onto the inner row of wheels.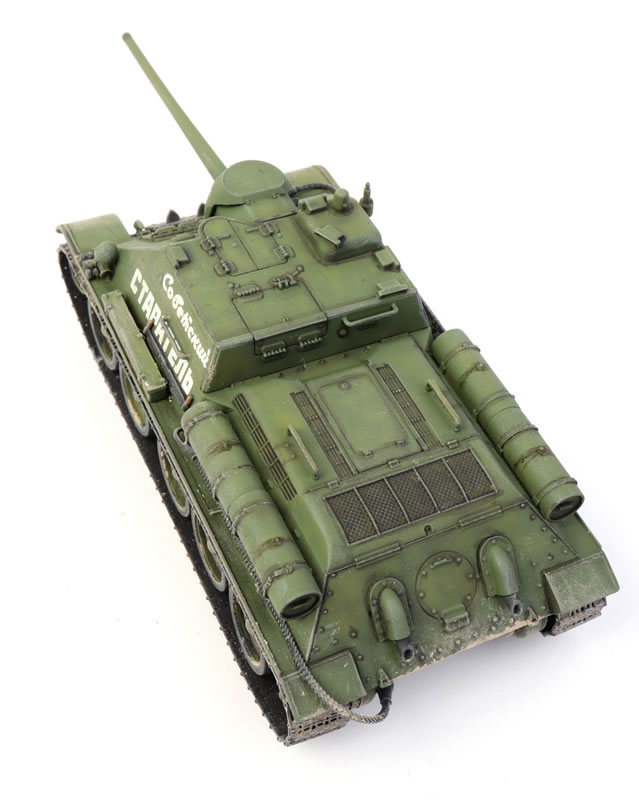 Painting and weathering techniques were basically the same as usual, but performed with the aid of an Optivisor at 2.5x magnification!
I'll be writing this one up in Issue 188 of Model Military International magazine.
---
Model, Images and Text by Brett Green
Page Created 25 September, 2021
Page Last Updated 27 September, 2021