Description

When I first visited the NIIBT museum at Kubinka more than a decade ago, one of the most striking exhibits was the Obiekt 259 super-heavy tank. It had a unique saucer-shaped hull and four sets of tracks instead of the usual two. At first, it was dubbed the "Swamp Tank" on the presumption that the unusual suspension was designed for travel in very soft terrain. Later, it became known that its origins were a bit more sinister. In the 1950s, the Soviet army conducted nuclear bomb tests against typical battlefield targets including tanks. It became evident that the nuclear blast waves would simply tip over even the heaviest tanks. The Obiekt 279 was designed at the Leningrad Kirov Plant (LKZ) with a hull and suspension specifically designed to withstand tactical nuclear blasts without being "turned turtle".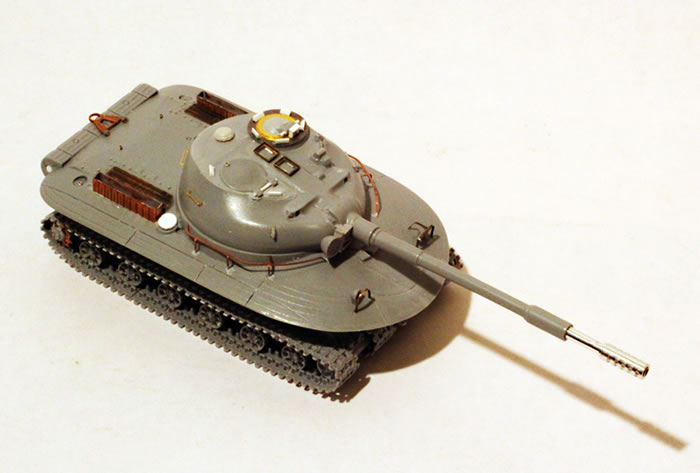 I have been intrigued by this odd design since my first encounters, but information and scale plans of the beast have been scarce. Recently I learned that the Braille-scale firm OKB Grigorov had done a 1/72 resin kit. I ordered mine from Retrokit in the UK. It is not cheap, about Euro 40 not counting postage. The kit is mixed media, mainly resin but with two small PE frets. The kit appears to have been designed using CAD/CAM technology. The resin is a bit soapy and does not glue especially well. Some of the small details, especially the tracks, are truly superb. The tracks have hollow guide-teeth which is quite an accomplishment in 1/72! The hull and suspension are quite good, but I found the turret detail to be soft and disappointing. The gun muzzle brake is especially uninspiring with no attempt made to reproduce the side gas vents. As a result, I substituted a turned aluminum Armo 122mm D-30 barrel which is not a perfect match, but much more convincing.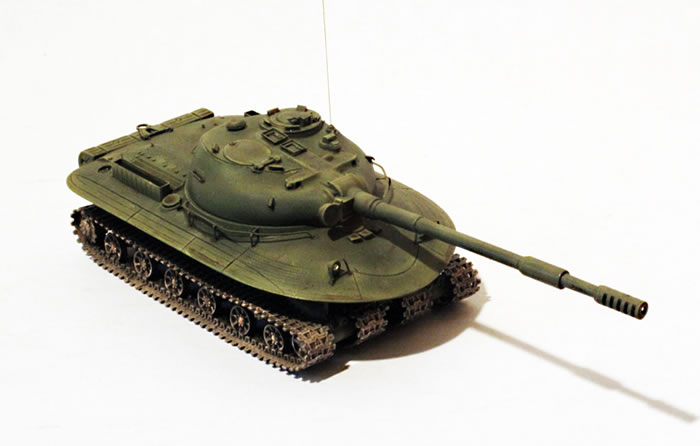 Assembly was a real challenge as the parts do not fit especially well. The turret bottom is concave instead of flat, so I had to cut off the turret ring, and flatten the turret floor. The road wheels, while delicate and nicely detailed, are too wide to fit between the delicate track teeth. The PE parts do not fit especially well, including the drive sprockets and engine ducts. Overall, this is a kit best left to patient modelers with substantial small-scale experience. It results in a splendid little model, but assembly was a fight all the way through the project.
---
Model, Images and Text by Steven J. Zaloga
Page Created 29 June, 2012
Page Last Updated 28 June, 2012