Background
From what I have managed to find out, it seems that BT-47 Self Propelled Gun (SPG) was a Finish amalgam of a captured Russian BT-7 tank, British Model 1918 4.5" Howitzer in a thinly armoured and bulky Finish-made turret. The sights for indirect fire were from Model 1902 76 mm Field Gun, and for direct fire from a 45 mm Tank Gun. Seven BT-42's were built according to some sources I have read, and 18 according to UM's box-art and instructions.
The BT-42 suffered from a lack of reliability attributable to the poor condition of the BT-7 chassis. Its gun was awkward to serve because of poor ammunition storage layout and the unwieldy nature of the one-piece ammunition within the turret.
It seems they were used on at least two occasions, both with a lack of success. In 1943 they were used against Soviet bunkers at Svir, and were employed against Soviet tanks in June 1944 at Viipuri. They were quite unsuitable in this latter role and incapable of dealing with modern Soviet of the time.
It seems that the BT42 might have proved adequate had it been employed in the indirect fire role way from immediate contact with the enemy but this was not to be the case.
---
The Kit
I had not owned a UM kit before, and was pleasantly surprised at the detail and parts breakdown of this kit. It has numerous parts as the hull is essentially constructed from various slab-sides. It captures the various features linked to the vehicle's Christie origins very well. It includes link and length tracks and a small PE fret for refined details.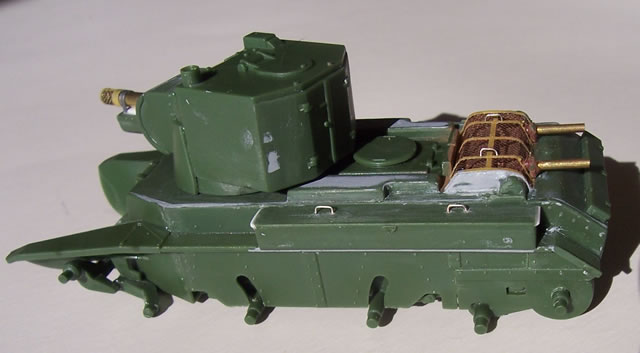 These include the engine-cover and louvres, tow-hooks, muzzle-brake and flanged pieces that mount on the gun mantlet.
---
The Build
The build is straightforward enough, but some care and a little cleaning up of parts is needed here and there. There are a few sink marks and the odd gap requiring filler, but nothing major. I found the PE fret to be a bit more brittle than I expected, and cracked the muzzle-brake when rolling it. In the end I scratch-built an approximation of this using wire gauze, and replaced the gun barrel with some brass pipe. Small brass pipes were also used to replace the kit exhausts. I opened up some vision slots in the turret after seeing these in some photos, and made some wire handles which can be seen in the photos. The track was a little fiddly around the drive sprocket and idler, but generally easy enough to fix.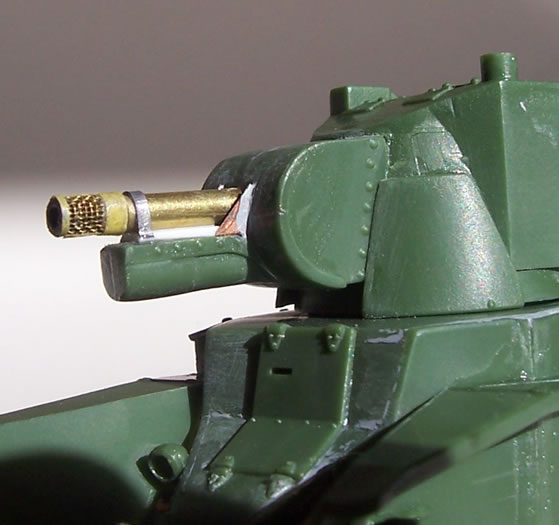 The tank was mainly brush painted with Humbrol enamels and lightly weathered. I draped a small chain across the hull front, as this seemed to be common on BT-7's at least. The model was dropped onto a quickly prepared "Tank Biscuit" of cork tile so that it doesn't look too lost in the display cabinet.
---
Conclusion
This was an enjoyable and satisfying kit to build, and good value at NZ$10.27. I look forward to building more UM kits in the future.
---
Model, Images and Text by Mark Davies
Page Created 4 October, 2009
Page Last Updated 4 October, 2009