T-34/76 Model 1941

Dragon, 1/35 scale

by Chris Wauchop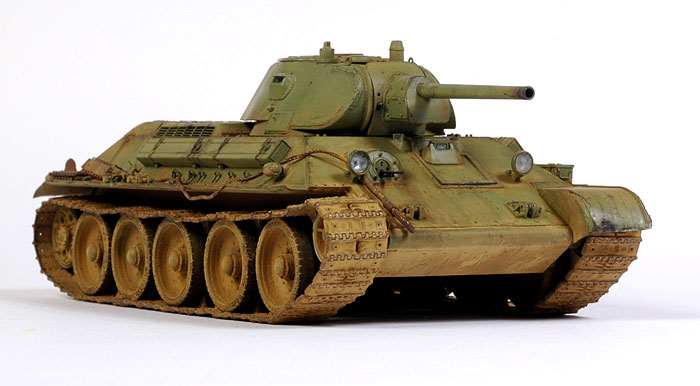 Dragon model kits are available online from Mission Models

Introduction


Here is my 1/35 scale Dragon T-34/76 Model 1941, kit number 6205.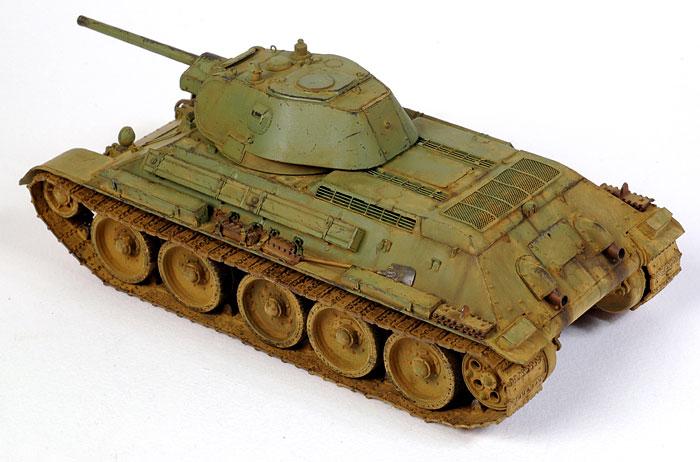 This was another commission build.
My client wanted the model to look like Marcus Nicholls' striking T-34 that appeared in Tamiya Model Magazine Issue #106.
---
Construction
Construction was quite straightforward, although the photographic instructions are a little challenging in places.
Extras included:
Aber photo-etched set number 35 045, T-34/85 (only apprpriate parts used)

Aber photo-etched set G07, T-34 Grill Cover

Aber turned aluminium F-34 barrel, part number 35L-34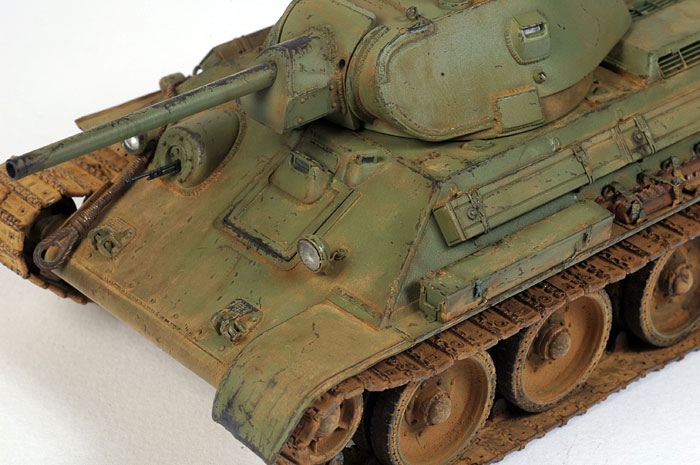 Gum Ka Photo-etched set T-10 for Dragon T-34 Model 1940/41 (very good!)

Karaya copper wire tow cable, part number TC 003

Unique Technology hollow metal (extremely thin) exhaust pipes, part number 35-06 for T-34

WWII Productions resin tracks for T-34, part number 35016.
The kit tow cable hawsers were modified by removing the moulded cable detail from the end loops. A groove was carefully ground into the loop and the Karaya copper cable was wrapped around it. Fine solder was wrapped around these to provide a binding, holding the wire in place.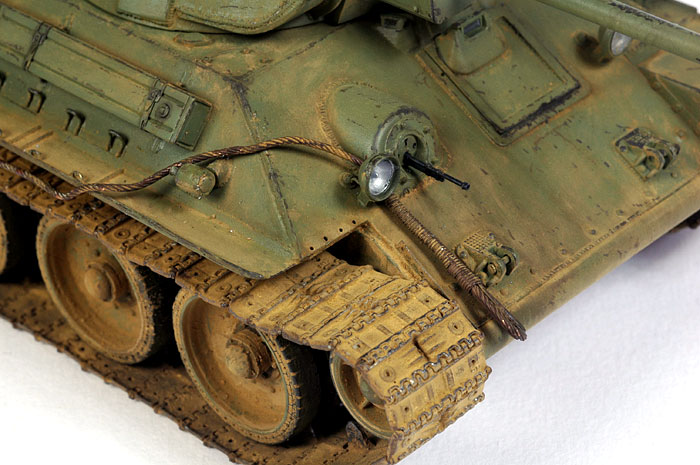 The edges of the kit's mudguards were thinned with a motor tool. All tie-down hooks were replaced with copper wire.
---

Painting, Markings and Weathering
All camouflage colours are water based acrylics thinned with isopropyl alcohol and applied with the Testor Aztek A470 airbrush fitted with the fine tan tip.
My technique for producing a Marcus-Nicholls-like finish was as follows:
First, a coat of overall green was applied. This was a 50/50 mix of Gunze Sangyo H303 Green and Tamiya XF-2 Flat White.

Next, paint "scratches" were applied using a 50/50 mix of Tamiya XF-64 Red Brown and XF-24 Dark Grey, plus a dash of XF-1 Flat Black.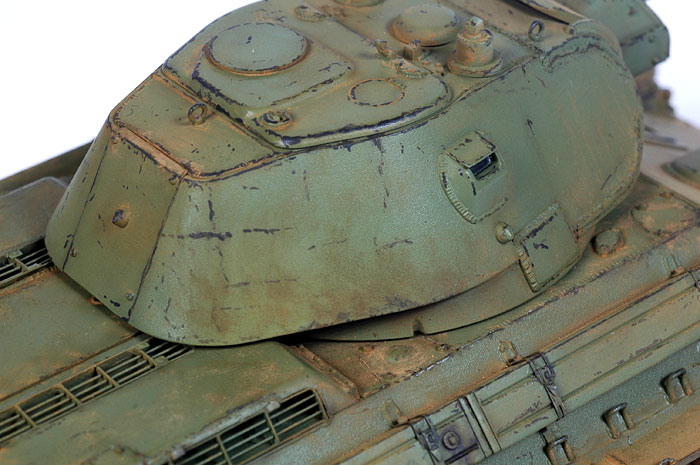 Now the model was given a thin coat of Future (Johnsons' Kleer). When this was dry, the model received a selective application "mud" made from various colours of pastel chalk mixed with Mineral Turpentine.

When this was dry, a fair bit of careful removal and application took place until I was happy with the result.
After a lot of fiddling around, adding extra much, scratches and stains, a very satisfactory result was achieved.
---


Photography
Photographs were taken in Missing-Lynx's office, workshop and image studio (well, Brett's basement actually) using a Nikon D70 camera set to Aperture Priority Automatic at between f.22 and f.29, fitted with a Micro Nikkor 60mm lens, and under two studio flashes.
Click the thumbnails below to view additional images:
---
Model by Chris Wauchop
Text by Chris Wauchop and Brett Green
Images by Brett Green
Page Created 31 March, 2007
Page Last Updated 30 March, 2007