KV-2

Trumpeter, 1/35 scale

by Jay Laverty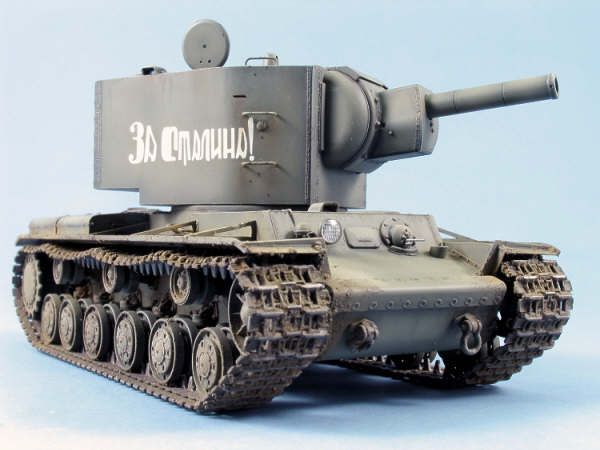 Description
Here is Trumpeter's 1/35 scale KV-2.
I believe the general consensus on this kit is that it is generally accurate aside from some small issues, and is easily the best rendition of this famous vehicle to date.

I am not one of these "everything must be absolutely correct" modellers so the finer points are irrelevant to me. As long as the shape is good, detail nicely rendered, and builds easily enough, then I am happy. This kit has all of the above in abundance so there is absolutely no complaint from me.

As I examined the contents of the box before I built this kit, I marveled at the level of detail in the kit, and was pleased to see the accuracy extend to the bolt heads on the drive sprockets, and even the eyelets for the lifting points on the engine deck.

The build is quite simple and the fit is excellent. The only addition I made to the model was a few fuse wire rods to go over the mesh that covers the engine louvres.

As usual the model has been primed with Alclad, finished in Xtracolor, and weathered with CMK's Stardust weathering pigments.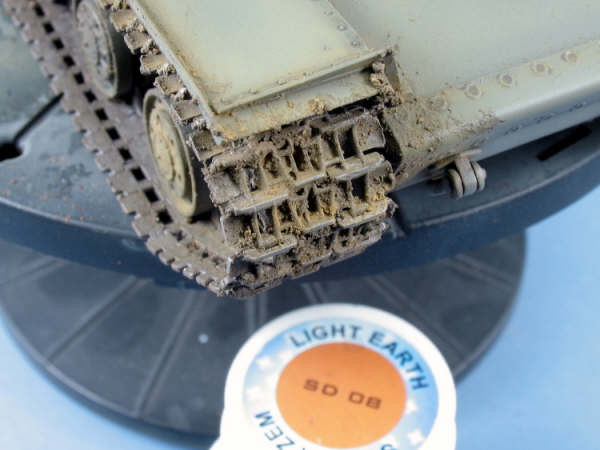 Trumpeter's KV-2 will satisfy all level of modeller and will build into a superb kit for anyone who puts the effort into it. With the release of this model we are seeing Trumpeter move into a new level of quality and with the high quality of recent aircraft kits as well, I think this is a general pattern that we are seeing and I can say for my part, I can now buy any Trumpeter release with confidence.

For those wishing to read a full build article on how I got on with this model then please have a look at the latest issue of Military Modelling.
---
Click the thumbnails below to view additional images:
---
Model, Text and Images by Jay Laverty
Page Created 07 January, 2006
Page Last Updated 06 January, 2006