Late War Tiger II

Dragon, 1/35 scale

by Dmitry E. Kiyatkin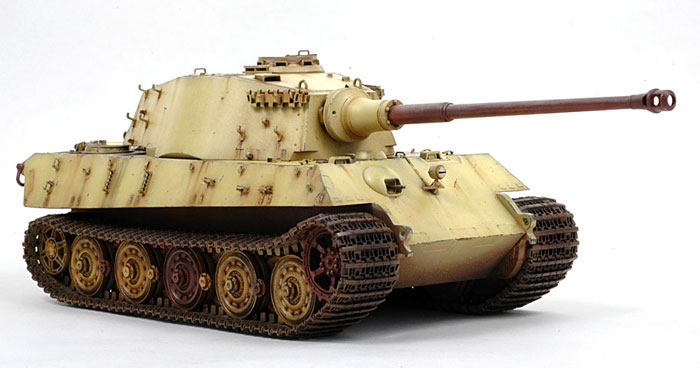 The full range of MIG Pigments is available online from Mission Models

Introduction


This King Tiger is supposed to represent a vehicle assembled from a collection of parts available at the very end of the war. In truth, the model is not based on any historical evidence and was simply built as a painting and weathering experiment with German dark yellow scheme.

The base kit is Tamiya 1/35 scale Tiger II. Photoetched metal parts came from Lion Roar and metal tool clamps from the Aber set. The tracks are individual plastic link-to-link tracks from an Asian company name of which now eludes me.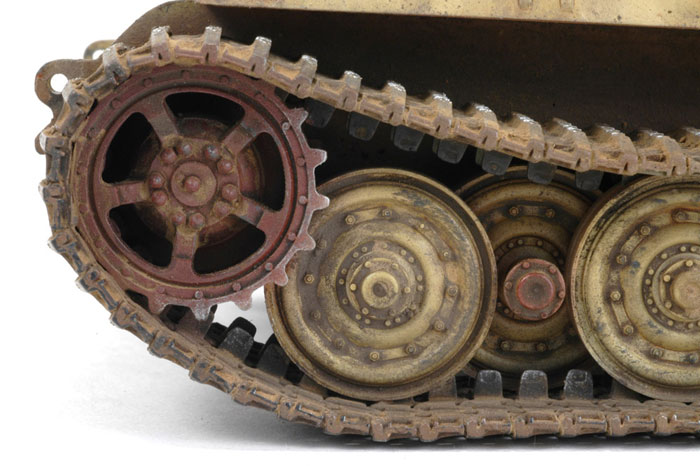 The front drive wheel is from Friulmodel.
---


Construction
Construction was relatively simple. Mr. Surfacer was used. Model was painted with Tamiya Dark Yellow acrylic mixed by eye with Buff. Several filters of yellow and brown oil gave the finish a satin look and started the weathering process.

Click the thumbnails below to view additional images:
---
As always the finishing is complicated by many techniques that are merged in the final result, so I only want to mention two aspects of weathering that I learned while finishing this model: (1) how to make yellow armor plate look exciting and (2) how to easily create oil stains.

Any single color vehicle often presents a finishing challenge - how to make the model interesting and naturally dirty looking without going overboard? As mentioned before I started with a filter (**you can see the change from Pic 26 to 28 below**).
Click the thumbnails below to view additional images:
---
Then a heavy wash of brown oils mixed with turpenoid. I overdid this and had to blend in some yellow and light brown oils to tone down the effect of the wash. Scratched were done with a small sable brush and colors of enamel.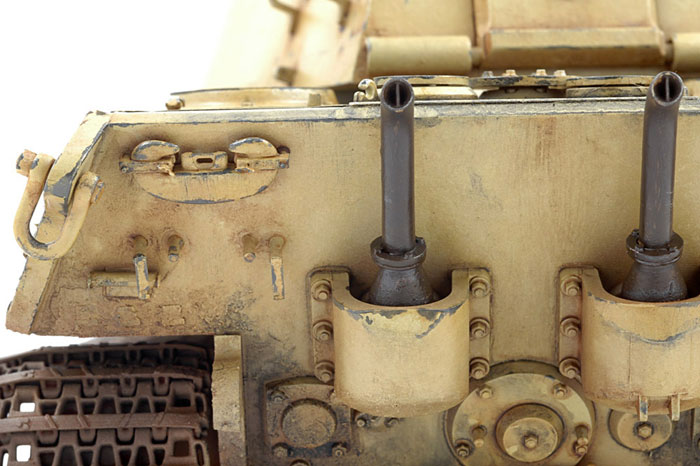 The advantage to this method is that you can remove the "bad" unsuccessful scratches with a clean damp brush. I think a person with poor vision is actually better at applying random, tiny scratches to the large flat surfaces. These represent bullet and stone impacts.

Now the surface look better, but still unrealistic.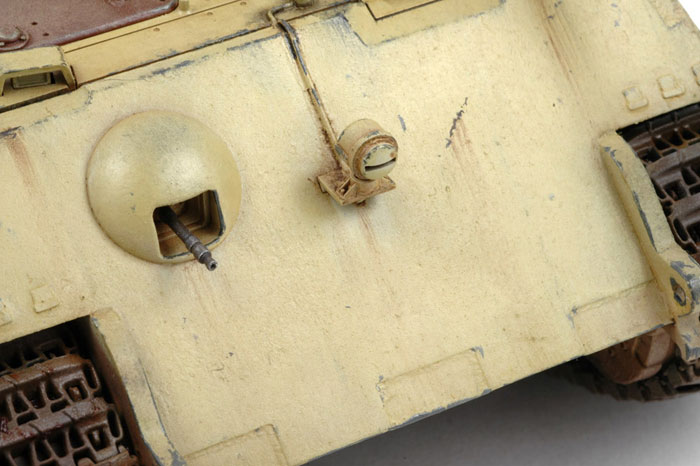 It needs dirt and mud. For that I used very thin, "wash-like", mix of Burned Umber enamel and applied it in a tapping motion with a small brush. This was applied to the flat surfaces, focusing on areas where dirt would accumulate. The paint is hard to see before it dries, but it has a cumulative effect. Some blending and removal of paint with thinner damp brush can be helpful. This is easy to do, just use a small brush and do not be afraid. This method also blends the scratches to the rest of the finish. This method was also used to mimic some rain marks.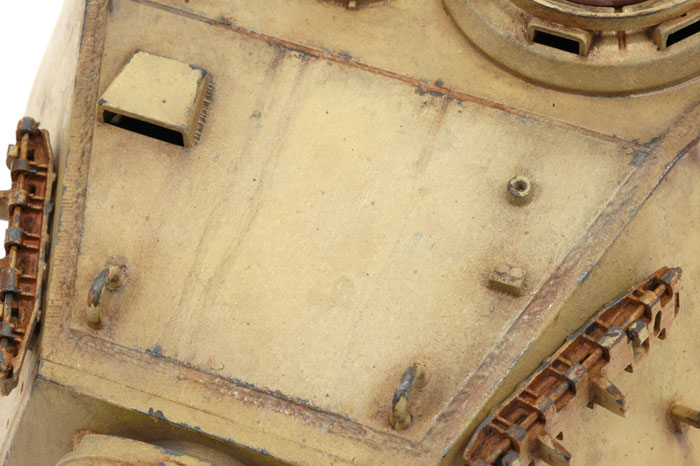 Once this is done, I used a large flat brush very slightly damp with thinner to gently blend some of this effect.

Now things look better, but still more can be done. I applied a thin layer of light earth pigments all over and tried to remove most of it with a dry brush and then my finger and small makeup sponge for the harder to reach areas. This adds an extra level of fine dirt in the depressions created with Mr. Surfacer.

At this point I wanted to apply splash marks. I used an old stubby brush, dipped into thick mix of pigments and turpeniod, and flicked the hairs to make the splashes. This is pretty realistic, but hard to control on the upper hull areas. So I cut a ½ inch round whole in a 4x6 in index card and used this to direct where I wanted the splashed to go. I used 3 shades of earth pigments for this affect. A bonus is that "unsuccessful" or excessive drops can be wiped off with a small dry brush actually adding some more variation to the finish. See the difference between the photo two above compared to the one below
I used thinned oils and enamels for oil stains and always got mixed results with much effort. This time I mixed 1:1 Tamiya Flat Black and ModelMaster gloss finish. The mix looks slightly bluish in color, but dries black. The good thing about this mixture is that it seems to flow off the small brush and form oil stains on a flat surface.

Click the thumbnails below to view additional images:
---
The oil paint washes that I used for stains before, just ran too much and was tough to control. Try it, it is easy. Only negative thing is that the stains to dry with a bit of thickness to them, but you really cannot see that.
---


Conclusion
In conclusion, this was a very rewarding and educational project and I am looking forward to finishing my next German subject. Only word of advice I have about weathering is that you must start on a model you are not very attacked to and are willing to sacrifice for learning.

---
Click the thumbnails below to view additional images:
---
Model, Images and Text by Dmitry E. Kiyatkin
Page Created 14 June, 2006
Page Last Updated 13 June, 2006