4.7cm PaK 36(t) Early Version

Attack Hobby Kits, 1/35 scale

by Don Hinton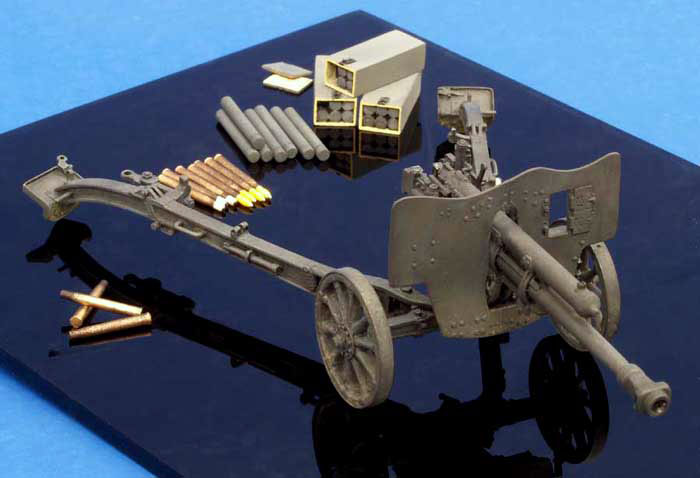 Background
The 4.7cm PaK 36 was originally built in 1936 by Skoda in Czechoslovakia as the Skoda 47-mm P.U.V anti-tank gun. It was one of the heaviest hitting guns in Europe at the time of its development, firing a 3.6 pound (1.65kg) shell at 2,543 ft/sec (775m/sec) that could penetrate any tank up to 700 yards (640m), while other contemporary anti-tank guns were operating at effective ranges of only 200-300 yards (185 – 275m). Following the 1938 Munich Agreement, Germany took over the Skoda works and impressed the 47-mm P.U.V. into service as the 4.7cm Pak 36. Large numbers of the Pak 36 (t) wheeled versions were used, but mostly this weapon made its mark on various tracked Panzerjagers.
---

Construction
This 1/35 scale Attack model is a complete resin kit including a comprehensive array of shells, spent casings, shipping tubes and crates. It is incredibly detailed. The kit comes in a plastic zip-loc bag, yet I had absolutely no breakage of parts. The canon is made of 38 parts with another 21 pieces for the shells and boxes.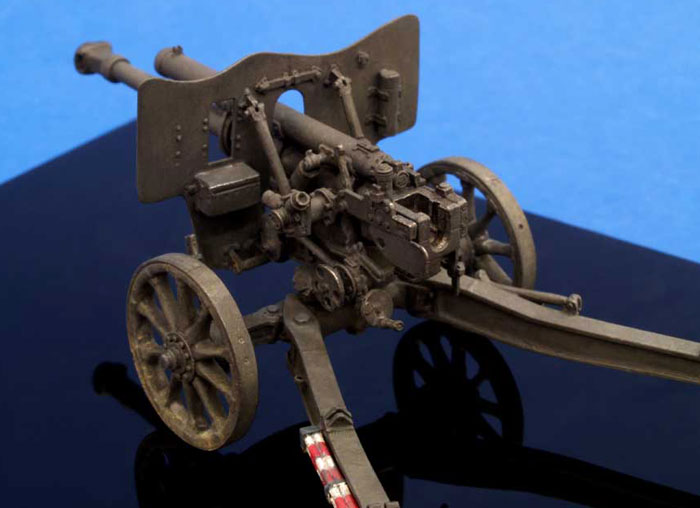 The resin is cream colored, odorless and very strong yet not brittle. I encountered some bubbles between the wheel spokes and between the barrel and recuperator, otherwise all castings were perfect. Most pieces had small casting blocks that were easy to remove, though some blocks were a little larger. My only complaint concerns the simplistic instructions, which weren't very clear where each piece attached, but once you held a part up to the model you quickly determined where it fits. Fit of all components was excellent--as good or better than most injection molded kits.
---

Painting
This was my first military model in decades and I was mostly concerned with weathering, especially on a monochromatic finish. I tried to avoid the bluing effect of some types of weathering on Panzer Gray, but I wasn't completely successful. It was a fun build and I look forward to building more Attack models, which I consider a great value for the money and they have some extremely interesting subjects. However, my next kit will be in my preferred scale, 1/72, of which Attack makes a great many kits.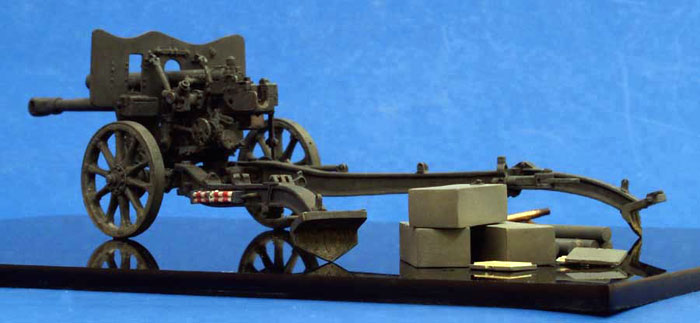 Click the thumbnails below to view additional images:
---
Model, Images and Text by Don Hinton
Page Created 24 June, 2007
Page Last Updated 23 June, 2007