Jagdpanzer IV L/70

Dragon, 1/35 scale

by Chris Wauchop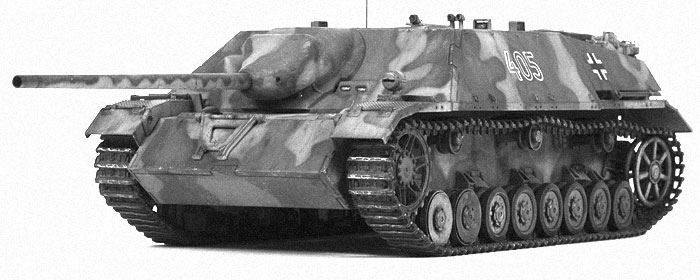 The full range of MIG Pigments is available online from Mission Models

Introduction


Here is my 1/35 scale Dragon Jagdpanzer IV L/70, kit number 9061. The model represents a verhicle attached to 5. Kopmanie / II Abteilung Pz.Regt. 25 "Rothenburg", 7. Panzer Division, Eastern Front, 1945.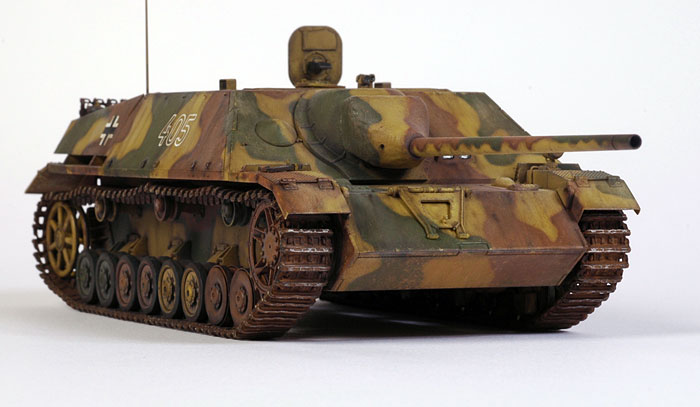 I built this as a commission for a regular client, who also provided two reference books to refer to. I liked the contrasty black and white photo in one of these books, taken of a similar vehicle after capture, and wanted to duplicate the finish.
---


Construction
Dragon's instructions are straightforward although a little vague in places. Many extra details were added, both from the spare parts drawer and scratch built.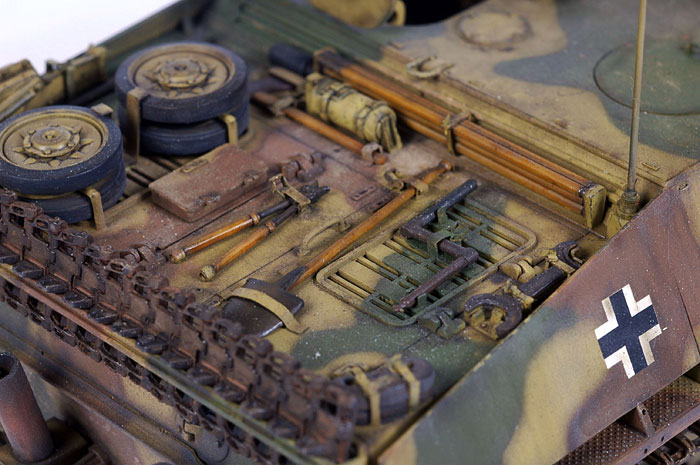 In addition to the kit, I was also supplied with a couple of after-market accessories. These were German clamps and clasps by Aber (part number 35A20), and tapered brass radio antenna from Adler's Nest (part number ANM-35008).
---

Painting, Markings and Weathering
All camouflage colours are water based acrylics thinned with isopropyl alcohol and applied with the Testor Aztek A470 airbrush fitted with the fine tan tip.
Paints were used:
The Panzer Yellow base coat is XF-60 Dark Yellow mixed with X-2 Gloss White mixed 60:40

Red Brown is a mix of 70% XF-64 Red Brown and 30% XF-60 Dark Yellow

The Green is a 50:50 mix of Tamiya XF-26 Deep Green and Gunze Sangyo H330 Dark Green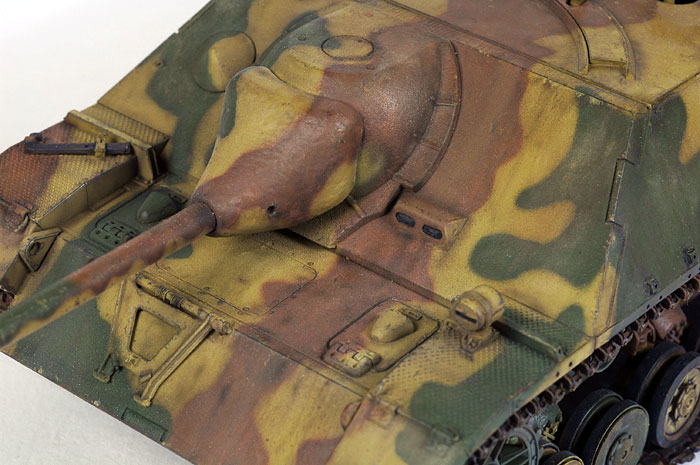 The wooden handles of the tools were painted XF-59 Desert Yellow with a thin wash of Tamiya Clear Orange.
---
Decals
Decals were applied using Gunze Sangyo's Mr Mark Setter and Mr Mark Softer. They behaved flawlessly.
---


Photography
Photographs were taken in Missing-Lynx's office, workshop and image studio (well, Brett's basement actually) using a Nikon D70 camera set to Aperture Priority Automatic at between f.22 and f.29, fitted with a Micro Nikkor 60mm lens, and under two studio flashes.
The black and white images were the result of about ten minutes work each on Photoshop.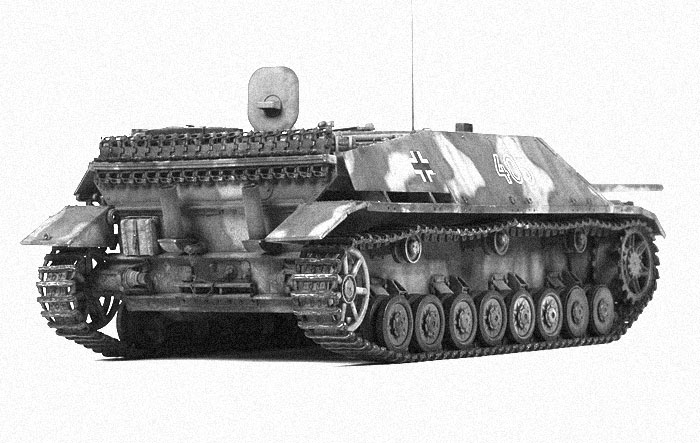 Click the thumbnails below to view additional images:
---
Model by Chris Wauchop
Text by Chris Wauchop and Brett Green
Images by Brett Green
Page Created 28 February, 2007
Page Last Updated 27 February, 2007