Sd. Kfz. 173 Jagdpanther

Italeri, 1/35 scale

by Andrew Judson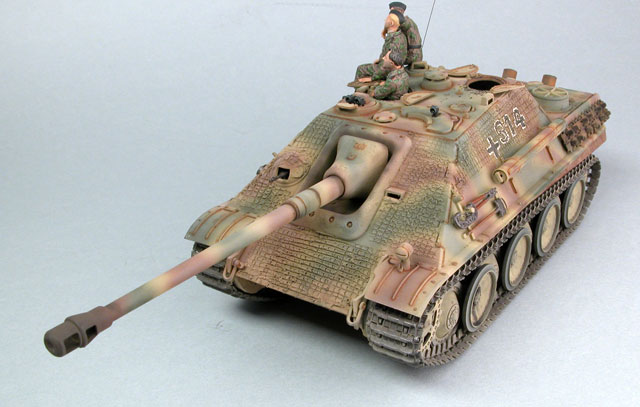 Description


Here is my 1/35 scale Italeri Jagdpanther finished in markings for Normandy, 1944.
Building this kit went really well straight from the box, however in the end l decided to add separate track links from a Dragon kit that l had in my spares as well as adding Tamiya photo etched grills and a couple of AFV Club brass shell casings.
The only other addition to the kit was applying Zimmerit, using Revell Putty and an old scalpel blade.
Painting was done using an Aztek A470 airbrush and Tamiya acrylic paints.
I applied all the basic camouflage colors and then very lightly sprayed a dusty coat over the complete kit to tone things down a little. I then applied a series of different brown toned washes to bring out the detail.
All markings were hand painted on over the Zimmerit as l tried decals and decal solution, but didn't get very good results.
To finish things off, l then got out my trusty Mig pigments and dirtyed things up a little, mixing these with water, applying them to the kit, letting them dry and then with a soft brush removing the excess.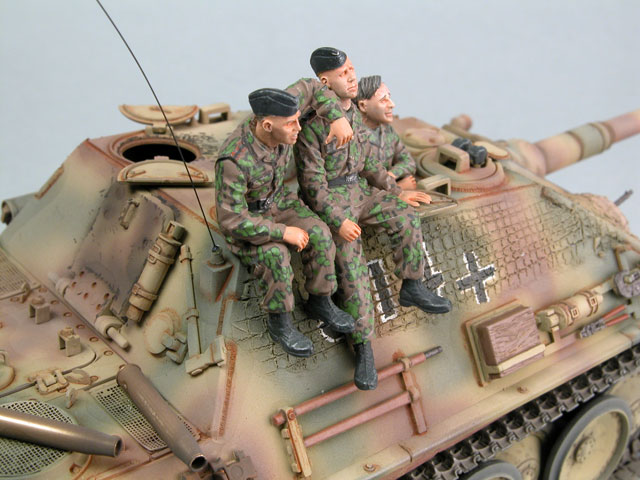 With the kit was completed, l like to add scale to armour by adding a figure, only this time l added four. These all come from the Dragon set of LAH tankers with Hornet, Warriors and one Dragon head. I slightly modified the two sitting with their feet over the edge so as the would join up together okay. These were all painted by hand, using a mixture of Tamiya, Valejio,and Citedal acrylic paints. Overall l think they give the kit a little more life.
I really enjoyed building this model and even though its an old kit, it just shows that with a little extra work it still is just about up there with all the rest, and won't cost you a fortune to finish.
Thanks to Italeri for the sample.

---
Click the thumbnails below to view additional images: