Ersatz M10

Dragon, 1/35 scale

by Steve Zaloga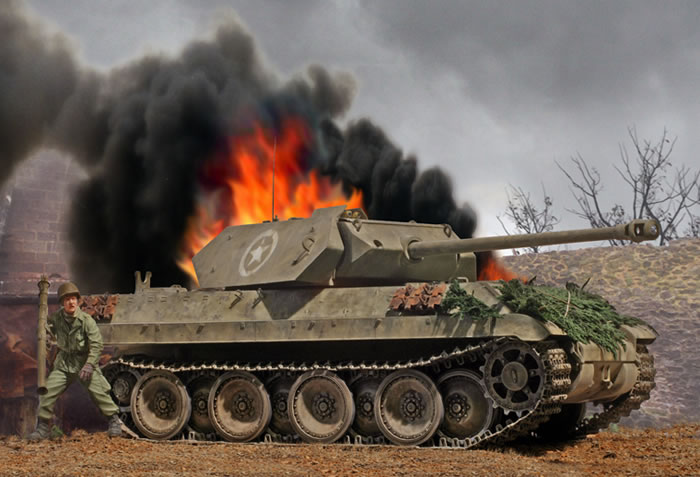 Description

During the German Ardennes Offensive in December 1944, Panzerbrigade.150 Rabenhugel had two companies of vehicles in American markings as part of a planned ruse to seize vital bridges ahead of 6.Panzerarmee as part of Operation Greif. In the event, the unit was not used as intended but instead was used in a conventional attack towards Malmedy on 22 December 1944. Panzerkompanie Dreier of Kampfgruppe Z was equipped with four Panther Ausf. G tanks and one captured M4A1 (76mm), and lost all five tanks in fighting that day, mainly against the US 120th Infantry Regiment. The Panthers were from a group of six that had been rebuilt by MAN to look like US M10 tank destroyers. Two of Panthers were knocked out by bazooka hits to the rear, one of these hits inflicted by Pfc. Francis Currie who won the Medal of Honor for his actions that day. This was the inspiration for my vignette here.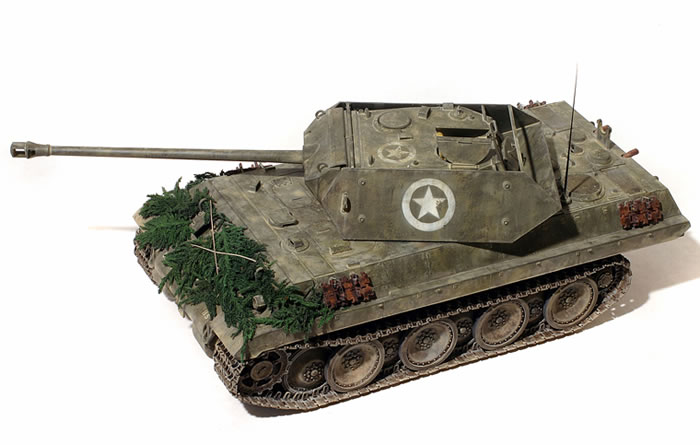 Dragon's new Ersatz M10 is a replica of these rare beasts and Cookie Sewell gave me his sample to build. The kit contains a basic Panther Ausf. G plus the various additions needed to convert it into the false M10 configuration. I hadn't built the original Dragon Panther Ausf. G, though I have built the Tamiya version. I was very pleasantly surprised by the Dragon Panther kit both in terms of the excellent detail and the ease of assembly. While the Dragon kit is no Tamiya "shake-and-bake", the fit was generally excellent throughout, although extremely complicated due to the sheer number of parts. I was also pleasantly surprised at how easily the "Smart Tracks" went together, especially compared to my more frequent experience with Dragon individual link Sherman track!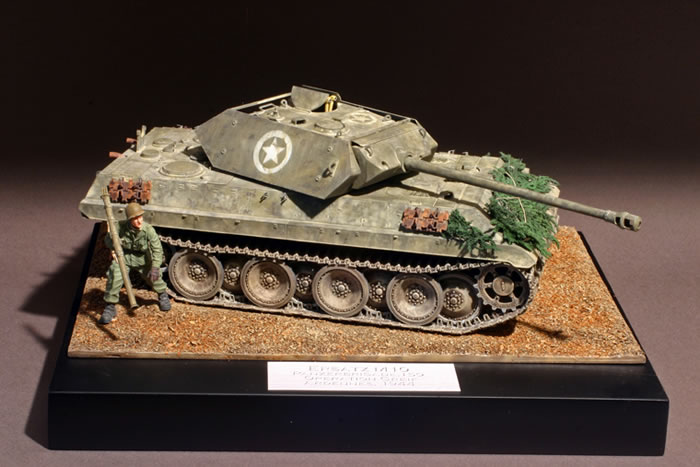 The add-on bits for the Ersatz M10 are quite nice, but the fit is slightly less smooth than the baseline Panther kit. The rear hull part and turret assembly required some care to get into place, and the front bits also required some care. I built the kit pretty much out-of-the box, though I did use the new RB Models Panther turned barrel (many thanks Bill M.!). I painted the model in faded US olive drab, and I heavily distressed the finish. The kit comes with appropriate decals, but I airbrushed on the Allied stars to give them a less polished appearance. I used an old package of Hudson & Allen pine boughs for the front camouflage, and the figure on the base is from the Michael Roberts range.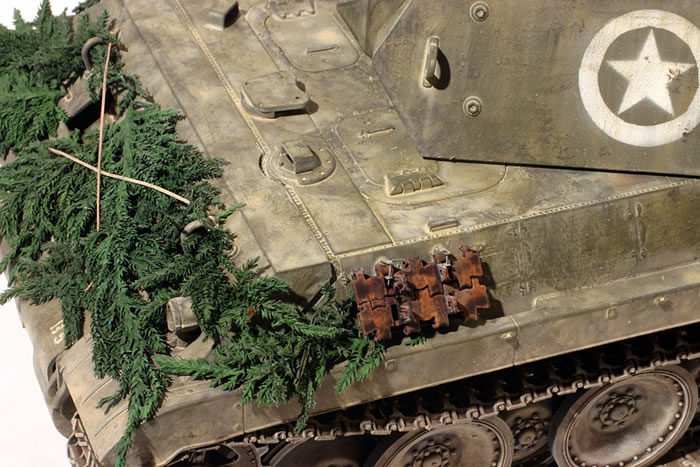 Overall, this was a very enjoyable project! I'll cover this project in more detail in a Military Modelling article.
---
Model, Images and Text by Steven J. Zaloga
Page Created 11 April, 2009
Page Last Updated 13 September, 2009