Sturmpanzerwagen A7V

Tauro Model Torino, 1/35

by Michael Novosad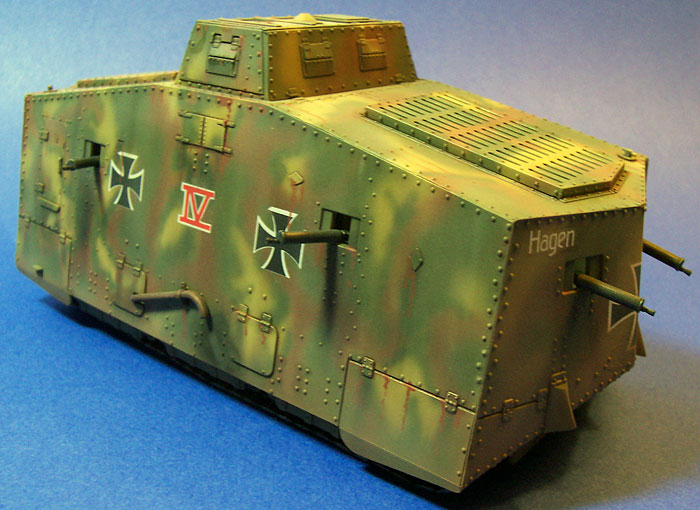 Description


This kit is manufactured in Italy and is still available today from Squadron Mail Order. I purchased this kit several years ago and stored it away until just recently. I started to build it once, but became discouraged and relegated it to the back of the project list. While surfing the Internet I came across an article about a build for this kit, and was immediately intrigued. I decided to build the model only for the effort to paint something different.

The steps of the instruction were easy to follow, but my biggest challenge was in assembling the hull. The fit was not the best, so I used a slow-setting solvent to allow some adjustment to get the parts to fit in place. Once set, I ran super glue inside the joins to make certain nothing would separate in the future.

I airbrushed Tamiya flat black onto the tracks, and when that was dry I scrubbed the surfaces with silver Rub-n-Buff to resemble steel. I decided to not install the tracks at this time, but would thread them into place after the hull and chassis were assembled. Kit tracks are a soft vinyl, pinned together with short metal wire pins. Many of the tracks would not stay in place, therefore the kit is finished with just enough track to run on the bottom and return up the front and rear, creating an illusion of being complete. Epoxy was used to fix the tracks in place. This may be considered as "cheating", but I did not have much choice in the matter.



All exterior surfaces were first airbrushed with Tamiya XF-24 Dark Grey, followed by random patches of Tamiya XF-60, then XF-64 Red/Brown, and finally XF-65 Field Grey. This scheme is probably not historically accurate, but I was experimenting. The running gear and underside were left dark grey. I applied a thinned application of burnt umber thinned with odorless thinner as an overall wash. The entire exterior surface was given a coat of Future.

The kit decals appeared to be thick, with a matt finish. There were marking for two tanks, "Wotan" and "Hagen", plus large vehicle numbers, and crosses. The crosses for the bow and aft section were taken from an old SuperScale 1/72nd aircraft decal sheet. The side crosses, vehicle name and number were taken from the kit decals.

A wash of brown ink in the recessed panels, around rivets and other raised features. Next, a thinned application of ModelMaster rust was applied in various location the represent streaks and puddles.



Tamiya XF-57 Buff was thinned and applied in streaks in a very random manner down the side of the vehicle. This was followed by Flat Black applied in a similar fashion, but with more attention given to hatches and gun position openings. Tamiya XF-52 Flat Earth was thinned and airbrushed onto the extreme lower portions of the hull sides, running gear, tracks and front side, with additional applications of the aft surface.

The two exhaust pipes were first air-brushed with Tamiya Flat Black, dry-brushed with Testors Rust. Each was fixed in place with super glue. Exhaust stains at the two exhaust pipes was duplicated with Tamiya Flat Black. The model was then sealed with ModelMaster clear flat.

One photo includes an Italeri PzKw Mk IV for size comparison. This kit is its own story.



During a recent local club meeting I managed to ping one of the A7V's side-mounted machine guns out of its mount and sent it to places unknown. I scratch-built a replacement using aluminum tube and plastic stock. No one but me can be certain of which gun was replaced. I also placed second in the Miscellaneous Category ("Miscellaneous" only because they had no WW I category) at the recent Duneland show and contest in Portage, Indiana, and also was awarded "Best Camouflage" for this effort. I was quite pleased to say the least.

---
Model, Text & Images by Michael Novosad
Page Created 08 September, 2007
Page Last Updated 07 September, 2007