US Pathfinder

Miniature Alliance, 120mm

by Andrew Judson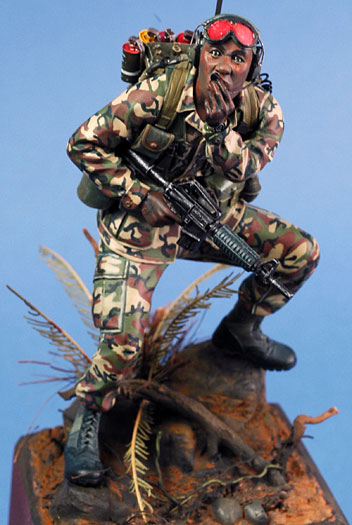 Mig Pigments are available online from Mission Models
Description


This would have to be the longest project that l have ever done, 2 years to be exact, although I must admit that it was on and off over that time.
This is one detailed little figure, approx 26 resin parts, one base and lead foil and wire to make straps, leads etcetera.
Assembly was done in stages to make painting easier.
Painting the woodlands pattern was a big challenge, especially trying to tone down the colors to give a worn appearance.
All the equipment was painted before gluing to the figure.
Once the figure was painted it was time to make a nice base depicting the time and place. For this l used the resin base included and added to it with putty and then added the timber and plant life, which is all natural products.
Once all together and painted, the figure was then pinned to the base and Mig Pigments were used to blend everything together.
I am really pleased with the end result considering the time it took and hope that you enjoy looking at it.