Italo-Norman Nobleman c.1170

Fruilmodel, 54mm

by Glen Phillips
Summary
Kit: MP-15

Scale: 54mm

Manufacturer: Fruilmodel

Medium: Metal

Accessories: None, but the 1.5 inch diameter base will fit a number of Andrea Miniatures' small round and square bases.

Paint: Andrea Acrylics
Description
Fruilmodel's metal 54mm Italo-Norman Nobleman is based on a painting in Osprey's Elite Series #9 'The Normans'. The kit's pose and painting scheme pretty much follow the book's color plate.
The figure consists of seven cleanly cast white metal parts.
Clean-up was minimal and there were no fit problems.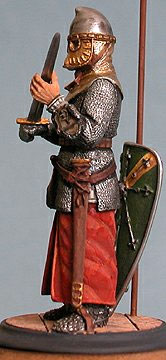 The spear point and banner were cast onto a length of brass rod; no bent or wavy spear shafts here. A great idea.

I would recommend priming and painting the area under the surcoat and between the legs before attaching the figure to the base. Then you can continue the priming and painting as you see fit.
The left arm and sword hand were left off until after painting.
The helmet, spear point, sword blade, and shield decorations are the buffed natural metal of the kit. Everything else was painted.
I followed the kit paint/book paint scheme using Andrea's Gold on the helmet brim and face shield and Testor's Acryl II Gold on the coif cover.
The lower surcoat has the pattern cast onto it making painting easier. I used Andrea's Basic Red and Dark Red to keep things simple.
I painted the base stones Wood, then stippled on some Dark Brow, followed by a stippled coat of lightened Wood to give a multi-colored effect.

This is a nice figure and is highly recommended if you like the medieval period.

---
Click the thumbnails below to view additional images:
---
Model, Text and Images by Glen Phillips
Page Created 28 January, 2006
Page Last Updated 28 January, 2006