Camionetta AS 42 "Sahariana"

Italeri, 1/35 scale

by Peter Espada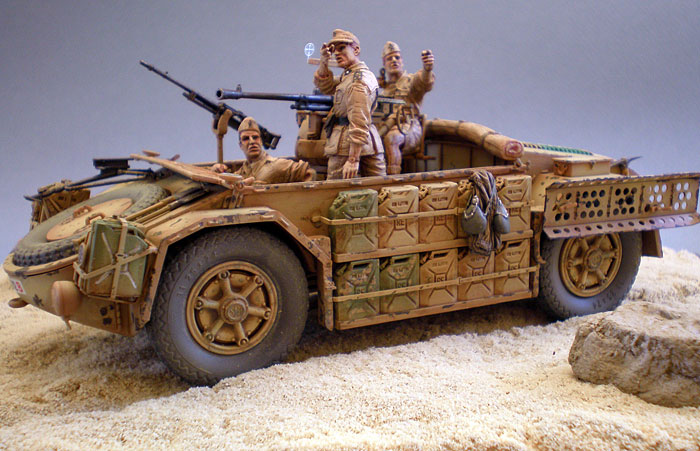 Background
The Camionetta AS 42 Sahariana was developed by SPA-Viberti (part of the FIAT group) and met the Regio Esercito need for a long range, highly manouverable vehicle for the African front in WW II. However, it did not receive widespread use, although proving itself in operations against the British Long Range Desert Group.
Some examples found their way to Russian front, Sicily, and even the defense of Rome against the Germans after the September 1943 armistice.
After the war, red-painted survivors were used by the Italian police until 1954.
---

Italeri's AS-42 "Sahariana" Kit
This kit, Italeri #6452, was released in 2006. Kit #6455, the ABM 41/42 with 47/32 AT gun, is about to be released and can be made into the European versions, with stowage more suitable for temperate climates—the Sahariana carried more jerry cans for fuel and water, as appropriate for tropical operations.
---

Construction
I built Italeri's 1/35 scale Sahariana pretty much out of the box, decals and all, merely adding cables made from wire for the headlamps and horn and a ringsight from Model Technologies (remember them?) for the 20 mm cannon.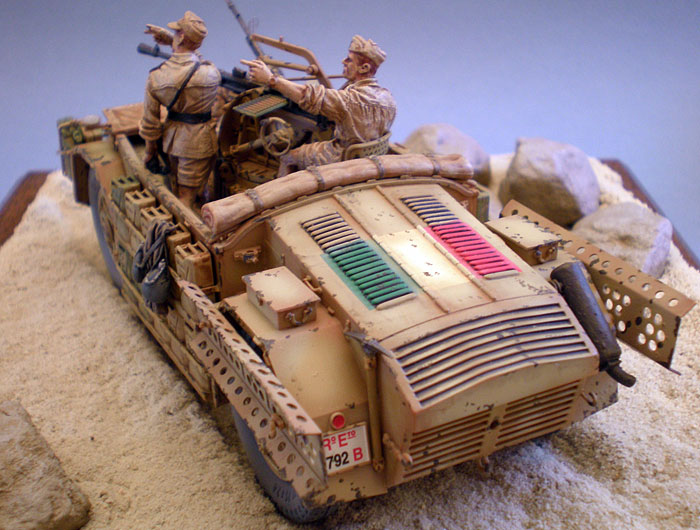 I left out the engine, saving it for another use (the AB 41 Autoblinda, possibly). However, I supplemented the Sahariana with the handsome Allarmi! 1/35 Sahariana Crew (kit #35022, available from www.italiankits.it). These three exquisite and well-sculptured figures really set off the vehicle and blend beautifully —the driver and gunner especially.
The set also includes baggage and equipment (haversacks, helmets, canteens, etc.) that these crews typically carted around, plus extra heads to depict a variety of Italian military headgear. With the Allarmi! set, the Sahariana really looks active and busy. The figures that come with the Italeri kit, although resin themselves, are uninteresting and just not up to par.
---

Paint and Markings
The Sahariana (including the figures and equipment) was painted throughout with a combination of Polly S and Gunze Sangyo colors. Each of the vehicle's flat surfaces was shaded with many blended airbrush applications of sandy hues to replicate extreme highlights and shadows, reflecting the harsh conditions under which Saharianas operated. Gunze Sangyo Rough Sand was applied in areas where rust was beginning to bubble up the vehicle paint, and a dark-toned mix of Scale Black and Rust was applied with a fine-tipped brush to represent miniscule areas in which the rust had broken through. Brown washes were used for highlights and shadows on the canvas windshield cover and vehicle tarp.
Italeri provides very good photographs of a completed model in its included photographic reference manual. Just practice and try to copy what you see in the photos.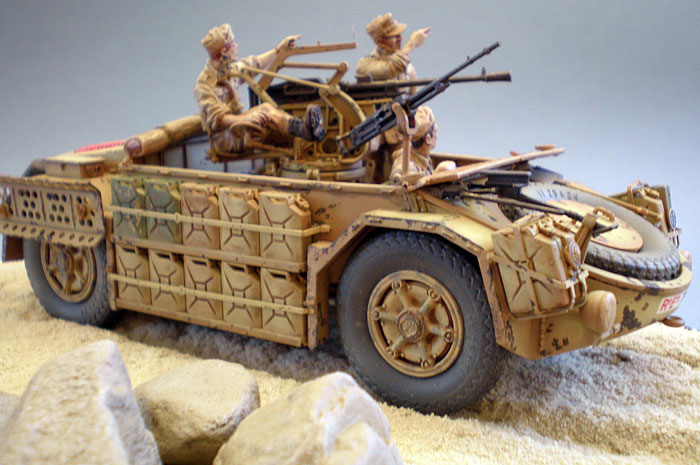 The base is a finished wood plaque, with shaped Celluclay and a covering of craft sand (finer than 1:1 sand). The rocks are stones out of my back yard.
---

Conclusion
I am an enthusiast for Italian military subjects, and the last few years have been a bonanza for me—all the really great kits representing the incredible amount of Italian military gear, both aircraft and vehicles, that have been coming out (with more to come) has really made a difference in my enjoyment of the hobby. Italeri, an obviously Italian firm, is really playing to the "home team" this time but their talent is really showing through with the Sahariana. It's a really accurate and easy—to –assemble kit. And the Allarmi! figures—they rank with the best. I can't give them a higher recommendation than "more, per favore."
Click the thumbnails below to view additional images:
---
Model, Images and Text by Peter Espada
Page Created 23 September, 2007
Page Last Updated 23 September, 2007