Lorraine 38L & 47mm Anti-Tank Gun

Ironside & Alby , 1/35 scale

by Steve Zaloga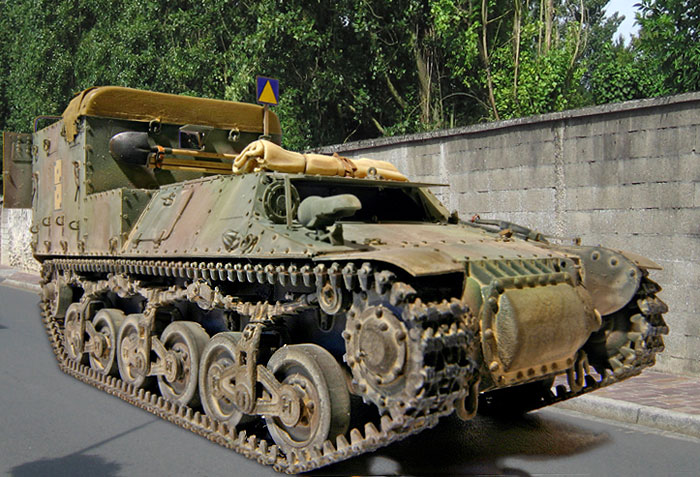 Missing-Lynx is proudly supported by Mission Models
Description


Having finished the Tamiya UE, I thought it would be interesting to build a companion piece of the Lorraine tractor. There are actually two Lorraine tractors out in plastic, from Ironside from France and RPM from Poland. RPM offers it in both the Lorraine 37L TRC refueling vehicle version and Lorraine 38L VBCP infantry carrier, though neither come with their respective trailers. The Ironside kit is in the Lorraine 37L configuration without the refueling trailer.



After looking over both kits, I decided to go with the Ironside kit as the track is link-and-length, not the fearsome looking link-to-link in the RPM box. Also, Ironside offers some nice PE and resin bits and the detail overall looked a bit better.

Ironside is one of the brand names of ADV/Azimut in Paris and this kit was first released in 1997. It is reminiscent of the old Alby plastic Panhard 178 in quality and I wonder if there isn't a link.



As is typical of most limited run kits, it takes a fair amount of work to get things to fit and to clean up the parts. My project involved converting it to the infantry carrier which had higher rear sides for the infantry section. The basic version was intended to tow an armored trailer for six more infantrymen, but I didn't really have enough info on this trailer to scratch-build it, and I wasn't in the mood anyway. I had found one of the excellent Alby resin 47mm AT guns many years ago in France and this was a good excuse to build it. The Lorraine was tested to tow this weapon, but the Lorraine was more commonly used with the 25mm AT gun.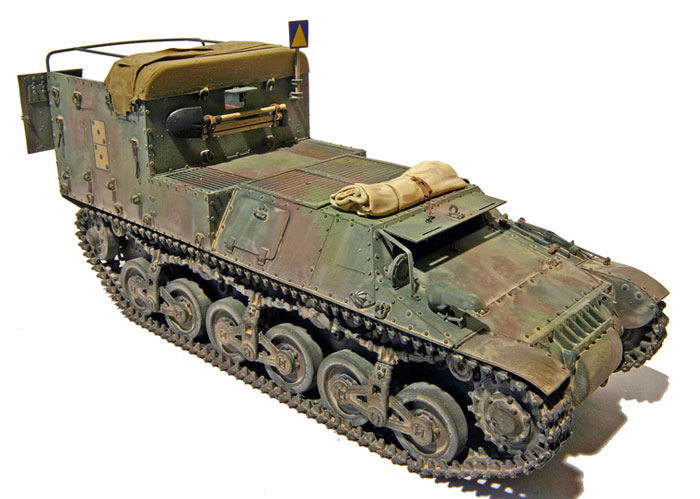 I decided to pursue this combination on the assumption that given the chaos of 1940, it was a possibility even if not the standard configuration. Information on the combat use of the Lorraine 38L in 1940 is not exactly overwhelming! The tanker figure is from the resin Wolf series.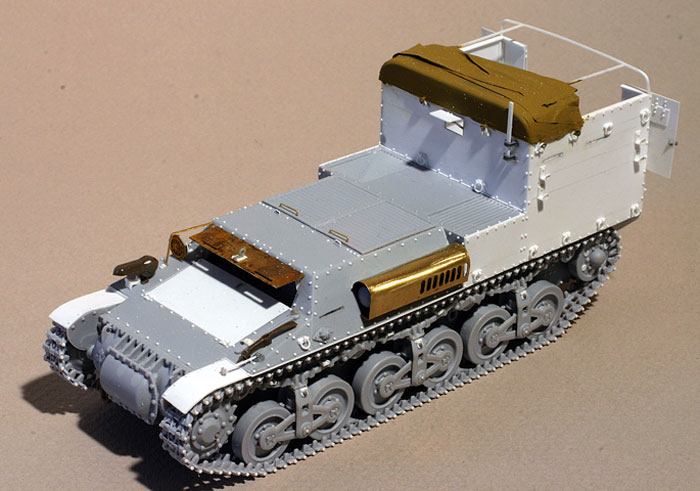 The conversion was straight-forward as the box shape in the rear is simple. I made it out of sheet plastic, mainly .015 thou and some .010 thou for some bits. The tarp was made from a combination of vacu-form for the basic shape and Christmas tissue for the folded bits. This model will appear as a full-length article in Military Modelling, including a lot of historical photos of the Lorraine 38L including unpublished interior detail shots of the rear compartment.
---
---
Model, Images and Text by Steven J. Zaloga
Page Created 16 September, 2007
Page Last Updated 16 September, 2007