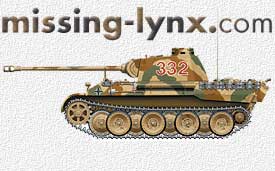 Eastern Express #35127 BA-6 Armoured Car
Peter Brown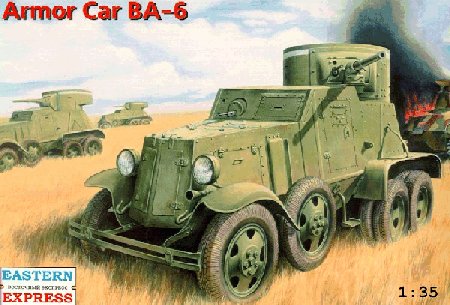 Eastern Express BA-6 Armored Car Kit no 35127 1/35 scale plastic, produced by Eastern Express of Moscow,
Russia. Price in the UK around £19

One of a series of armored cars based on the GAZ-AAA six-wheel truck chassis, the Russian BA-6 was developed from the very similar BA-3 design and produced from 1935 to 1939. It saw service in small numbers in the Spanish Civil War in the 1930s, at Khalkin-Gol in 1939, in the campaign against Finland and the early stages of the Second World War. Some cars were captured and against their former owners by the Finns and later in Germans. Using the same turret as the T-26 and BT-5 tanks, its 47mm gun gave it good firepower for an armoured car but against this it only had thin armour and its 6x4 layour meant it had poor off-road mobility. It was replaced in production and service by the BA-10 which while similar in appearance had a shorter turret rear among other features.
Eastern Express's model comes on four sprues of grey plastic and one more in black softer plastic for the tyres. Chassis, axles etc are provided using sprues from the TOKO GAZ-AAA kit and the chassis has to be shortened to fit the armoured body. Engine and radiator parts are also provided but interior parts for the fighting compartment or crew figures are not. One problem which comes from using existing moulds is that the model is a tyre short, the armoured car need a full dozen as it carried two spares and you only get eleven.
New parts are moulded neatly though with some flash, standard is comparable to other current Russian kits which means they are not as good as from Far Eastern or Western European sources. The main hull body is molded as one large part which is a change of style from previous Russian kits which use easier to produce flat plates. Alas, this is a disadvantage in this kit as
there is no rivet detail on the hull sides. Anyone wanting an accurate model will have to add their own, a slow and tedious task. Rivets are included on the separate side doors and engine access covers though. Other detailing is fairly good, some extra work would benefit this kit in areas like the front bumper which is too narrow while the steps under the side doors need large horizontal areas.
Turret parts include includes separate top hatches though these do not have inside detail. Two patterns of mantlet are included and there are some unused parts which suggests that this sprue will be used in the BA-3 armoured car and BT-7 Model 1935 kits which are shown on the box side. One problem area is the gun barrel, the centre of the three stepped sections is too short. These small problems apart, in the box this compares well with the 1:35 plans in James Kinnear's "Russian Armored Cars 1930-2000" from Darlington Productions. Anyone wanting to model the car will find this a good reference as it has several photos of the real vehicle which will be useful for adding detail. Two options are given for colour and markings schemes, both plain Russian green. One is for a car in the "War Games of Kiev Military District 1939" with solid and dashed lines around the turret sides, various geometrical markings and red stars - there also seem to be unused decals for a similarly
finished vehicle - and as a change of scene the other is for "Spain 1938" with hand-painted slogans on the turret. As a further option, a pre-war three-colour scheme is depicted on the box side.
In short this is a model with good and bad features. The choice of subject is good and the model is well done in some area but it is let down by the tyre being missing and the lack of rivets, neither are easy to correct. Other inaccuracies are minor and can soon be corrected however, so if you want a model of a BA-6 you have one here in plastic which can be built into a good one with a little extra work and patience.