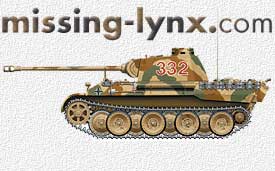 Ultracast Unmounted Wheel Sets
Eric Mac Intyre
Item Numbers: 135010 Panther Wheels, 135011 Centaur wheels, 135012 Cromwell wheels

These fantastic new wheel sets from Ultracast join an already fine range of armour accessories offered by this manufacturer. Each of the three sets contains two unmounted wheels for use as spare wheels on a vehicle or as an accessory in a diorama.

By "unmounted" I mean, what a wheel would look like if it were removed from a vehicle. Essentially, the center hub and the mounting bolts have been removed and the bolt holes drilled out. All three sets are designed for the respective Tamiya offerings. The Panther wheel is of the later pattern found on the Tamiya kits.

Each wheel is cast individually on its own mounting block with only a very thin attachment point needing to be removed. The quality of casting is superb and puts to shame many of the wheel offerings by other manufactures, both resin and plastic. There are no seem lines, air bubbles or warpage evident on any of my examples. The wheels are as good as those offered by Tamiya in their respective kits.

These sets are a welcomed addition to a modelers options of detail accessories. All three vehicles ( Panther, Centaur and Cromwell) where known to have spare wheels occasionally attached to their hulls or turrets. These wheels will definitely add that little bit of realism to a model.

I would highly recommend these wheel sets to anyone building one of these Tamiya kits. I know the Centaur wheels will certainly find their way onto my current project. Hopefully these three excellent sets are just the beginning of a growing ranges of unmounted wheel types to be offered by Ultracast.

Ultracast is to congratulated once again on another fine release.