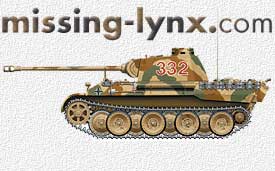 Militaria i Fakty Magazine
Peter Brown / Andrew Dextras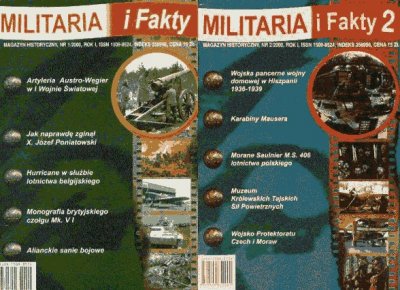 Militaria i Fakty magazine Published by AJAKS, ul. Lubelska 30/32, 03-802 Warsawa, Poland A4 size, 56 pages, fully illustrated. Price 15 Zloty per issue, six issues per year. Email ajaks@home.pl Web site http://www.ajaks.home.pl
This is a relatively new Polish publication, its title translates as "Militaria and Facts" which just about sums up its content. It is devoted to military subjects, real equipment, not models. The two issues produced so far are a promising start, and show a good choice of subjects. There are some drawbacks however, the text is all in Polish and the range of subjects covered is wide, including pre-1900 and aircraft articles. Military articles look good, and short of showing you the magazine the best we can do is list the contents and length of articles. We have concentrated on the military side and summarised the aircraft features. Both issues have self-contained articles and also parts of series, the "Lexicon of Armoured Vehicles 1920-45" looks like it will be a long-running feature. Unless stated, all articles are illustrated with black and white photos.
Issue 1
British Light Tank Mk VI series Part 1, 8 pages on British use plus several colour shots of preserved tanks inside the covers.
Brussels Tank Museum, one page text and black and white photos and one page colour photos.
Josef Poniatowski (Napoleonic general), 6 pages, colour and black and white plates, maps.
German paratroops in Norway 1940, 5 pages, maps.
Infantry Sleds towed behind tanks, three pages covering Russian, American and German designs, text looks to cover a Polish one.
Swedish Landsverk Lynx armoured car, 3 pages.
Book reviews - 1 page.
AFV Lexicon part 1, 2 pages covering Afghanistan, Albania, Arabia, Argentina.
Austro-Hungarian Artillery of WW1 era part 1, 6 pages including organisation charts.
Aircraft articles, 3-5 pages each on Liberator bombers, Norwegian air museum (includes colour photos), transport planes including Ju52 on floats, and Belgian Hawker Hurricanes.
Issue 2
British Light Tank Mk VI series Part 2, 6 pages covering use by India, Australia, Canada, Free Polish forces and Germany.
AFVs in the Spanish Civil War 1936-39, 6 pages.
Czech Army uniforms 1939, 4 pages including line drawings of uniforms and insignia.
AFV Museum Lesany, two pages mostly colour photos.
Austro-Hungarian Artillery of WW1 era part 1, 5 pages, line drawings of 75mm mountain gun.
AFV Lexicon part 2, 4 pages on Australia and Austria.
Mauser rifles part 1, 5 pages, line drawings of guns and cutaways of action.
Polish Lancer uniforms 1750-1815, line drawings and colour plates.
Aircraft articles, 2-5 pages on Morane Saulnier MS406 fighter, early post-war Polish air force, Thai air museum (with two pages of colour photos), Lancaster bombers versus Lutzow battleship, plus short features on Su-20 and Me109 on inside front and rear covers.
Issue 3
Very comprehensive 11 page article on the Humber armoured car including interior sketches, action shots and scale drawings
3 pages on the Victory Museum in Belgium
AFVs in the Spanish civil war part 2 - 5 pages
5 pages on the PZinz 403/LS staff car
Mauser rifles part 2 - 6pages
AFV lexicon part 3 - 1 page on Burmese and Bolivian AFVs
Austro-Hungarian Artillery fortifications - 4 pages
Polish Army 1799 - 5 pages
Aircraft Articles, 5 pages on Yugoslavian Spitfires including 2 pages of excellent colour plates, Hurrican 3 pages including 1 in full colour
Issue 4
Comprehensive report on Polish Artillery 1939 - 7 pages
Central Museum , Moscow - 3 pages including 2 in full colour
AFV Lexicon part 3 - Belgium
AFVs in the Spanish civil war part 3 - 5 pages (great BA-6 shots in this one)
Lebel rifles - 5 pages
Polish Army 1799 - 6 pages (plus 1 page of colour drawings)
Aircraft Article, 5 pages on Australian Airforce in Vietnam, 6 pages on German Zeppelins, 6 pages on German Aircraft Museums.
As you can see, the contents are often unusual and it is good to see such variety. Time - and support - will tell how things will progress, but from what is here, things look promising, but already plans are being made to become a monthly magazine.
The magazine may be available from specialist importers and is carried by the Polish firm Pelta, but contact Ajaks direct if you want to organise a subscription.