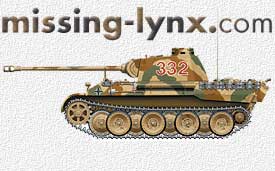 Italeri #378 LAV-25 Motor Carrier
Peter Brown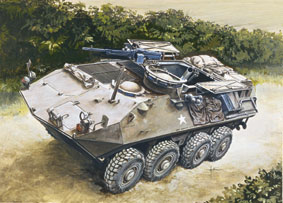 LAV-25 "Mortar Carrier" Italeri 1/35th kit No 378 UK price £8.50
The Swiss Mowag company's Piranha wheeled AFV series has been something of an international sales success. Available in a wide range of configurations with four, six, eight or even ten wheels it has been bought by many different countries. The 6x6 built by General Motors Canada was adopted by Canada as the Grizzly, Cougar and Husky and the 8x8 series is coming into
use as various forms of Bison.
The 8x8 was already well known after was adopted by the United States Marine Corps for several different roles, the basic LAV-25 infantry fighting vehicle, LAV(AT) with TOW missiles, LAV(AD) air defence with 20mm Gatling gun and missiles, LAV(R) recovery, LAV(C) command and LAV(L) logistics carrier, as well as the LAV(M) mortar carrier. This last-named vehicle is very much an international effort, its M252 81mm mortar is based on the British L16 series with Canadian components and it also carries the 7.62mm M240B machine gun which is the Belgian FN MAG (which is replacing the M60)
for local defence.
Italeri have had their kit No 259 of the baseline LAV-25 around for some time, and this version like the earlier No 269 LAV-25 TOW and No 274 LAV Air Defence uses two sprues from that kit for the basic hull and suspension parts. New here is the third sprue with over 100 parts. This gives the rear compartment roof with two hatches which can be depicted open or close, basic seats and steering wheel for the two front crew positions and interior of the rear section with more seats, rotating mortar mount and ammunition racks. The mortar can be assembled on a ground mounting with bipod and baseplate. External machine gun, jerry cans and rolled tarpaulins complete the exterior parts. Crew figures are not provided, and as with many Italeri kits the decal sheet is small and only gives serial numbers, call signs and a name for two plain green USMC vehicles.
I have not built this kit before writing this brief account, but it should make a pleasant model straight out of the box. Many modellers will replace the wheels with one of the resin after-market sets, the distinctive tyre pattern better reproduced by those than the kit parts. If wanted, crew figures could be adapted from suitable US Marines or Army figures and alternative colour schemes taken from photos.
Conversion potential is good. Depicting one of the other turretless LAV models is as easy from this kit as from any of the earlier offerings and the LAV-L logistic carrier is the most obvious choice, the roofline of the rear
compartment would need to be raised, also hatches would have to be repositioned and a loading crane added.
Many Piranha series vehicles are in service, so this should provide the basis for many models. It would be well to check references before starting though, as the latest generation Bisons and Piranha III and IV series are often different from the original version depicted in this kit.