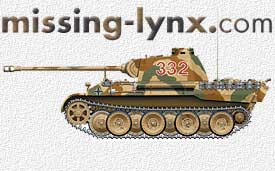 Armour Track Model TK-05 Soviet Model 1946 580mm Track (T54/55)
Andrew Dextras
†
Designed to fit any of the current T54/55 based kits on the market, this track set is molded in the usual ATM dark brown plastic and uses an end pin assembly system similar to Modelkastenís workable tracks except that no glue is needed. A little finesse will be required when handling them, but they are pretty robust once pinned into place. I assembled a run of them without using glue and they held firm, some modellers will prefer to glue them in place just to be sure.
ATM also includes resin drive sprockets and idlers, a nice touch. Detail on the track face is extremely crisp, on the inner face there are 2 knockout marks, which will be easy to remove if need be.
Overall a good alternative to Modelkasten and Friulmodel and being plastic, these lightweight tracks make the model easier to manipulate than metal tracks.