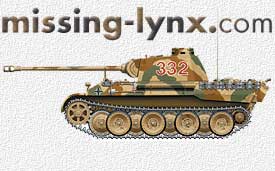 AFV Club British CVR(T) FV101 Scorpion
Peter Brown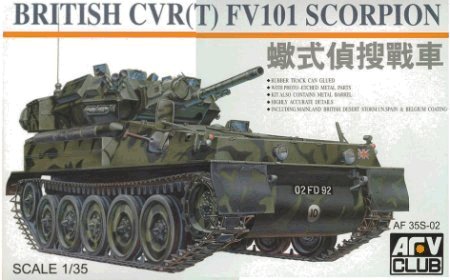 Reference AF35S-02 1/35 plastic kit, approximately 185 plastic parts with flexible tracks plus one turned aluminium and three etched steel parts

Produced by Hobby Fan Trading Co Ltd, Taiwan, ROC. Imported into Europe by Azimut, Paris, France, and to the UK by Pocketbond. UK price £19.99, elsewhere will be the same or similar to AFV Club kit AF35013 FV107 Scimitar

In 1996, AFV Club produced kits of the British Combat Vehicle Reconnaissance (Tracked) series light tank variant. As the two vehicles are very similar in real life, the kits were much the same apart from armament and associated parts. The differing kits contained the respective turned-aluminium gun barrels for the Scorpion's 76mm or Scimitar's 30mm, plus mantlet and sights on different sprues, sprue E for Scorpion or sprue F for Scimitar, which also contained the two different styles of stowage bins.

Although both versions were produced, until now and certainly in the UK the Scorpion was only available boxed as Revell kit 03001 while the Scimitar was AFV Club kit AF35013. The Scorpion is now available from AFV Club, and is basically the same kit as the Revell version with the advantage of being priced the same as the Scimitar and noticeably cheaper than the Revell version which usually costs UK modellers £23.50 or so at full price. While the two versions of the tank are similar, as often happens with kits produced as two versions from common parts, detail differences can be overlooked. As originally designed, Scorpion and Scimitar like all CVR(T) vehicles were amphibious and had a collapsible screen around the hull though this was not often used and later removed on British vehicles. Some changes were made in the original vehicles during production, with earlier vehicles having the forward section of the engine deck bolted and later ones with a hinged type with different layout of cooling grills. Two styles of smoke grenade dischargers are also found on these tanks, early ones having ones with three barrels and later ones with four. Stowage bins, at least on British vehicles, were changed with larger ones on the turret rear and extra ones on the turret sides. Hull bins were enlarged and many units added extra ones with hull side bins from Chieftains being commonly used. As it comes out of the box, the AFV Club Scorpion has the later-style hinged pattern decks and four-barrel smoke dischargers. Most British and Belgian Army vehicles had the early style deck, and British ones had three-barrel smoke dischargers though the four-barrel type is correct for Belgian vehicles. Oddly, those tanks used by the British RAF Regiment had hinged decks and four-barrel smoke dichargers. The kit also has the older style stowage bins, with the Scimitar kit having the later ones. In service, the appearance of vehicles often varied, and reference to photos will help sort this out.

AFV Club's Scorpion kit does include two types of sprocket and idler, and apart from the box it has a new instruction sheet which is similar to but not identical to the Scimitar version, even where the construction is the same. Decal sheet is marked "Copyright 1996" which makes me think this kit has been marketed in its native Taiwan and maybe elsewhere for some time. Five colour and marking schemes are included compared to three in the Revell version. For an accurate model, some changes are needed to depict the versions shown. All the British vehicles will need the early style bolted decks and three barrel smoke dichargers. Option 2 for the Royal Hussars has an unusual camouflage scheme with black overpainting in short, narrow stripes rather than the long, bold ones commonly found on British AFVs. This vehicle is also depicted in the Revell decal sheet, they print the tactical marking on the rear of the turret bin in yellow while AFV Club show it in white. Photos in Bob Morrison's book (see References) would suggest Revell got it right here. This vehicle had earlier style bins as in the kit, but also had a flat bin on the hull front plus Chieftain bins on each hull side, which means extra work and maybe bins from the Scimitar or aftermarket sets.

Options 1 and 3 for vehicles with UNPROFOR and in the gulf are not named to specific units, though the Gulf one has the red Desert Rat emblem of 7th Armoured Brigade. Vehicles in both these areas had later style bins and often many extra ones as well so you will need to check references and cross-kit or add them from other sources. Belgian Army vehicles originally had floatation screens though they were eventually removed, and commonly carried ammunition boxes on the turret sides. They did not have the small Chieftain type as in the kit's subassembly G. Again the unit is not named, it may have been one of the Chasseurs a Cheval or Jagers te Paard unless it a reconnaissance unit of the Para-Commandos though I think the unit marking is not one of theirs. Note that it needs bolted decks as well.

Option 5 is for the Spanish Marine Corps is correct as far as deck and smoke dichargers go. Comparing the kit with photos in Bob Morrison's book it seems Spanish vehicles do not have the small bins subassembly G but do have the later style turret side bins as per British patterns. These carried black code markings, a thin vertical bar and the number 35 which are not in the kit decal sheet. Also the cable reel subassembly F is fitted in its text-book position, to part B6 on the right-hand rear turret corner. For an accurate vehicle you also need to add both a round ventilator on the left-hand front turret face.

Many alternative markings are possible, with are a wide range of schemes for British vehicles in the UK, Germany and elsewhere in green and black, or with white added for exercises in Norway, sand and green in Canada as well as UN white and Gulf sand. Belgian and Spanish vehicles seem to be mostly plain green. Other users have some colourful schemes, such as New Zealand ones in a variation of the old US MERDC Red Desert scheme. Note that the British Army and RAF Regiment no longer use Scorpions, many have been refitted with turrets from old Fox armoured car with 30mm cannons and are called Sabre, being equivalent to but different from Scimitar. A few fitted with add-on visual modifications serve as opposing force vehicles at the Suffield training area in Canada, in which form they are called Salamander and a have a unique sand/green/red camouflage scheme. The Belgians have phased out their Scorpions, but many are in service in other countries around the world and will be around for some time to come. The manufacturers Alvis still offer them for sale and refurbished vehicles are available from a UK company called Repaircraft. Perhaps there is scope for a section on this site for photos of Scorpions from around the world?

References

Many of these are no longer in print, but are include here in case you can track them down or borrow them.

Scorpion Reconnaissance Vehicle 1972-1994 by Chris Foss, Simon Dunstan and Peter Sarson (Osprey New Vanguard 13) gives history and use of all CVR(T) variants, good black and white photos and colour plates. Published in 1995 it is up to date and should be readily available.

Scorpion, Scimitar and Sabre by John Prigent (Museum Ordnance Special 23) has many useful photos of all three vehicles, mostly in their later forms and not with the early style of bins as in the kit.

Scorpion and the CVR(T) Family by Bob Morrison (Concord 1044) also covers all the CVR(T) series with emphasis on in-service photos and useful close-ups, mostly black and white but its colour section shows the main schemes.

Scorpion - The CVR(T) Range by Simon Dunstan (Tanks Illustrated 22 from Arms and Armour Press) was also good photo coverage of all the CVR vehicles and included the wheeled Fox. Dating from 1986 it is still a good reference for early vehicles.

The Scorpion Family by George Forty (Modern Combat Vehicles 5) from Ian Allan Ltd came out in 1983 and so covers the earlier period with good background on the whole CVR(T) family and Fox.