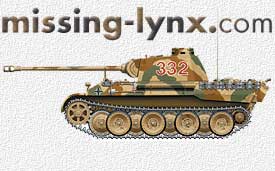 Valentine Mk. VII
JP Morgan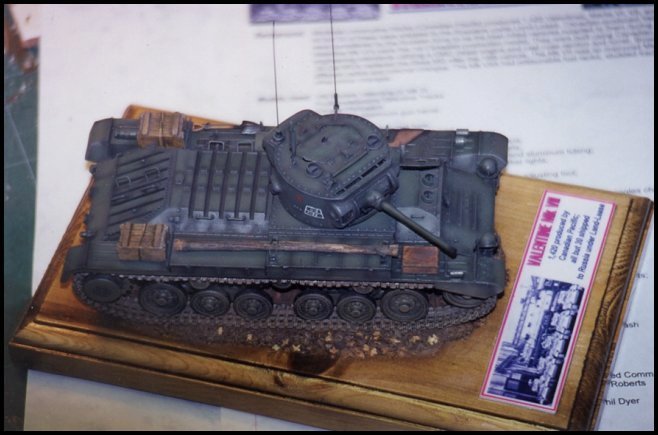 Background:
Montreal Locomotive Works (Canadian Pacific) produced 1,420 Valentines, Marks VI, VII, and VIIA. All but 30 of these were shipped to the Russians under Lend-Lease. Canadian-produced Valentines were considered by the Russian Army to be the best Allied Vehicles supplied to them during the war. Valentine Mk VI's were the 1st Canadian production model. They were built using Canadian engineering standards utilizing a GMC diesel engine as well as a cast nose section and turret. Browning .30 Cal MG's replaced the Besa MG's after the 16th vehicle. The Mk VII was an improved Mk VI with different radios and internal changes. The Mk VIIA had jettisonable fuel tanks, studded tracks, and other minor changes.


Models Used:
VM Models Valentine IV Mk III
Fruilimodelissimo Valentine tracks
Eduard Photoetch set
Jordi Rubio aluminum gun barrel
Modifications:
Turret converted to the cast type
Nose section converted to cast type
Lakeman AA MG mount scrathbuilt
Casting numbers added to turret, mantlet, and glacis
Bogie brackets modified with bracing and bolts
Bogie springs amd struts replaced with wire and aluminum tubing
MV lenses added to the taillight and the front marker lights
Besa MG replaced with a browning
Outer idler supports hollowed out for the track adjusting tool
All handles were replaced with wire
Electrical wiring added to lights
Driver's area detailed with additional armour on the headcover, vertical glacis angles changed, doorstops scratchbuilt, bolts, screws and hinges added
Rearview mirror mount scratchbuilt
Tow hawser support hooks added to muffler guard
Jackblock made from basswood
Engine cover catch scratchbuilt on right side
Turret bustle reshaped drastically and bolts added below
Pistol port door removed, turned, detailed and reinstalled
Vision port reworked
Roof vent cut out along front of turret
Vent holes drilled, and cover scratchbuilt with brass shim and Grant Line bolts
Antenna mounts scratchbuilt, antennas are brass rod
Hatches detailed with padlock hasps, bolts, etc
Commander's vane sight scratchbuilt
Fenders thinned
Bolts added along panel seams on lower hull
Acrylic paints used, except for tracks which received a black enamel wash (Valentines had manganese tracks that don't rust)
Markings are Verlinden dry transfers
Stowage is from the spares box and the garden.
References:
British and American Tanks of WWII Chamberlain & Ellis
Valentine IV (MV-02 & 05), Military Vehicle Workshop Series Allied Command Publications
Valentine Infantry Tank – Museum Ordnance Special #10 Paul Roberts
Valentine Mk III AFV Profiles # 6
Vindicating VM's Valentine – Military Modelling Vol 28 No 12 Phil Dyer
Bellona Military Vehicle Prints Series 34
Blueprint for Victory William Gregg
Photos & measurements taken at Vimy House, Canadian War Museum